Digital Bloom – Toronto artist TM Glass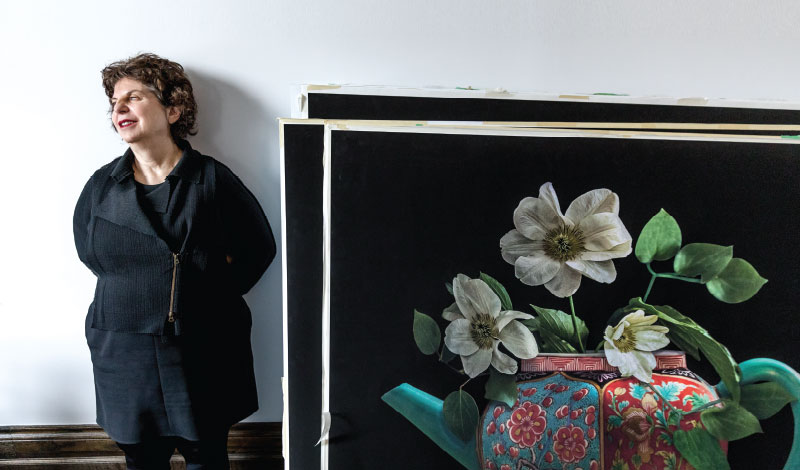 Toronto artist TM Glass paints old-world treasures filled with fresh florals using a unique digital process that's just beginning to blossom.
In the heart of downtown Toronto's bustling King West neighbourhood is a century-old building — a quaint red-brick corner unit like so many others in the city. But set foot into the 100-year-old abode and you'll see why this one is different. A quick glimpse of the foyer reveals the true grandeur of this Toronto heritage building — and the private gallery of artist TM Glass.
Larger-than-life archival prints of fresh flowers paired with historical vessels line the off-white walls. TM Glass invited Dolce Magazine for an exclusive tour of the gallery and workspace to sneak a peek at the magic behind the masterpieces.
At first glance the works appear to be photographed, but, as TM Glass explains, they are entirely digitally produced — the flowers and vases never actually met. This process is called digital painting. The artist explains that digital painting on such a large scale is a relatively new concept utilizing state-of-the-art photo and printing equipment.
"I start by photographing the flowers in spring, and I just keep going all the way through to frost. Somewhere in that window, I visit museums to find and photograph beautiful vases," says TM Glass. "I put them together after the growing season. It becomes a work of the artist to marry the two."
The artist was drawn to this new technique out of a passion for horticulture. "I believe flowers are the most beautiful things in the world," says TM Glass. "For centuries, artists have been creating vessels to put cut flowers in and trying to make them as beautiful as the flowers." Further inspiration came from TM Glass's grandmother. "My first gardening experience was with my grandmother; she had a wonderful garden. To me, it was like a paradise," explains the artist. "Her garden was filled with treasures, and it became my ambition to have one just like it."
What makes the collection so special is that the flowers starring in TM Glass's works come from the artist's personal garden. "I have 10,000 bulbs of narcissus planted in my garden," says TM Glass. "I've planted something for almost every week of the growing season."
Pairing these horticultural gems with the perfect vase is TM Glass's mission, whether it's a 1,500-year-old pre-Columbian vessel, or a tulipiere from Holland. The artist works with the curators of a number of local museums like the Gardiner Museum and the Royal Ontario Museum and with private collectors to find the perfect pieces to showcase. "The curators wear white gloves to remove the vases from the cases, and they bring them to a room where we photograph the pieces," says TM Glass. "This is all behind the scenes; the public doesn't usually get to go backstage at the museum, and it's very interesting there because they have many shelves with things that are not on display."
Each vase and flower holds a story of its own, and more often than not, TM Glass has a reason for pairing the two, such as historical period, colour, culture or narrative. As we stroll in and out of various rooms, TM Glass recount the stories of particular vessels and their accompanying flowers. Although a lot of research goes into each of TM Glass's works, the artist feels that the pieces should speak for themselves.
"Everybody else in the years to come will be looking at what we did and maybe that will become the new conventions"
"I think because we live an urban life, most people don't get connected to nature as much as we'd like. But when we do, we feel wonderful," says TM Glass. "We get that feeling of walking through a forest, so tranquil − we feel relaxed and happy. When we see a vase of flowers, it gives us that same feeling."
At TM Glass's most recent exhibition, a woman who was working in a hospital in Toronto but would soon be travelling home to Qatar approached the artist to ask if she could bring a piece home with her. TM Glass recalls her exact words: "Your pictures make me happy. I want to have one. I live in another country, and I'm returning, and I'd like to take one with me. I want to feel this happiness in my home country."
A career that has spanned several mediums, the artist has dabbled in everything from sculpting to photography. This current endeavour has gained impressive momentum; the artist's limited-edition archival prints are selling out. TM Glass produces only 12 prints of each piece (up from the original print run of five).
"Any artist, whether a musician or a photographer, always loves to have people enjoy their work, but there's no guarantee," says TM Glass. "If the artist writes a song or creates a picture that the artist likes, the artist is guaranteed to have an audience. So I think the most important person to participate in the process of creating the art, the most important person, is the artist."
TM Glass was inspired by fellow artists Edward Burtynsky, Cindy Sherman who produce painterly photographs that involve digital equipment, each approaching their work with unique style and subject matter. "We have no real image in our minds about what this new digital technology is going to bring to artists," says TM Glass. "So people are exploring all sorts of avenues, and there's more than one way to do it."
TM Glass says the artists working in this new medium are lucky in a way, because they have the rare opportunity to invent it. "Everybody else in the years to come will be looking at what we did, and maybe that will become the new convention."
The process is lengthy but, according to TM Glass, worth every second. "Time can expand and contract," says TM Glass. "When you're doing something that you love, time expands, and you fit everything in — you only have to meditate a little bit to expand the time."
Photos By Robin Gartner