U.N. Plaza – New York Real Estate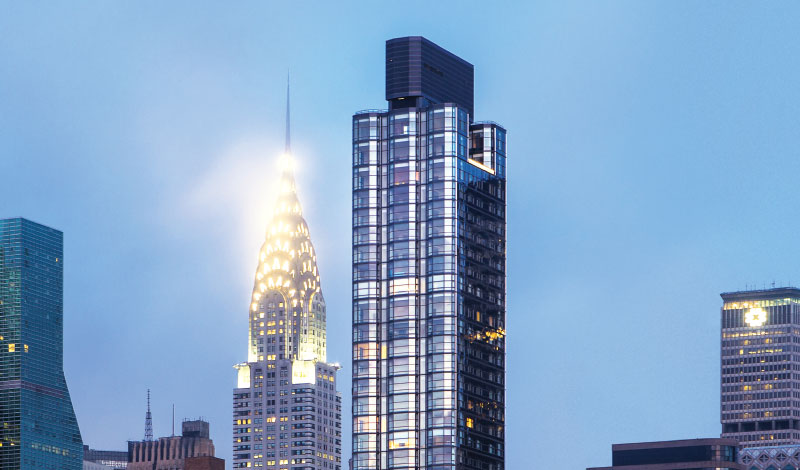 The exclusive new residential tower offers a window on the city's skyline, the East River and Midtown Manhattan's motley past.
"Location, location, location" may be real estate's most abiding mantra, but nowhere are the words more sacred than in midtown Manhattan. That's where you'll find 50 United Nations Plaza, a 44-storey luxury property that overlooks the East River and landmarks like the Empire State and Chrysler buildings and is set among some of the best retail, restaurant and cultural offerings in the city.
It's also the first residential tower in the U.S. to be designed by acclaimed British architect firm Foster + Partners, in collaboration with Zeckendorf Developments and Eyal Ofer's Global Holdings.
The lobby of the tower makes a stunning first impression. The expansive vestibule features granite, marble and walnut, along with a 20-foot-tall waterwall and a circular fireplace. Beyond the lobby is a spa that contains a 75-foot-long pool for the exclusive use of residents. Another luxurious feature, given the location, is the parking space that comes with each apartment, along with gated entry, valet service and a landscaped motor court.
The tower itself contains 88 generously sized suites being offered in one-, two- and three-bedroom configurations ranging in size from 1,147 to 3,004 square feet. Full-floor penthouses with five bedrooms and two staff rooms are also available and sit at 5,893 square feet each.
In the most rarified air, high atop 50 United Nations Plaza, is one of the city's most exclusive residential addresses: the 10,000-square-foot duplex penthouse, currently listed at $70 million. The suite features a handcrafted 10,000-pound stainless-steel staircase, an infinity-edge pool with spectacular views of the Manhattan skyline, a 75-foot-long living room and a 400-square-foot terrace.
With both city and East River views, occupants of the opulent unit will have the pleasure of looking down at their building's namesake, the United Nations Headquarters across the street. It sits on a 17-acre parcel assembled in the 1940s by William Zeckendorf Sr., who also happens to be the grandfather of the developers behind 50 United Nations.
Seventy-odd years ago, the area was little more than a collection of slaughterhouses, but Zeckendorf Sr. saw something there that no one else did: potential. In 1946, he sold the parcel to the Rockefellers, who donated it to the United Nations, a historic deal that ably proved another real-estate truism: Only one thing trumps location, and that's foresight.
PHOTO by Chuck Choi, Hayes Davidson And James Euwing, Paul Warchol