17485 McLaren Road – The Legendary Estate of Hawkridge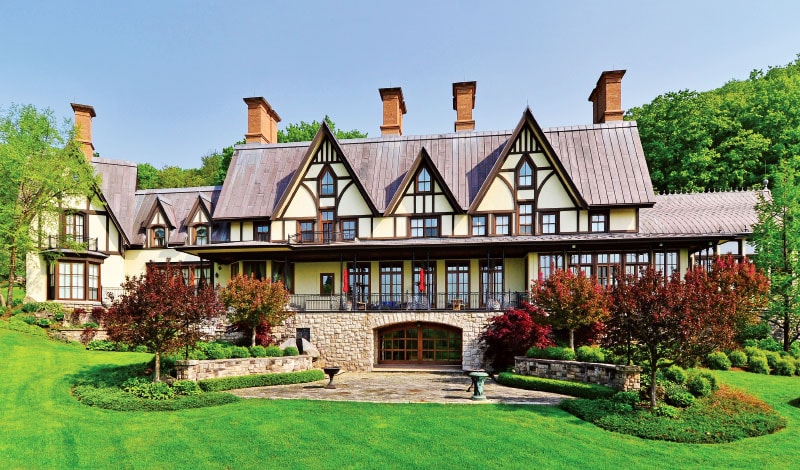 Hawkridge is a legendary estate out in Caledon, which is perfectly suited for privacy and hosting.
interview by michelle zerillo-sosa
For over 50 years, Moffat Dunlap has specialized in the purchase of country estates. The brokerage is proud to present this exclusive listing, Hawkridge. This legendary grand manor house is situated on 160 acres where mature forests, spring-fed trout fishing ponds, a freshwater stream, extensive walking trails, magical gardens, a tennis court and an abundance of wildlife provide a genuine setting to complement a lifestyle of exceptional comfort.
This 28,000-square-foot Gothic mansion features 11 bedrooms and seven fireplaces. French doors give entry to an expansive terrace affording spectacular views of the rolling Caledon hills. Friends and family will enjoy the indoor pool and hot tub, cabana facilities, spa, steam room, magnificent stone and granite fireplace, climate-controlled wine cellar and five-car underground garage. Additional highlights include outbuildings: a guest house, chauffeur's apartment and manager's residence.
Representative John Dunlap spoke to Dolce about this rare listing and the amazing amenities it has to offer.
Q. What is most striking about this listing?
A. The unique zoning rights and breadth of on-site amenities are what set this property apart. In addition to the 20,000-plus-sq.-ft. residence, there are four additional residential units surrounding a deep, clear pond with views toward the Niagara Escarpment. Building this size and number of houses in such a pristine natural setting would not be allowed under today's regulations.
Q. Who is the seller?
A. The sellers built the home as a place to entertain. They have hosted charitable functions and weddings for more than 250 in the home. The owners have entertained Elton John, Eric Clapton, Henry Moore and Queen Elizabeth II, along with Canadian prime ministers and sports legends. The owners and their guests enjoy hiking on the trail system, playing tennis, testing their skills on the sporting clays course, and riding, golfing and skiing at nearby establishments.
Q. What makes this home unique?
A. The scale of the principal rooms and the architecture make this home unique. The barrel ceiling in the library is more than 25 feet high. The main living room has two hand-carved fireplaces with marble hearths that are so large, no fire screens are required. The chilled wine cellar is known as "the warehouse."
Q. What is the best part of living in this neighbourhood?
A. Living in this quiet area of Caledon allows one to live in beautiful natural surroundings, yet also be only 20 minutes north of Pearson Airport and an hour's drive from the city. This property is five minutes away from the Caledon Ski Club, the Devil's Pulpit golf course, the Caledon Mountain Trout Club and many riding stables. This location is as good as it gets in Caledon.
Q. What can you tell us about the real estate market in Caledon?
A. The Caledon real estate market is a lifestyle market. Truly exceptional country properties such as Hawkridge are always in scarce supply. When a buyer finds their dream property, they pursue it. 
Q. What is the overall mood of the market?
A. The overall mood in the market at present is one of cautious optimism. Caledon's high-end market has appreciated, but not at the hectic pace of Toronto's. When one looks at the growth of Toronto and immigration to Canada, the long-term trends for owning country or retreat properties close to such a successful city remain very favourable. There remains a scarcity of supply.
Q. How do current markets across the country compare?
A. The main metropolitan markets in Canada all seem to have "country lifestyle" properties within 1 to 1.5 hours of their downtown cores. Toronto is very fortunate in that we, too, are able to find beautiful and peaceful country properties not too far from downtown. 
Q. What is the best part of your work?
A. Working with clients to find their dream properties and getting to see the finest country houses in Canada.
Q. What can your agency offer better than anyone else in the industry?
A. My father founded the firm almost 50 years ago. He had grown up enjoying country living at Donalda Farm, and he founded one of the first firms in Toronto to specialize in the purchase and sale of the finest country properties around Toronto. We have expanded into only one other niche since being founded in 1972: marketing superb Georgian Bay properties. Our firm can offer market intelligence and knowledge unmatched by any other brokerage. We are fortunate to know more of the great properties since we have often sold them in the past or are invited to offer confidential valuations while they are being created. We know about available properties before they even get listed. A long history of marketing great properties also allows us to have contacts with a broad range of the top buyers.