Arte Surfside – Miami's New Beachfront Condo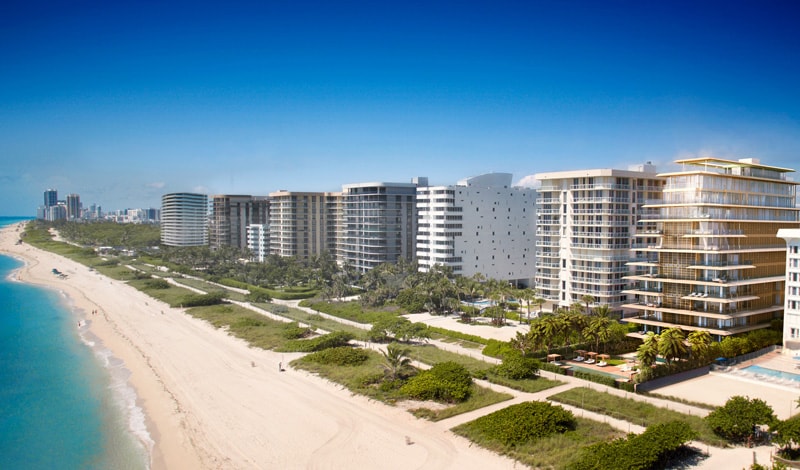 The first true American Riviera's new oceanfront luxury condominium celebrates Antonio Citterio's debut in the United States — in Miami's exclusive Surfside.
Antonio Citterio, known as the Italian master architect who designed Bulgari Hotels & Resorts, has announced sales for Arte. This is the architect's first project in the United States, and it consists of luxury condominiums constituting the next chapter of Miami's Surfside. Widely considered the first "American Riviera," the 2.6-square-kilometre neighbourhood seems poised to continue its growth with Citterio's latest addition.
Arte is a beachfront property that sits on an acre of pristine land in Surfside's enclave. It offers potential residents 16 luxurious residences in a 12-storey boutique development. The prices reflect the high level of care and quality put into every unit, with price tags beginning at $10.2 million. Citterio's oceanfront condominium offers potential residents the novel opportunity to own property at one of the few residential designs he has completed worldwide.
Arte's residences effortlessly recreate a Mediterranean mindset, complete with breathtaking ocean views and delicate terraces that blend seamlessly into decidedly modern living areas. The condominium's kitchens continue the standard of high-class sophistication, offering Poliform cabinetry, Gaggenau appliances and Italian marble countertops.
Of course, the luxury condominium experience wouldn't quite be complete without impressive amenities − and that's exactly what Arte provides. With an outdoor swimming pool, a 23-metre indoor swimming pool, a yoga studio, a cutting-edge fitness centre and even a tennis court situated on the building's roof, Arte's amenities rival those of many resorts. Additional facilities include a children's playroom, catering kitchen, residents' lounge and private parking spaces that offer residents temperature control to keep their vehicles in prime condition.
Arte is aptly named, featuring artful design, as well as carefully curated artwork displayed within the building. This love of quality artwork is capped by an original ART sculpture crafted by American artist Robert Indiana. Readers might be familiar with his well-known LOVE sculptures. The building's carefully designed lobby will also be home to artist Olafur Eliasson's Polychromatic Chronology. With the first closings set to begin in summer 2019, offers are beginning to roll in. Arte is situated at 8955 Collins Ave. in Surfside, at the centre of the area's most vibrant community, including diverse culinary, cultural and shopping options.