Burdifilek: Creative Exploration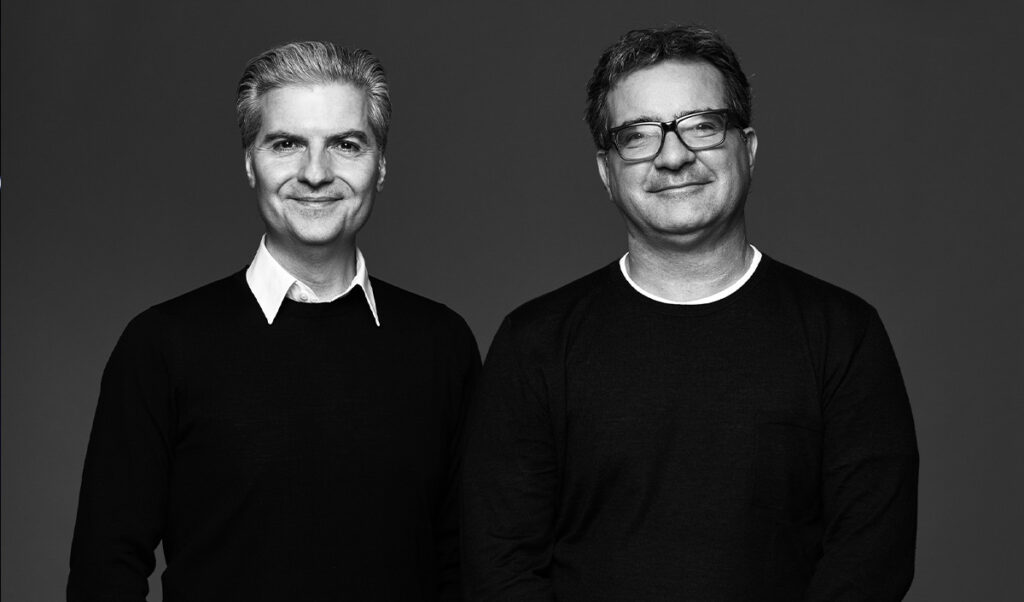 Founded in 1997, the multi-award-winning interior design studio BURDIFILEK has transformed spaces with boundless creativity, sophistication and flawless execution.
It was 1988 when Diego Burdi and Paul Filek met at Toronto Metropolitan University's School of Interior Design (then known as Ryerson). They were merely classmate acquaintances who knew very little about each other except for the quality of each other's projects, which would sit out on the desks.
Only later, once they began making their mark in the design industry did they begin to know each other better. They bonded over their passion, work ethic and design philosophy. Above all else, their mutual embrace of the entrepreneurial spirit, nurtured by their families, sparked their partnership and the creation of BURDIFILEK.
The studio is based in downtown Toronto, and they have always looked at Toronto as the world's canvas. "Right from the get-go, aspirations-wise, we were always thinking big. We were always aware of what was happening internationally in the design world, whether it was architecture, design or fashion," says Burdi.
Although they are a mid-sized multidisciplinary studio that lives by the "think big" mantra, quality is always at the forefront. Filek adds, "We're not going to be a studio of 400 people because it is not about the amount of work we produce. It is about the type of project we produce and guiding people to produce a project that is at that level creatively and executed at that level."
Now, more than 25 years later, the BURDIFILEK studio is sought after globally and furnishes artfully unexpected and expressive interiors to a roster of exclusive private and commercial clients. While the studio is renowned for luxury retail and unique residential developments, the private residence known as the "Gallery Residence" marks a return to a single- family home located in a Toronto residential neighbourhood characterized by its winding streets and majestic trees.
The 25,000-square-foot contemporary house was imagined for a philanthropic family that regularly hosts events, concerts and dinner parties that support various charities. The clients sought out BURDIFILEK to redefine their sensibilities toward a bolder, contemporary expression. Every room reflects the studio's commitment to composition, beauty and, most of all, detail. "Walking through the residence is the epitome of consideration. Looking at it, you can see all the different touch points. It's a beautiful sense of discovery when you're there," says Filek.
When moving between rooms, a visual fluidity is revealed, created through a harmonized palette of warmth by the natural woods, quarried stone, milky hues and soft textures. The entire house offers an elegant yet inviting sensibility. Understated tones and dramatic sightlines are implemented to guide the eye toward works of art, and custom finishes give each room its uniqueness. Fourteen- foot portal doorways lead to the grand room where three groupings of custom soft furnishings allow for even small gatherings to feel intimate. Warmth is conveyed by the cashmere-covered walls and a silk-thread carpet that covers most of the hardwood flooring.
"During the project it demanded a lot of patience from everyone involved because we did take everybody out of their comfort zone, including anyone that was building concurrently. The end result is truly beautiful, and you don't need to understand design to know that you're walking into something special," says Burdi.
One of the main challenges was ensuring the home maintained a level of warmth and comfort with or without guests. Out of all the resident work that BURDIFILEK has done, the Gallery Residence is certainly the most "public private property" they have ever created. Filek says, "The client sincerely believes in the causes they support, and they welcome that into their own home.
"YOU DON'T NEED TO UNDERSTAND DESIGN TO KNOW THAT YOU'RE WALKING INTO SOMETHING SPECIAL."
So, the residence is set up in such a way that it entertains the public beautifully, but at the end of the day it's an incredibly comfortable residence for a family. It serves both functions extremely well."
The BURDIFILEK studio is unquestionably a leading force in the design industry because of the powerful visual statements and functionality of their work that is consistently produced.
The strength of the artisans' chemistry is almost telepathic. Diego Burdi says that there are no prescribed creative formulas; it is pure instinct. While he aims to achieve his artistic vision, his ability to be receptive to other ideas is what sets the tone for the entire team. He refuses to take "no" for an answer and demands the very best of himself.
Paul Filek "makes the ship run smoothly" by being able to defuse the outside disruptive voices of the industry and foster a creative world within the studio that inspires passion. He understands the successful growth of the business comes from working "on" the business as opposed to trying to be the hands that do everything "in" it. He resists the temptation every day to do it himself and embraces the joy of working with others to produce a collectively shared creative vision.
They have set the standard of design excellence by working together every step of the way.