Luciano Gerbilsky Arquitectos: Natural Oasis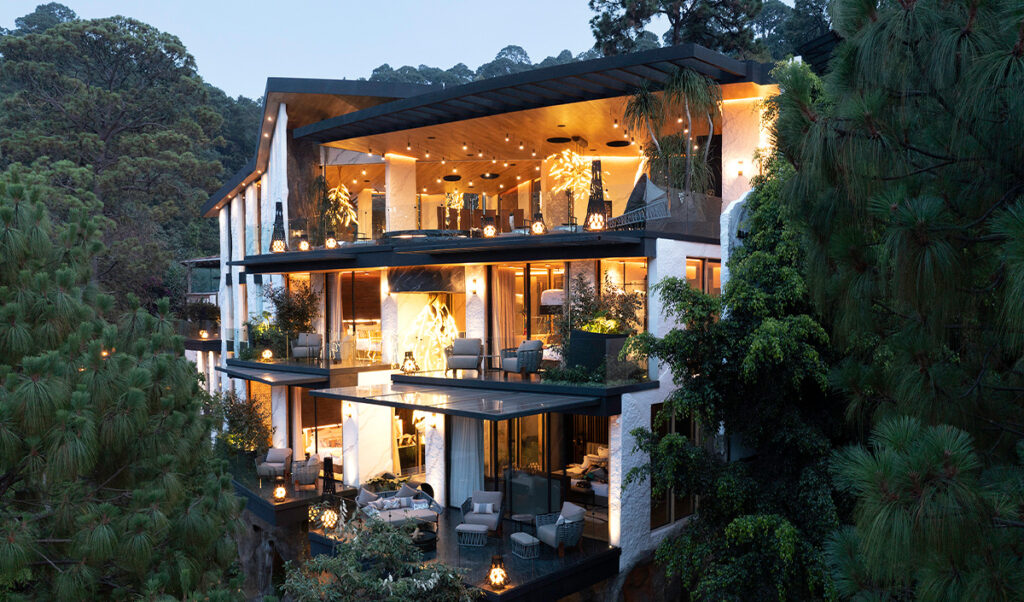 Symbiosis Residence, on a cliff overlooking Lake Avandaro in Valle de Bravo, Mexico, is an architectural triumph, balancing human creativity with the wonders of nature.
The true brilliance of creative design and the art of architecture is that they can create a structure that fits so perfectly into its natural environment that it appears as if it's always been there.
That's the fusion of form with nature that Luciano Gerbilsky Arquitectos has created with Symbiosis Residence, located in Valle de Bravo, Mexico, an oasis surrounded by ponds and waterfalls high atop a cliff 40 metres above Lake Avandaro. The 1,000-square-metre plot of land is characterized by its irregular shape, rugged topography and the complexities of the terrain, and the high population density of the area caused Gerbilsky Arquitectos to envision the residence to be at one with its surroundings, an organic project with predominately soft finishes. This innovative creativity also resulted in the privacy that this sanctuary provides.
The project was conceived as a true interaction between nature and the residence, and its name, "Symbiosis," is a reference to this linkage. The main objective was to establish a symbiotic relationship between the residential project and the natural beauty of its surrounding environment.
Symbiosis Residence is the latest triumph for Luciano Gerbilsky Arquitectos, a space consultancy founded in Mexico in 2011 that integrates architecture, design and art into its growing and impressive portfolio. Its experience allows the firm to attract a wide variety of projects, including urban development, homes, weekend houses, restaurants, commercial stores, offices and remodelling projects.
The firm is widely recognized for the depth of expertise and talent of the individuals in its practice, all of whom are passionately committed to their specialties and to esthetics and comfort as key elements in life. Luciano Gerbilsky Arquitectos comprises interior designers, architects, project managers, lighting experts and furniture designers working together with artists, all focused on design with a philosophy that accentuates the importance of detail in every space.
With an emphasis on nature, numerous green spaces were conceptualized and designed for Symbiosis, including hydrological corridors with ponds, waterfalls and gardens that surround and enter the residential spaces. The resulting structure allows the residents to enjoy nature in both social and private areas of this truly stunning masterpiece of residential design.
Cuts in the rugged landscape were incorporated to create openings to the exterior that prioritize panoramic views of Lake Avandaro, and the architects created openings in the home's façade to filter in the sunlight of the changing seasons.
The ground level contains most of the residence's social spaces, including a living room, dining room, a guest bathroom and an interior kitchen connected to the main terrace. The terrace features a lounge, a second dining room for seasonal dining, a solarium, a changing room with bathroom and a large Jacuzzi, all surrounded by green areas and waterfalls.
Level 1 of Symbiosis Residence houses two bedrooms, each with terraces overlooking the lake, as well as a games room and multimedia room. All the spaces are surrounded by green areas and waterfalls emerging from the level immediately above. In the private spaces of Level 2 is the main bedroom, which includes a spacious bathroom with a pond and waterfalls. This level also includes another bedroom, and both bedrooms feature expansive terraces with lake views.
Gerbilsky Arquitectos's creativity is on full display on Level 2, which also contains the parking area and an interior corridor connecting the bedrooms. This connecting corridor exhibits a thoughtfully captivating selection of art that includes a spatial installation specifically created for the space, emphasizing its importance in the overall design. A pond with waterfalls visually divides the rooms, with a circular elevator at its central core.
The vertical connection between all levels is centred around a spiral staircase, which is creatively housed in a glass cylinder surrounded by green spaces with waterfalls and ponds, immersing residents and guests into their natural environment.
The lowest part of the land is perhaps its most social and undoubtedly its most creative in demonstrating how Gerbilsky Arquitectos has thoughtfully worked with the splendidly natural setting. Appearing to be a rocky cavern, it connects the spaces through a glass bridge tunnel, one of the most distinctive architectural features of the property, leading to "Club del Lago." This includes a swimming pool, a lounge, a dining room, a kitchen and bar area, changing rooms, a dock and a storage room for nautical equipment. This inventive tunnel crosses a rock intervention with generous vegetation and waterfalls emerging from the main house.
THE PERFECT BALANCE BETWEEN SPECTACULAR NATURAL ELEMENTS AND A STUNNING BUILT ENVIRONMENT
A short detour leads to the guest house, featuring two bedrooms reminiscent of hotel suites, and both have terraces overlooking the lake as well as a roof garden visually integrated with the surrounding green areas. An elevator, accessible to both bedrooms, descends to the pool and waterfalls at Club del Lago.
Brilliance in architectural design is easily evidenced but not often duplicated, provoking feelings and emotional attachments. The Symbiosis Residence on Lake Avandaro in Valle de Bravo, Mexico, succeeds in its attempt to achieve the perfect balance between spectacular natural elements and a stunning built environment — it is as if it has always been there. Its design reflects the inspiration behind its creation, and Luciano Gerbilsky Arquitectos has succeeded with a natural oasis on every level.