Pop-culture's Reigning Showwoman: Taylor Swift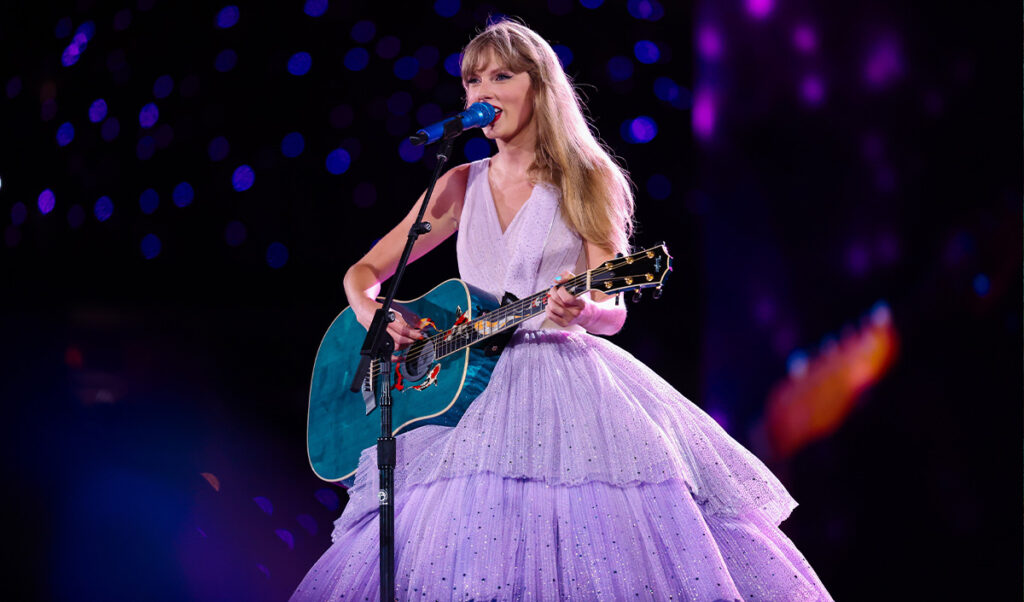 How her record-breaking Eras Tour is reshaping how music is heard, commanding the attention of millions and pioneering a success not witnessed before in this cultural age.
It's been a long time coming, but … Taylor Swift's record-breaking The Eras Tour has reached the first "bridge" on its expansive 52-night sold-out tour across North America. Drawing a close to her initial lineup of cities across the United States, Swift marked the triumphant moment playing six sold-out shows at the coveted So-Fi Stadium in Los Angeles, Calif. — and Dolce had the pleasure of attending.
With over 70,000 "Swifties" in attendance, crowds were lit up in excitement as they awaited the monumental moment the mega-pop star took to the stage. Dedicated fans showed up and showed out in what appeared to be a fashion show throughout the eras of Swift-inspired outfits. With no shortage of friendship bracelets and sequins to spare, fans were ready to sing their hearts out to their favourite songs from the "Fearless" singer's career-spanning discography.
Upon entering the mega-stadium teeming with fans and parking lots packed to the brim, the focused energy and atmosphere was certainly going to culminate in an unforgettable night, unlike any other.
The experience was almost overwhelming, and we couldn't help but notice that many of the concert-goers (including us) were feeling the enchanting symptoms of "Swiftie fever."
So-Fi was overflowing with a sense of community and pride as Angelenos celebrated each other's outfits and traded lyric-esque friendship bracelets prior to the show. An almost religious gathering of fans created a warm and welcoming experience for all, displaying the true class of the reigning fandom.
Announced in November of 2022, The Eras Tour quickly gained the reputation as one of this summer's hottest shows alongside other artists on tour, like Beyoncé. The urgency from fans to witness the tour sent the Internet into a frenzy and many international fans packing to travel abroad.
The show began with tour openers HAIM and Gracie Abrams warming up the crowd as concessions remained busy as ever, flocked by hundreds of young Swifties waiting to purchase show memorabilia and snacks alike.
Because Los Angeles was the final stop before the "Karma" singer packed her bags for the international stretch of her tour, it was almost certain to be a star-studded evening with A-list celebrities in attendance. Stars including Selena Gomez, Taylor Lautner, Channing Tatum and Emma Stone were all seen filling the VIP sections of the venue.
Even the mere level of production that The Eras Tour had is like no other, from the dedicated staff who secured light-up wristbands on each ticketed seat prior to the show to the panoply and size of the stage. Everything was a multitude of perfection, executed flawlessly from start to finish.
As the lights dimmed and wristbands began to glow, the crowd roared in excitement while we all watched the stage come to life with a countdown to midnight. A recognized Swift tune began to play — a mashup intro (now favoured by popular Internet trends and TikTok users alike) of the pop star's album titles set the tone for her arrival. A crowd of dancers appeared, fanning the audience with larger- than-life parachute costumes until we took one final breath before Swift rose up out of the stage and the show began.
Miss Americana sang her heart out. She effortlessly commanded the attention of everyone there. The sheer magnificence of Swift's vocals charmed the crowd with many in an overwhelming state of grace, shedding tears and creating cherished memories among friends as the lyricist's songs were sung back to her by the 70,000-plus crowd.
Over the course of her three-and-a-half-hour marathon set, Swift belts and soothes the masses with stadium-shaking anthems like "Shake It Off" all the way to her ballads soft as a songbird in her Folklore set with songs like "August."
Her power to not only command every minute of stage presence but also to create moments of intimacy that feel incredibly personal are just small ways that Swift is able to create a show worth raving about.
Her talent and infectious persona have the effect of yielding standing ovations from crowds lasting longer than 10 minutes each night following a speech sat at her piano.
There are special moments during The Eras Tour that Swift has devised that leave fans on their toes, particularly during a part of her acoustic set when she performs two "surprise songs" each evening, oftentimes sending not only the crowds in attendance but also the Internet wild.
Of course, it would make sense for Swift to film a concert documentary in L.A., capturing the magnitude of this phenomenon she has brought to life. It was announced that The Eras Tour film would be brought to AMC theatres across North America premiering on October 13.
During her tour, Swift has shared many special moments with select cities, including premiering music videos, special guests' appearances and release dates for her re-recordings. Los Angeles was no exception to this as 1989 (Taylor's Version) was announced on the final night at So-Fi Stadium, with a release date 13 years to the day after her original album, on October 27, 2023.
The Eras Tour is truly a celebration and deep dive into a career-long discography, with unique fan interactions and unimaginable vocal talent — it is a production that takes the crown in showbiz.
While you become transported through the eras from Lover to her latest release, , Swift tantalizes in this unforgettable concert experience.
As for us Toronto Swifties, we'll be waiting in anticipation until the "Blank Space" singer rolls into town in November of 2024 to grace us with her talents and masterpiece of a show.