Moll Anderson, Interior Designer and Lifestyle Expert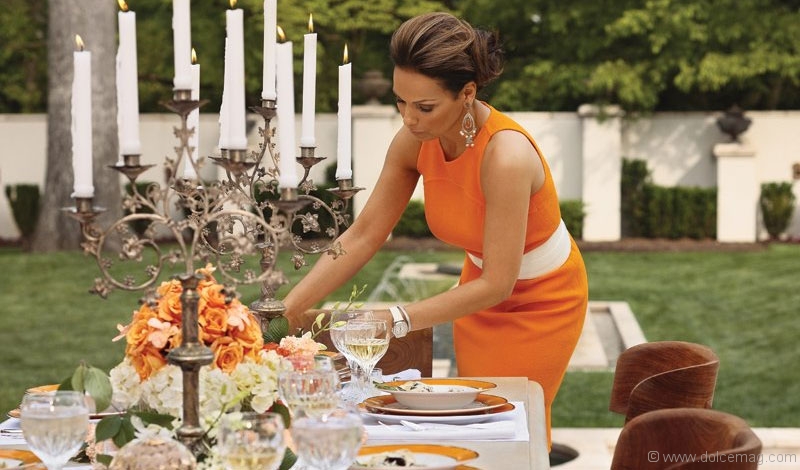 "It's never too late to be who you were meant to be," says interior designer and lifestyle expert Moll Anderson. This phrase, a personal favourite of hers, is from her first book, Change Your Home, Change Your Life (Thomas Nelson, 2006), a saying that echoes the words of renowned author George Eliot, and one that best sums up her life. At 40 – an age where most are settled into their personal and societal roles – Anderson boldly jumped into the world of interior decorating, a realm where she had little professional experience, but plenty of personal practice. This daring departure uncorked an untapped gift, revealing her true calling and uncovering the passion that redefined her life.
It all started with an episode of Oprah. Anderson had recently moved to Nashville, Tennessee to test her luck as a musician, but was now pondering the merits of this change. As she sat on the couch in contemplation, Oprah Winfrey was on the big screen discussing life makeovers. The inspirational TV host made a simple suggestion: pull out old photographs and review your life. Seeing as she hadn't completely unpacked, Anderson dug out her old photo albums and flipped through the pages. What she found was a collection of stunning before-and-after photos from every address she had occupied, and every friends' home she had redecorated. And there it was: forgotten photos had become a powerful catalyst for change. This simple moment of existential self-discovery revealed the road before her, a road she knew she was destined to walk. "I was never willing to quit," reminises Anderson. "I always somehow had the ability to believe that I was destined to do something special." But now, where to begin?
"One of the things [Oprah] had suggested was to put yourself into a situation where you can learn your trade," recalls Anderson. Taking a measly $10/hour position at a local design studio, Anderson did just that. A chance encounter with a new customer was all the born-again interior designer needed. "Owning" her newfound role, Anderson unleashed her once-overlooked talent, dazzling her first real client with an inherent gift for design. "I innately understood scale," says Anderson. "I didn't realize that people sat down and figured it out and calculated it. I could just look at a room and see it differently." And that is a statement free of ego or pretension. A quick perusal through her latest book, The Seductive Home (Moll Anderson Productions, 2011), exemplifies this ability, cataloguing her decorative triumphs and demonstrating her eye for elegance.
Each of her immaculate layouts is full of detail, coloured flawlessly and befittingly balanced in scale. Space flows without hindrance, but everywhere you look, tiny particulars seduce the senses and arrest attention. Anderson describes this in her book as 'sensory scaping.' "The key to a seductive home," she writes, "is to immerse your surroundings in elements that capture the senses." For Anderson, these elements are paint, lighting, music, flowers and fabric. "Those five things, no matter where you live, whether it's one small room or a sprawling mansion, those five things are essential to creating a seductive atmosphere." These essentials transform rooms into thriving ecosystems of furniture, accessories and design. Like a master painter, whenever Anderson puts her designer's brush to a spacious canvas, the final product is nothing short of spectacular.
A deep appreciation for art and flowers also influences her style. She encourages others to add both to their homes, especially in the bedroom. "When you wake up to art, it is really, really, really important that it be something that makes your heart happy … especially in the master bedroom because that is part of it. This is about closing the door and having a sanctuary for the two of you."
All these elements, however, are only instruments for design. Any home should be a manifestation of the owner – a reflection of personal style. "You will be most comfortable in your space when you wear the room. You find out who you are by looking in your closet and seeing what you're most comfortable in. I mean, I can walk into anybody's closet and determine what their home should look like," says Anderson, who personally adores donning attire by Gucci, Donna Karan and Michael Kors. "I also tell people to dress for the life they want to have," she adds.
But all these decorative tips and tricks only scratch the surface of her actual aspirations. Anderson's spaces aren't pieces of art on display for others to admire: they are meant to be enjoyed. Quit saving everything for that special occasion, she feels, "just start living, because this is it. We don't know how much time we have, and we have got to seize the moment." Use that fine china more often, run a warm bath and pour yourself a glass of champagne in that crystal stem wear, just make the most of every day. "I don't understand when people complain about having to get dressed up to go to a function, either. I'm thinking, 'are you kidding me?' Enjoy the process!"
At 51, Anderson still lives for every moment, experiencing life for everything it should be. She was a woman who was never willing to quit, always believing she was destined for greatness. For her, the sweet life is "living life passionately in your best possible way." This philosophy was how she eventually found her true calling, a true testament that it's never too late to be who you were always meant to be.
www.mollanderson.com