Sam Mizrahi Toronto: The Mizrahi Movement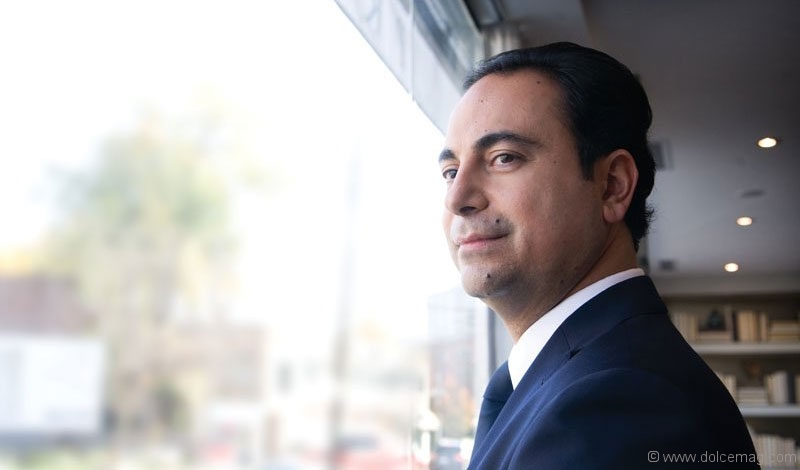 In a rising luxury real estate market, Sam Mizrahi finds himself at the apex of Toronto's transformation. The president and CEO of Sam Mizrahi Toronto Developments, whose beginnings can be traced back to the brick-and-stone faces of Forest Hill's coveted custom homes, has reached a new plateau with his imminent Yorkville development. Sprinting down the stairs of 181 Davenport's staggering presentation gallery, the effervescent entrepreneur opens up about the next phase of his expanding empire. "We're very excited and passionate to keep growing and be entrusted to go into new communities and to do exactly what we're doing here: create a lifestyle experience, create a community experience that doesn't exist yet," he says.
Complementing the natural curvature of Davenport Road, Mizrahi has envisioned a 12-storey, Parisian-inspired limestone mid-rise featuring 5,000 square feet of upscale retail and three penthouse tiers with expansive, south-facing terraces overlooking Yorkville's unobstructed Heritage Conservation District. "You get the sunrise, you get the sunset, and because we're on the south side of the street, you get the sun all day long. It's beautiful," he says, circling the 3D model. Building within the cultural context of a sought-after neighbourhood, Mizrahi enlisted the support of his go-to team: internationally renowned interior designer Brian Gluckstein and award-winning architect Sol Wassermuhl of Page + Steel. "You're as good as those you surround yourself with in life," says Mizrahi. The promise of a brilliantly packaged product on the periphery of convention gives potential homeowners incentives they can't close the door on.
Mizrahi has good reason to have faith in the talents of his design team. Gluckstein and Wassermuhl also collaborated with him on 133 Hazelton, a 38-suite luxury marvel which sold so fast that the construction phase commenced ahead of schedule — a rarity in an industry better known for falling behind. "We had such a large interest in 133 so we decided, 'OK, here's an opportunity to create another building right beside it,'" he says of the motivation that spurred 181 Davenport. In the first two and a half weeks, Mizrahi has already sold 35 per cent of the suites, most of them signed by buyers who were previously enamoured of its predecessor. "They were so loyal because they stayed. They waited over a year and didn't purchase anywhere else, which speaks volumes."
His gaze turns to adjacent glass walls that capture the dynamism of Davenport Road. Within eyeshot are a few of Mizrahi's favourite familiar destinations: from Ramsden Park and Joso's Restaurant to Massimo Capra's Mistura. "The location was critical because you have the privacy of being on a residential street and the privacy of having a home, without being in the centre of Yorkville where you come down and bump into three of your friends." The beauty of being just a four-minute walk from Toronto's pulsating nexus is an effervescent attraction. "You can walk to the best restaurants, the theatre, the shopping, the museum, it's all there."
Surrounded by splashy 60-storey structures, the pressure to design differently and cater to a niche clientele that's dispassionate about trends, yet tired of tradition, is the motivation behind Mizrahi's distinctly different buildings. "If you create timeless architecture with timeless materials, you are going to become a significant fabric of the community," he says of his construction philosophy, which also emphasizes environmental consciousness through EnergyStar and ISO 9001 best practices. It's because of this, that 181 Davenport is able to circumvent the competitive, high-rise movement that's sweeping the city. "It's a different market. We're developing boutique mid-rise buildings that have a more international, timeless culture."
With his roots planted in Forest Hill, Mizrahi established a firm understanding of the importance of mirroring the composition of an established environment. "It shouldn't be a tree in the middle of the desert, it should look like it was there and it always belonged there," he says. For Mizrahi, building in Yorkville meant gaining collective support, which he won almost immediately through public meetings and discussions on shared values. "You have a moral responsibility when you're coming in and building significant structures in a community because those buildings are going to be there long after you're gone. It's there for the future, it's there for the present and it's a reflection of the past."
The modus operandi of Mizrahi's custom-home days has metamorphosed into an all-encompassing level of customer and community service that is applied to every project, whether it's a single residence or a boutique condominium. "It allowed me to really understand my client and be able to build homes that sang to the family. I wanted them to come in and say 'this is it, this is exactly what our dream home is,' and by spending years listening and building just that, it became entrenched in our DNA." Owners of 181 Davenport will have the opportunity to sit down with Gluckstein and the design team to conceptualize a completely personalized space fitted with top finishes, "where you can exhale, where you have peace, laughter, where you just feel like you belong and it's instinctively home." His competitive advantage lies in the uniqueness of a product that responds to the rare demands of discerning clients.
"181 Davenport will have services, amenities and details that you don't even know you need yet," he says of the property management features fully maintained by Mizrahi Developments. Living in an era dominated by errands, he recognizes that his clients aren't just looking for a luxurious home; they're looking for a lifestyle experience. From a 24-7 white-glove concierge service that will order you dinner on a whim and water your plants while you're away, to valet parking, a fitness retreat and an intimate theatre, "our relationship goes on long after the sales process." It's the Mizrahi imprint customers have come to expect. "I think it's the details in the lifestyle, it's what happens after you move in."
With completion dates of December 2014 and 2015 respectively for 133 Hazelton and 181 Davenport, Mizrahi is shaping the horizon of a city he calls home. "I love collaborating, I love looking at every detail and making it perfect. To me, the creative process just makes me so enthusiastic and I think that passion and that enthusiasm really becomes the fabric of every element in our development."
Photography by Jesse Milns