The German Way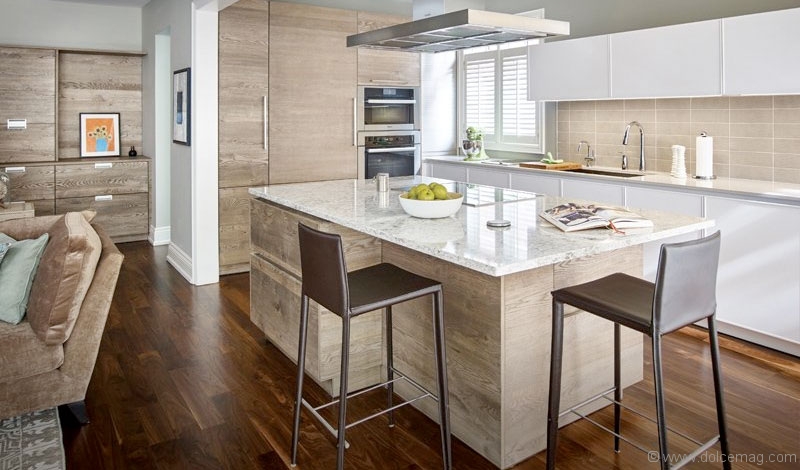 Eggersmann has landed in Toronto, and Canadian design will never be the same
If you're a design enthusiast, you probably know the names Anthony Binns and Victoria Shaw. They're the Canadian gurus of kitchen and bath design and they've just upped their game by bringing something poignant to Canadian soil: Eggersmann, Germany's celebrated design brand, which has officially launched in Toronto. Headed by Binns and Shaw, Canada's first and only Eggersmann branch has the entire design industry holding its breath to see what these two dynamic designers do next.
DM: This is Eggersmann's first location in Toronto. Why do you think this city could benefit from Eggersmann?
Anthony Binns: We wanted to open a studio that offered something a little different. With the open spaces people are now living in, we are finding a need to go beyond the kitchen and include more area into this open-living concept. It's about how our clients live and move within their space.
DM: What initially attracted you to the Eggersmann brand?
Victoria Shaw: We loved everything about Eggersmann. Right from the beginning, we knew we chose the right company when we discovered that their thought process matched ours when it came to designing kitchens. The fact that the cabinetry is custom produced played in our favour. Being the only [Eggersmann] studio in Canada makes us the pioneer of a changing thought process about how we live and work in kitchens and baths.
DM: Can you both share your backgrounds in design?
AB: Victoria has always had a passion for design, ever since she was a child building miniature model home interiors. She obtained her pastry chef papers through an apprenticeship and later furthered her education in the field of interior design. By combining her talents in the kitchen with design, it has strengthened her design vision
to one that is noted for having clean lines, functionality and being esthetically pleasing.
VS: Anthony grew up in the construction world. His parents came to Canada from England to live the dream of being entrepreneurs. Anthony's father was a bricklayer by trade and started his home improvement business in the '60s, which grew to be a specialized kitchen and bath business. Anthony continued to develop his design sense to become one of Canada's top kitchen and bath designers. After over 30 years of being a partner in his family business, he decided to pursue his own dream of entrepreneurship.
DM: What do you find personally fulfilling about your work?
AB: Creating designs from ashes.
DM: How have you made the Eggersmann Toronto brand unique from the other branches?
VS: Eggersmann Toronto is unique in our approach to meeting and working with clients. We also feel that by choosing to team up exclusively with Miele, Dornbracht, Cambria and The Galley Sink, we are able to offer great products at one destination. Most studios do not practise this. We truly believe that we are offering the best of everything to make our clients' designs work, and work well.
DM: While Eggersmann is known for creating masterpieces out of any type of room, kitchens seem to be your specialty. Homeowners often put the spotlight on the living room or bedroom — but why do you think kitchens are an essential part of the home, design-wise?
AB: We feel that people are looking for simplicity — a simpler lifestyle, a gathering space for family and friends to just hang out. We have noticed that decisions are being made to go back to the European way of life, where everything happens in the kitchen. Food has always played a huge part in bringing people together, so designing a kitchen that will facilitate small and large gatherings is very welcoming. So we chose to incorporate function and esthetics in
a kitchen so that lasting memories will be made.
DM: What features must a kitchen include?
VS: Great work centres, correct lighting, easy circulation and a designated place for all items.
DM: Eggersmann Toronto carries Schmalenbach Wardrobe and Home Furniture. Why is this an integral part of your brand?
AB: The symbolic relationship between Eggersmann and Schmalenbach allows us to offer our clients a whole home concept by offering a custom approach to wardrobes, wall units, TV cabinets and bedroom and office furniture.
DM: Do you follow a formula for a perfect design?
VS: We follow basic design principles to start and flourish into a design concept that will work for each individual. We start with the "wish list" conversation, finding out the clients' wants and needs. From there we take that information and move to sketches of concepts, reworking with them until we reach a final design.
DM: You both also specialize in bathroom design. What about this component of your work do you love?
AB: The bathroom is a very intimate space for most clients to discuss. It is an emotional design process with many challenges. As a designer, it is a wonderful place to design — there are so many things this small space is used for. Our goal is to make the bathroom a special place for each client, whether it's a retreat at the end of the day, a gathering space for parents and tots, a place to bathe the dog … the list goes on. It really is a challenge, but also a tribute to what we do well.
DM: What kitchen trends are coming up for 2016 that you're particularly excited to work with?
VS: Eggersmann has designed a new kitchen concept called "The Works."
It is absolutely brilliant! It breaks down our work areas into zones with some really interesting features, keeping the kitchen uncluttered yet very sophisticated looking.
Photos By Carole & Roy Timm Photography.