The Prince Philip Residence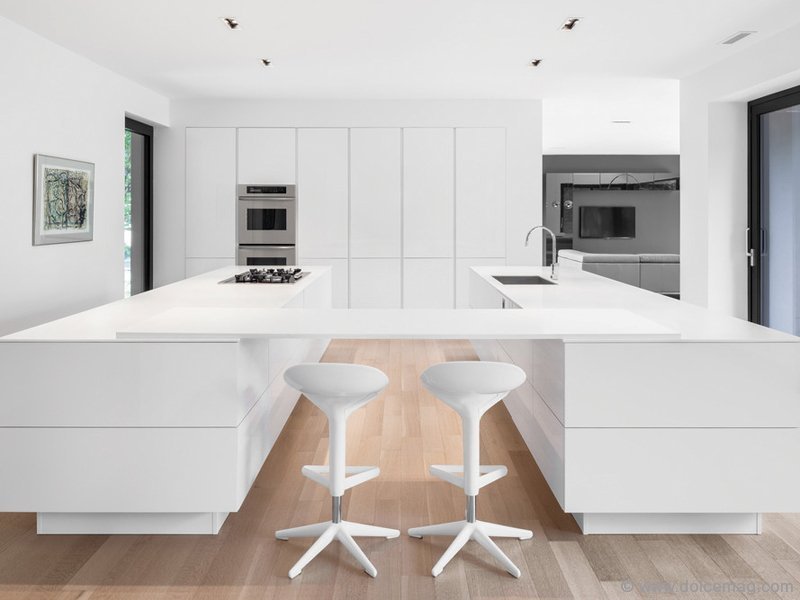 Meet the new monarch of Montreal's real estate
The words "modernism" and "royalty" don't often run parallel, but in the case of the Prince Philip Residence in Montreal, the newly uber-mod space has been titled appropriately. Formerly a mid-century Outremont bungalow, this hilltop abode was recently flipped into something of a 21st century castle, having been renovated and expanded at the hands of Thellend Fortin Architectes, a key player on Montreal's luxury residence scene.
The goal of the project was to take advantage of the lot's picture-like horizon, which the bungalow's single storey had left untapped. The second-floor expansion, with its generous window, opened up that view to reveal the unique scape. The architectural concept also introduced additional living spaces to the home in the form of a ribbon running laterally in line with the structure's contours, and the folds and unfolds of this "ribbon" creating an array of different views of the surrounding landscape. Thought-provoking shapes and a fearless use of glass bathe this reimagined space in natural light.
Concrete somehow becomes cosy with the cantilevered extension, which is clad in anthracite-coloured concrete panels and reflects the St. Marc limestone-lined pool. The pool itself is surrounded by a suspended deck in white-painted concrete, all together creating a natural and mineral esthetic that blends soulfully into the canopy of maple trees enveloping the lot.
The modern Canadian's version of Buckingham Palace, Prince Philip Residence is a pocket of oasis in the heart of one of the country's most bustling cities, making the most out of a unique topography.
www.thellendfortin.com