1451 Wellington Sets New Luxury Standard In Ottawa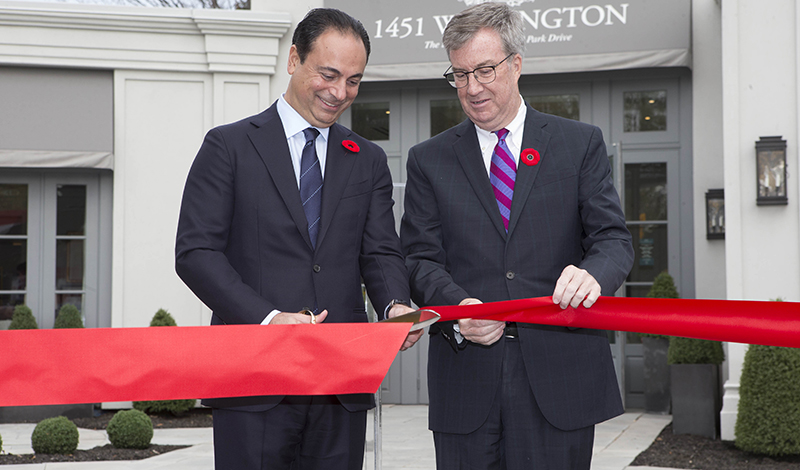 Ribbon-cutting ceremony for new luxury condominium by Mizrahi Developments marks a transformation in Canada's capital city.
An interesting transformation has been happening in Ottawa, Canada's capital city. Once known as a classic "government town" of civil servants and rigid timetables, the city is now home to vibrant arts and culture, and robust industry sectors such as research and development, technology and innovation, which in turn are attracting an entirely new population mix.
It was a transition noticed by one of Canada's leading luxury real estate developers, Mizrahi Developments, which has been quick to provide the appropriate residential product this new Ottawa is demanding.
This market sense has been rewarded with the recent ribbon-cutting ceremony to commence construction at 1451 Wellington, The Residences at Island Park Drive, which will elevate condominium living to a new standard of luxury in the nation's capital.
Located at the intersection of Ottawa's two hottest west-end neighbourhoods, Westboro and Wellington West, the condominium will be located in the middle of a thriving community of restaurants, boutiques, galleries and cafés, along with family-friendly parks and community activities.
Each of the 93 suites in the 12-storey building will be custom designed with the finest finishes, and residents will also enjoy amenities and services similar to those found in a five-star hotel. Suites range in size from 600 to 4,600 square feet and are priced at approximately $950 per square foot. The site is already 70 per cent sold, confirming Mizrahi's decision to bring high-end boutique condominium living to Ottawa.
"The number of pre-sales confirms that a high-end market exists in Ottawa, and that the capital is transitioning to an international city," says Sam Mizrahi, president and founder of Mizrahi Developments. "Since 2013, we have worked with the city to create what was wanted in terms of architecture and amenities."
As a testament to its importance in a city of museums and embassies, 1451 Wellington has already been officially designated by Ottawa as a new landmark in the capital.