David Johnston: Stargazer, Earthgazer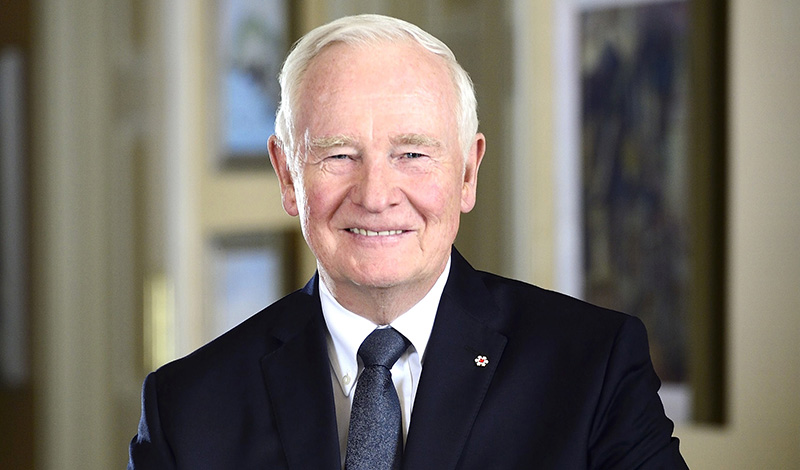 Knowing our place in the world.
To Chris Hadfield
Dear Chris, Whether kneeling in a canoe plunging headlong down a mighty river toward the unknown or floating weightlessly in space with only a slim tether to secure them from oblivion, those who explore new frontiers and reveal rare wonders share the same traits: intense curiosity, dogged determination, openness to collaborate, willingness to take calculated risks, expertise in the latest technologies, and a keen eye that doesn't merely observe but scrutinizes.
You displayed these characteristics throughout your career, most vividly as commander of the International Space Station. Your curiosity to investigate the unknown was piqued early when you watched the Apollo 11 moon landing on television. Your determination is manifest in your long and prestigious career as a pilot and astronaut. Your skills as a collaborator were continually on display in the many roles you took on at the Canadian Space Agency and National Aeronautics and Space Administration. Your quick thinking was put to use on countless occasions during the days you were aboard the International Space Station and the nearly fifteen hours you spent spacewalking. And while orbiting the Earth, you took advantage of the most recent social media to connect with people and share your singular perspective to help those below gain a truer vision of their world and their place in it.
Your service aboard the International Space Station coincided almost perfectly with the 200th anniversary of the publication of the Map of the North-West Territory of the Province of Canada – also known as the Map of 1814. This remarkable document, which details the geography of millions of square kilometres of Canada stretching from Lake Superior to the Pacific Ocean, is the ultimate achievement of David Thompson. Another of our country's great explorers and discoverers, Thompson and his work show us that, while much in our lives has changed during the past two centuries, the tenets of exploration and discovery remain constant. Like you, Thompson was inquisitive and persistent. He was just sixteen years old when the Hudson's Bay Company first sent him to set up a trading post in the interior. Sixteen! To prepare for and carry out his heroic journeys, he gathered information from a wide range of sources – from First Peoples and fur traders, from oral accounts and written records. He embraced old and new technologies – canoe, compass, and sextant – to span great distances and to chart his travels, and all the while, he made painstakingly careful observations, measurements, and notes on his progress westward to the sea. The Salish-Flathead people of what is now British Columbia called him Koo Koo Sint, or Stargazer, because of his practice of navigating by the stars. Thompson looked far overhead – into the deepest visible recesses of space – to gain a truer sense of the land at his very feet and the course he must follow.
If he is Stargazer, you must be Earthgazer. You looked down from the vast expanse of space – hundreds of kilometres high – to give each of us below a truer sense of our place on Earth. You once said the thing people most wanted from space was a picture of their hometowns, and you concluded that this wish represented a universal ache to see how each of us fits in with everything around us. That sounds right to me. Your exploration and discovery satisfied an instinctual human yearning: we all want to understand where we are in relation to others, how each of us fits into the whole, and in which direction time and circumstance may be pushing us. You wrote tellingly about how gazing down at the surface of the planet as your spacecraft was in orbit granted you a special insight: we are all "crewmates on the same big ship, working and hoping for a little joy, some grace and better opportunities for our children." There is such wisdom in those words. Taking what you and Thompson have taught us, I would go a step further. You and Thompson show all people that the best way to grasp our true selves and our place in the world comes when we view ourselves from different perspectives. Thompson gazed up at the stars to comprehend his place and determine direction; you gazed down at the Earth to appreciate the commonality of our individual situations and our intrinsic relation to one another.
Yet we don't necessarily need to ride the rapids of a raging river or blast off in a rocket into space to gain perspectives different from our own. We can do so by reading, travelling, and listening to others. Not as adventurous perhaps, but not as perilous either. We can read to increase the number of our perspectives. We can travel to intensify our perspectives. We can listen to others and use their experiences and observations to expand and enrich our perspectives. In these ways, each of us can be an explorer, a discoverer. Each of us can be a Stargazer or an Earthgazer.
A fellow gazer,
David
CHRIS HADFIELD
Chris Hadfield, an officer of the Order of Canada, is one of the most accomplished astronauts in the world. The top graduate of the U.S. Air Force Test Pilot School in 1988 and the U.S. Navy Test Pilot of the Year in 1991, he was selected by the Canadian Space Agency to be an astronaut in 1992. He was chief CapCom (the voice of mission control to astronauts in orbit) for twenty-five space shuttle launches and served as director of operations for NASA in Star City, Russia, from 2001 to 2003, chief of robotics for the NASA astronaut office in Houston from 2003 to 2006, and chief of International Space Station operations from 2006 to 2008. In March 2013, he became the first Canadian to assume command of the International Space Station. During his 146 days in space, he performed a record-setting number of experiments and oversaw an emergency spacewalk. He also used this voyage to share his passion for the arts and science with millions of people around the world via social media, gaining worldwide acclaim for his photographs from space and educational videos about life in space.
On June 27, 2013, Mr. Johnston awarded Commander Hadfield the Meritorious Service Cross (Civil Division), making him the first Canadian to hold both the civil and military decorations of this honour. In his post-astronaut career, Commander Hadfield is helping teach the Aviation Sciences program at the University of Waterloo, which was started in 2005 when Mr. Johnston was president of the school. The program is aimed at young people with an interest in aviation and space and, through co-op education, enables them to obtain their pilot's licence and a Bachelor of Sciences in Environmental Studies. It quickly became one of the university's most popular programs.
---
Excerpted from The Idea of Canada: Letters to a Nation by David Johnston. Copyright © 2016 David Johnston. Published by Signal/McClelland & Stewart, a division of Penguin Random House Canada Limited. Reproduced by arrangement with the Publisher. All rights reserved.