Yabu Pushelberg's Departo Offers Essentials For Global Nomads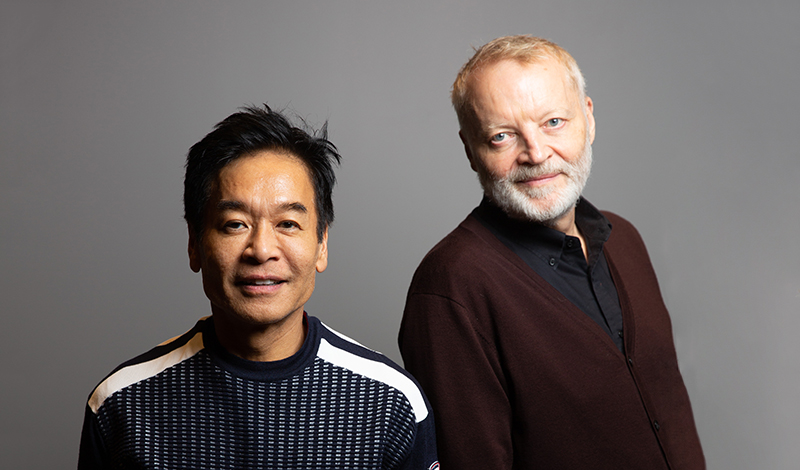 Famed designers launch new accessories and lifestyle brand in partnership with Stellar Works's Yuichiro Hori.
These days humans are more active than ever, and tourism statistics are off the charts. Be it multi-month worldwide cruises, adventures to remote locations, quick weekend getaways or a simple day in the country, we've never travelled more and never been more mobile. But recreating your home life in any nomadic adventure has always been a challenge, as when you leave your home you also have to leave the "comforts of home" behind.
Until now. Until Departo.
Departo is the new accessories and lifestyle label brought to the online marketplace recently through a partnership of Glenn Pushelberg and George Yabu, co-founders of the multidisciplinary design firm Yabu Pushelberg, together with Yuichiro Hori, the founder of furniture label Stellar Works. The brand celebrated its launch with a limited-stay pop-up shop in Toronto's Yorkville neighbourhood and may consider future pop-ups in the spring.
Defining Departo as "essentials for the global nomad," its inaugural direct-to-consumer e-commerce collection (through departo.co) includes furniture, ceramics, textiles, glassware and metal, aiming to introduce covetable essentials to a worldly audience at affordable prices without sacrificing quality. Products include utilitarian folding chairs, tables, stools, coffee mugs, candle holders, linen placemats and glasses — beautifully minimal items you can display in your home or even travel with.
"We have about a dozen products now, beautiful things that are reasonably priced and people will not throw out as life progresses," says Pushelberg. "Our travelling furniture comes fully assembled, so you cannot make a mistake, and the range of our six colours across our product line all work together to provide design options."
Perhaps it's fitting that this exclusive approach to lifestyle comes from Yabu and Pushelberg, who for 40 years have made unprecedented contributions to the world of design, leading to their recent induction into the Order of Canada, the nation's highest civilian honour. From starting in the 1980s designing copy shops, Yabu Pushelberg's portfolio today includes retail spaces, hotels and restaurants in Manhattan, N.Y., London, Bangkok and elsewhere. Their travels have been so extensive, and their design observations so acute, that Departo is a naturally organic progression of their creative intuitions and expressions.
"We … Design Objects That We Would Buy That Are Affordable, Fashionable … Objects That Are For Everybody" – Glenn Pushelberg
"About five years ago we were asked to design a micro hotel room of about 10 or 15 square metres, with the challenge being, how do you make a small room groovy?" says Pushelberg. "We were fascinated, and one of the ideas was to create furniture that was collapsible and could hang on a wall, including tables and chairs that are lightweight and you could just bring down and use when needed. But they needed to have character and be fashionable, but inexpensive. We decided to create our own line along this thinking, to design objects that we would buy that are affordable, fashionable and that you never want to throw out. Objects that are for everybody."
The Departo name is a play on the Japanese word for "department store," as well as the idea of departing, and its catchphrase of "essentials for the global nomad" is carefully chosen, addressing those adventurers, travellers, explorers or thrill-seekers who choose something other than the all-inclusive resort vacation when they go "walkabout."
"We live in a transient society," says Pushelberg. "People are migrating to where jobs are, and there is a lot of nomadic travelling happening. Our brand reflects this, as it's about diversity. People are all about keeping things, being mobile and living in smaller spaces."
Yabu and Pushelberg are the creative directors behind Departo, with the power of Yuichiro Hori's furniture label Stellar Works behind the manufacturing. This partnership is an extension and evolution of a long-standing and successful design collaboration.
"We've done about three collections for [Hori], and he's very smart, and the quality is as good as anywhere in the world. He's an honourable guy and a great partner to have," says Pushelberg.
The creative intelligence of the Departo design and lifestyle label is the practicality of purpose of its product line married with its design philosophy of simple and captivating style. It speaks to both the experienced world traveller and the family who may wake up one sunny morning and decide to go on a picnic.
"Our items are items that have an entry-level appeal, without being entry level," observes Yabu. "People go on journeys now and there is no reason you can't take the comforts of your home with you."
Departo is the latest evolution in the constant progression of George Yabu and Glenn Pushelberg. Even after 40 years, they keep creating, thinking, inventing and designing, while observing everyday life in perpetual motion.
As Yabu says so simply, "Glenn and I have a deep sense of curiosity that allows us to solve design problems."
Their inspirations and their interpretations have never failed to push new boundaries in creative design and make definitive statements about their craft, and to always design something that is new and timeless. In that way, Departo is a natural.
---