Chris Chelios: Selling Malibu Beach House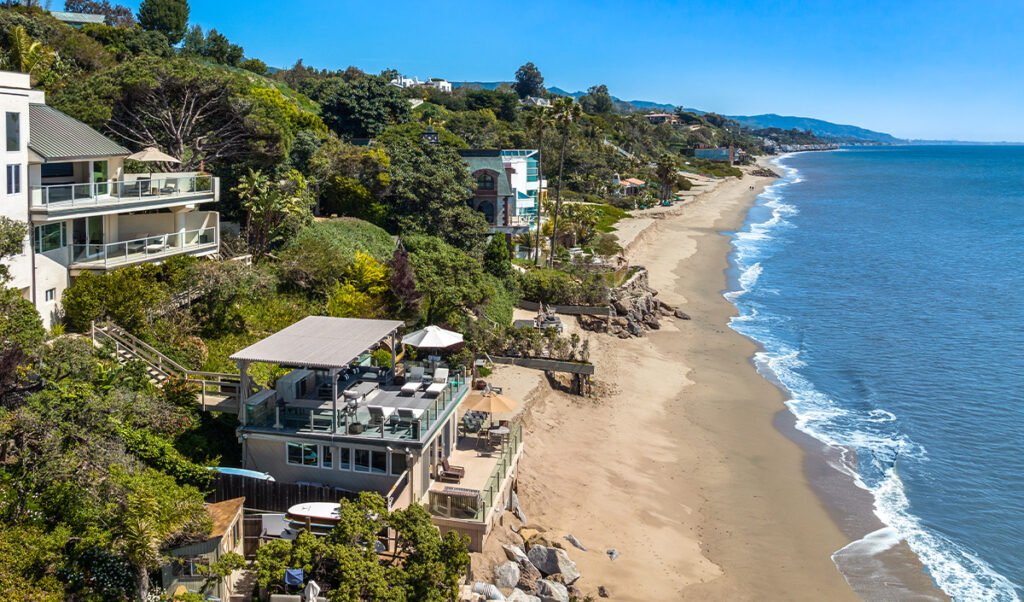 An NHL hockey legend offering his spectacular Malibu beach house for sale, Chris Chelios places his Paradise Cove mansion on the market for $75 million.
Malibu, known as the playground of the rich and famous, is just 45 minutes from Los Angeles, and Paradise Cove is one of its best beaches. It is here that former NHL hockey star Chris Chelios has his spectacular beach house, one of the rewards earned through a legendary career that saw him tie Gordie Howe for most seasons played in the league. Now Chelios is putting the property on the market, for almost $100 million (US$75 million).
The Mediterranean-style mansion is located on a spacious 1.7-acre lot and affords one of California's best ocean views from its many outdoor seating and lounge areas. An impressive entranceway leads to a grand living room with breathtaking views of the ocean. The adjacent gourmet-chef 's kitchen features high-end appliances, ample counter space and a cozy breakfast nook.
The master suite includes a spa-like bathroom, spacious walk-in closet and private balcony overlooking the ocean. There is plenty of room for guests with four additional bedrooms, each with its own ensuite bathroom. A private stairway leads to a one-bedroom detached guest house located on the beach that has its own living room, full kitchen, three big decks and a rooftop patio for entertaining. The mansion's secluded grounds also contain a large pool and spa, built-in BBQ area, multiple seating areas, and even a putting green.
If Paradise Cove looks familiar, it's because the location has been used in so many Hollywood productions. It was where the iconic movie of the early 1960s, Beach Blanket Bingo, was filmed, and the location of such television shows as The Rockford Files, Baywatch and Gidget. It was also the backdrop for a famous Marilyn Monroe pin-up photo, and the beach has been seen in music videos for Madonna, Fergie and Coldplay.
The warmth of California is a long way from cold hockey arenas where Chelios spent the majority of his youth, perfecting his talents to gain entry into the National Hockey League. He played for the Montreal Canadiens, Chicago Blackhawks, Detroit Red Wings and Atlanta Thrashers. Chelios retired in 2010 as a three-time Stanley Cup champion, was named to the NHL All-Star team 11 times and was a two-time U.S. Olympian. Upon his retirement he was the NHL career leader in penalty minutes and held the league record for career playoff games, a testament to the steady success he enjoyed over his storied 26-year career.
Now working as an ESPN hockey analyst, Chelios has been involved in many successful business ventures, including restaurants and bars, and has even tried his hand at acting, appearing in several films and TV shows.
Truly, his spectacular oceanside villa is an oasis unlike any other dotting the magnificent California coastline, offering privacy, seclusion and never-ending views in a beautiful setting that perfectly makes the most of the Malibu lifestyle — a rare offering of exceptional quality, design and ambience for the most discerning homeowner.