The world's best new luxury hotels of 2022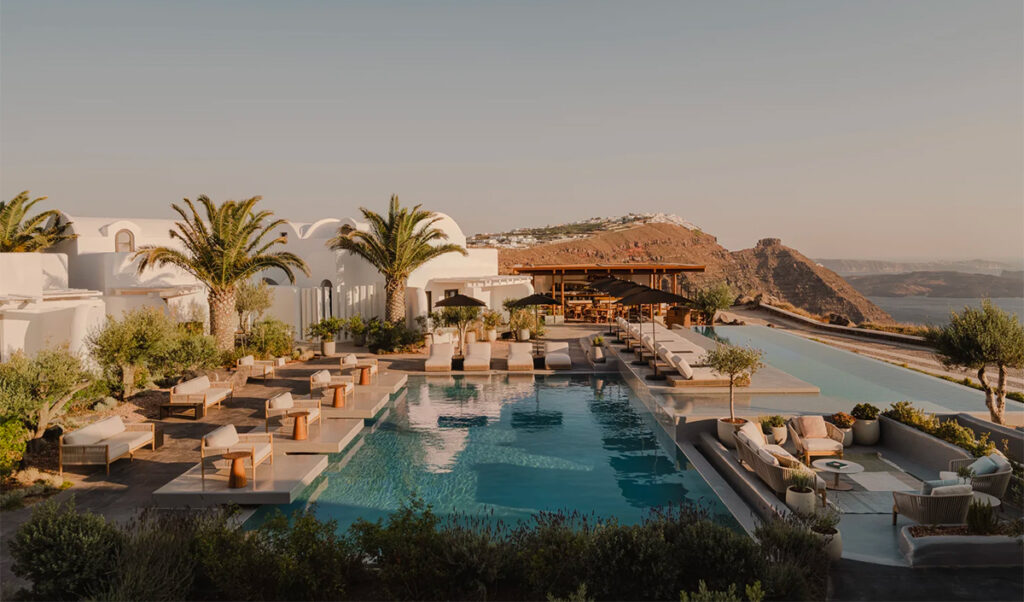 The world's best new luxury hotels of 2022 have finally been announced, and that means we have a list of new places we want to visit. Luxury Travel Intelligence (LTI) has come out with 15 of the best global hotels, including boutique properties and smaller-scale brands.
LTI is the epitome of luxury travel. It is a global, members-only organization that provides digital reporting for affluent travellers who wish to make non-biased informed travel decisions, based on honest and highly detailed intelligence. Thanks to LTI, travel is easier than ever.
Check out this exclusive list of the 15 best new luxury hotels of 2022: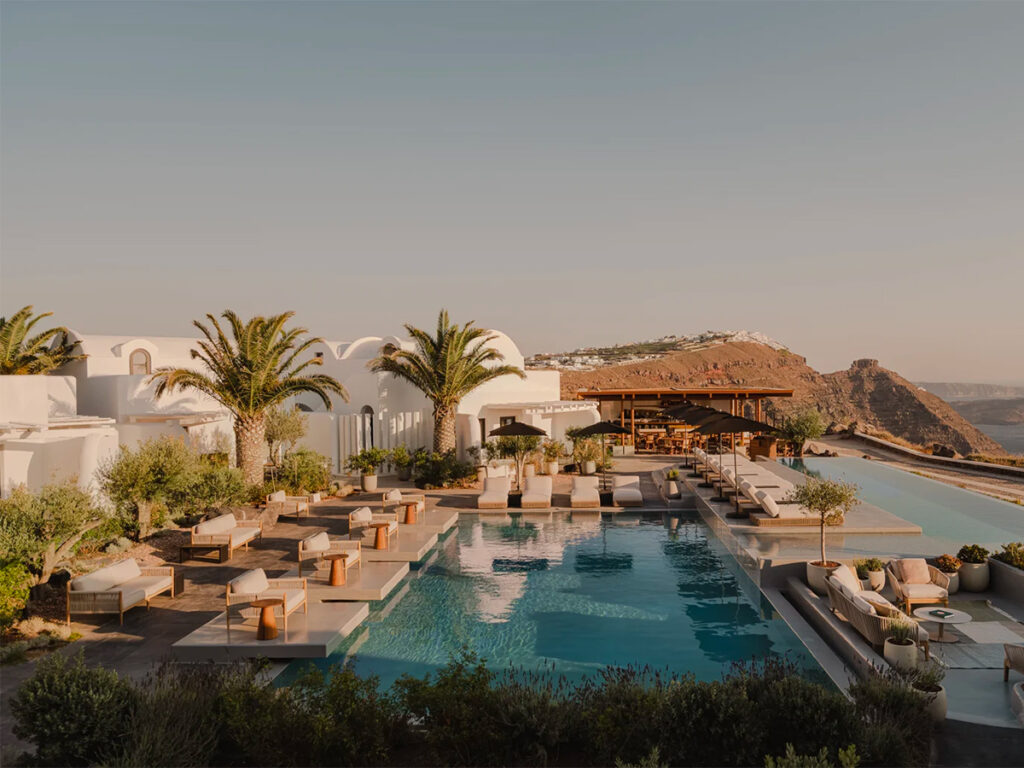 15. Nobu, Santorini
Nobu hotels are currently expanding worldwide with multiple hotels opening in the new year. Nobu hotels have become known for their distinct blend of modern cool luxury and minimal Japanese tradition, which creates the perfect luxury retreat. Their beach locations offer a chic upscale lifestyle experience, and this new addition to the Nobu portfolio located in Santorini may be their best one yet.
santorini.nobuhotels.com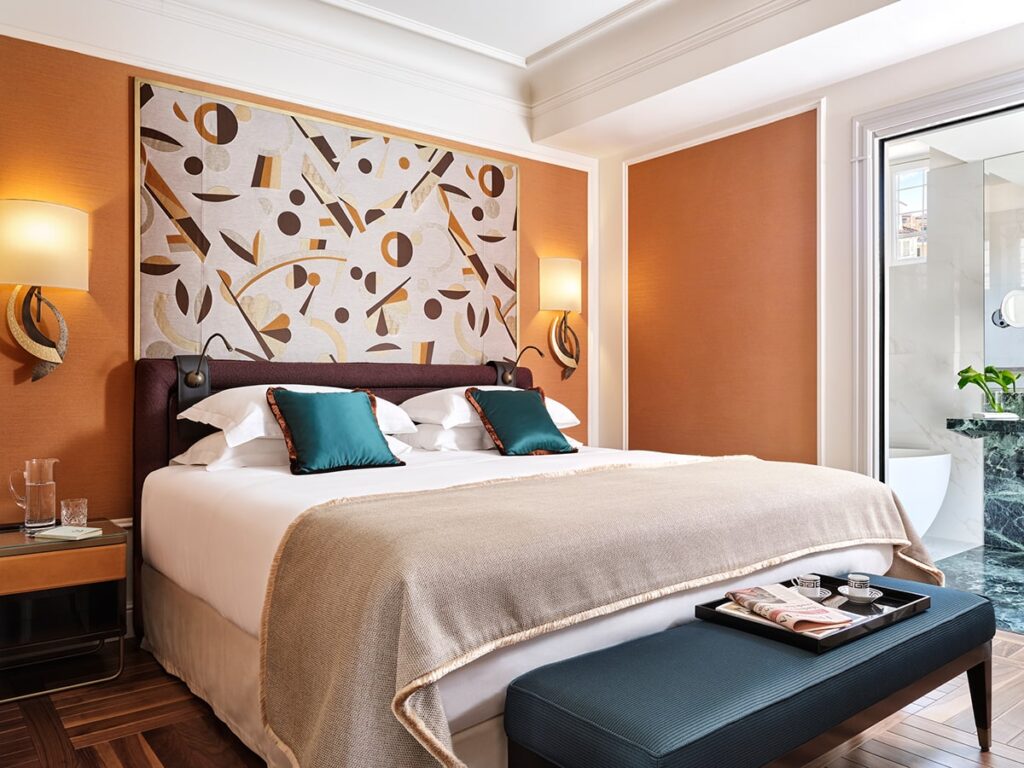 14. Vista Palazzo, Verona
Verona is known as the city that made Shakespeare fall in love, and we have fallen in love with the Vista Palazzo. Vista Palazzo is a romantic retreat that sits in a 19th-century mansion. It is a welcoming boutique hotel with opulent suites and bedrooms that have been designed with luxury in mind.
verona.vistapalazzo.com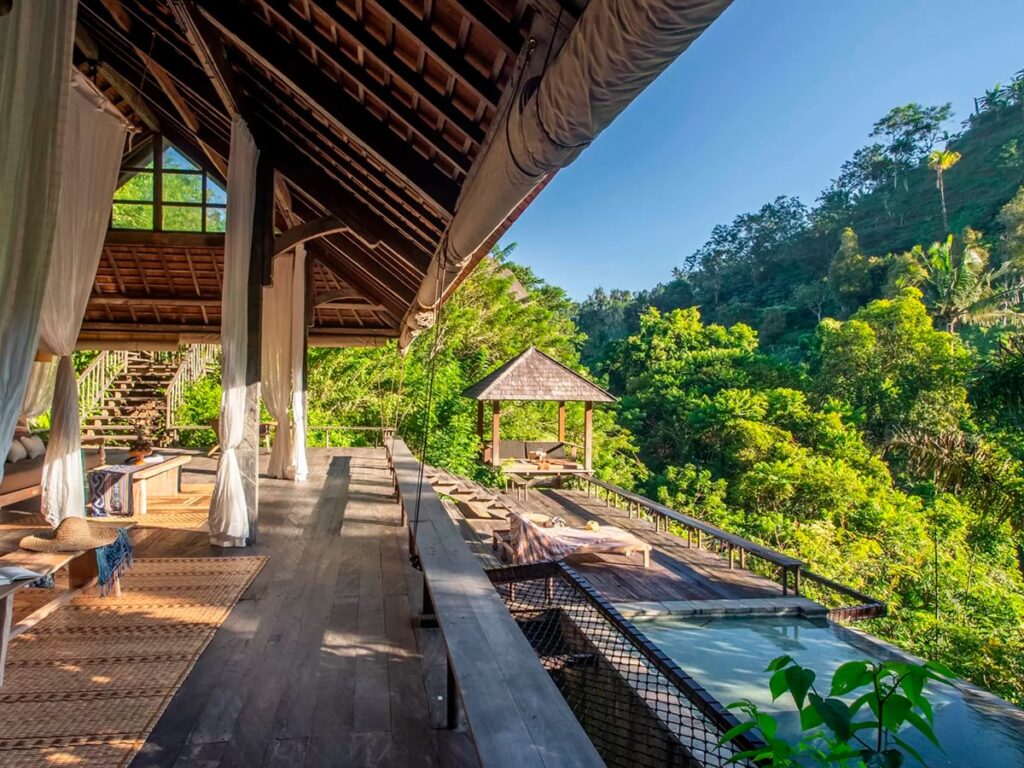 13. Buahan, Bali
We already know and love the Banyan Tree resorts, so we were excited to hear about their newest venture, Banyan Tree Escapes, which highlights the natural beauty of their surroundings. The Buahan Bali focuses on creating an immersive experience that combines nature and sustainable design. This property with only 15 villas is in the jungles of central Bali and has an innovative "no walls, no doors concept that allows you to enjoy nature in its purest form without sacrificing luxury amenities.
escape.banyantree.com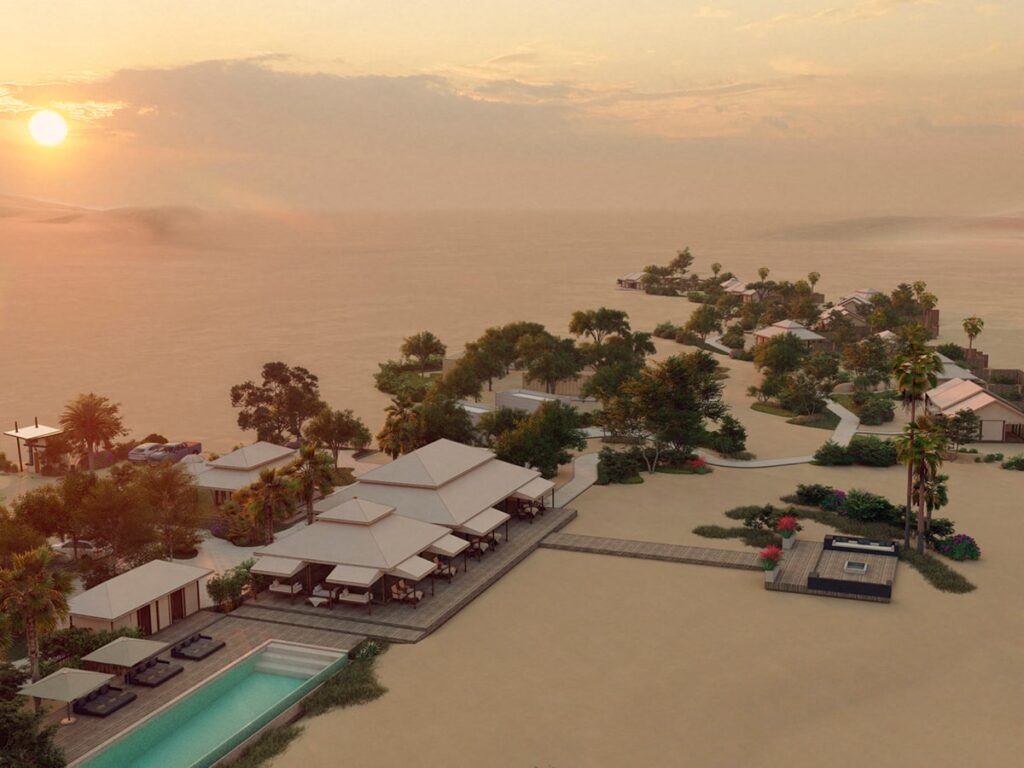 12. The Outpost, Qatar
The Outpost Al Barari offers a one-of-a-kind luxury experience that celebrates Qatar's rich natural environment and heritage. This resort is embedded in the unique and exotic Inland Sea nature reserve, which allows visitors to be surrounded by soaring sand dunes and desert wilderness. This very private resort features 21 tented villas that deliver an authentic close-to-nature experience while providing all the luxuries one would expect from a resort of this calibre.
theoutpostalbarari.com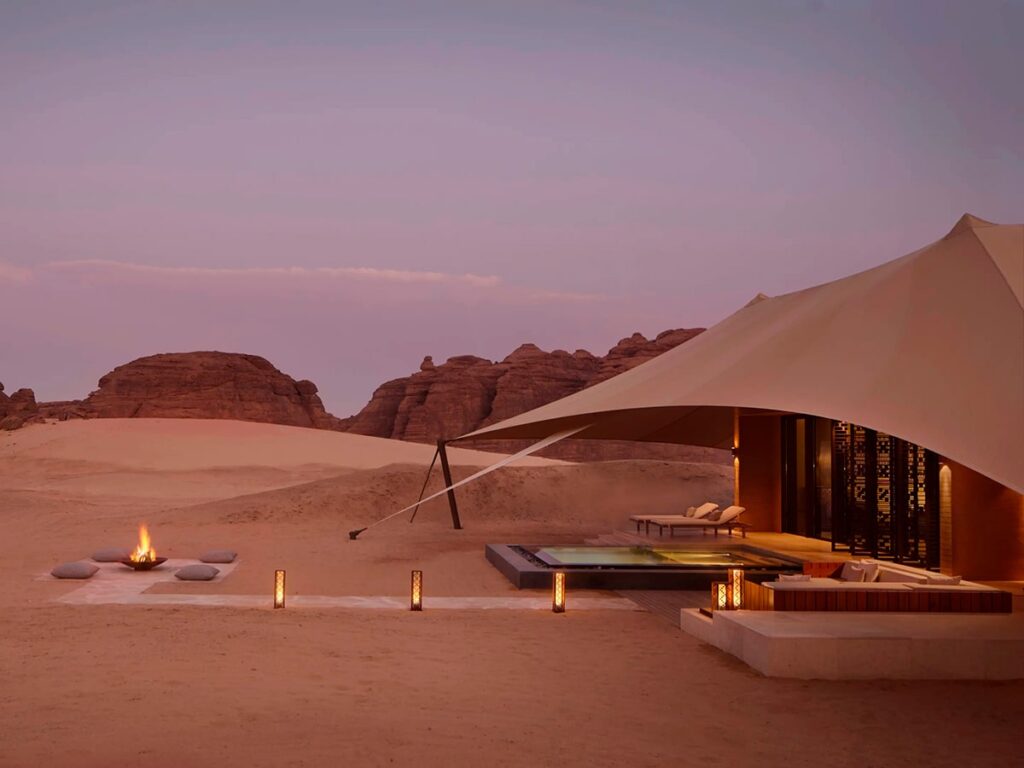 11. Banyan Tree AlUla, Saudi Arabia
Another Banyan Tree property making this list is the all-villa resort featuring 79 luxurious tented villas. This desert retreat is in one of the world's most mysterious and exciting new destinations inspired by its natural surroundings of the Ashar Valley. The resort offers villas with private pools and outdoor living spaces, to showcase the stunning views of the rock formations in the Ashar Valley known as the 'world's largest living museum'.
www.banyantree.com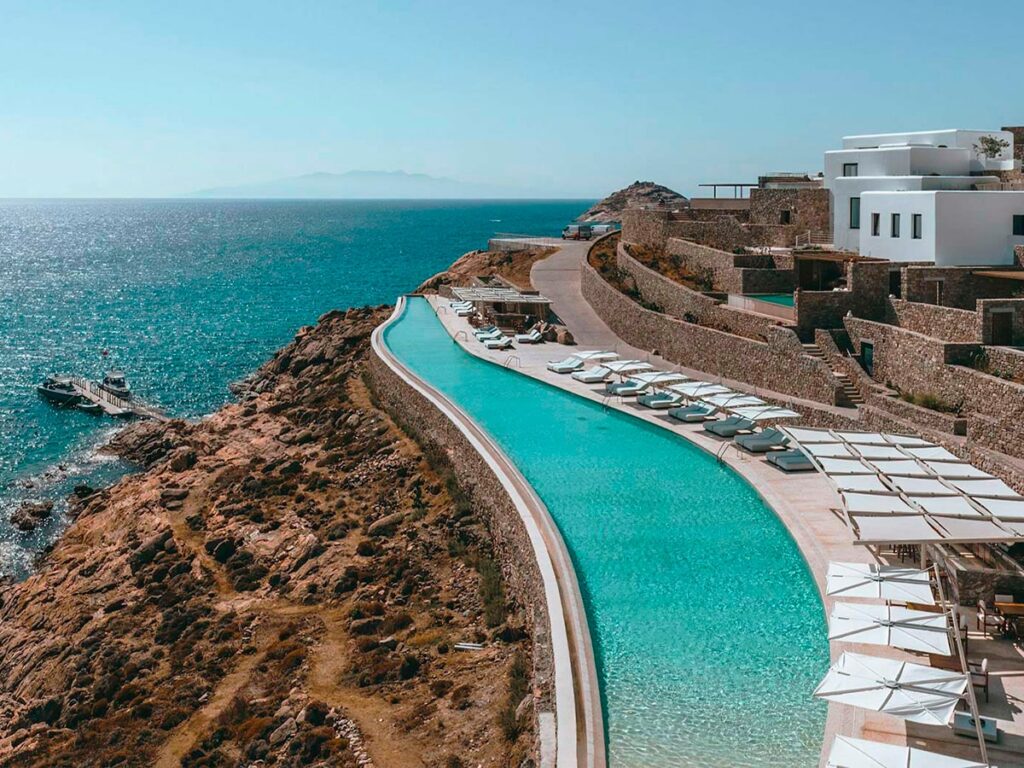 10. Cali, Mykonos
At Cali, Mykonos, ancient meets modern and the beauty of the island is celebrated with modern comforts. This secluded escape features a collection of 40 luxury villa suites situated between two mountains overlooking the Aegean Sea and the hotel's own private beach. The suites and villas are uniquely situated to enhance the surroundings, and each has its own private seawater pool and terrace.
calimykonos.com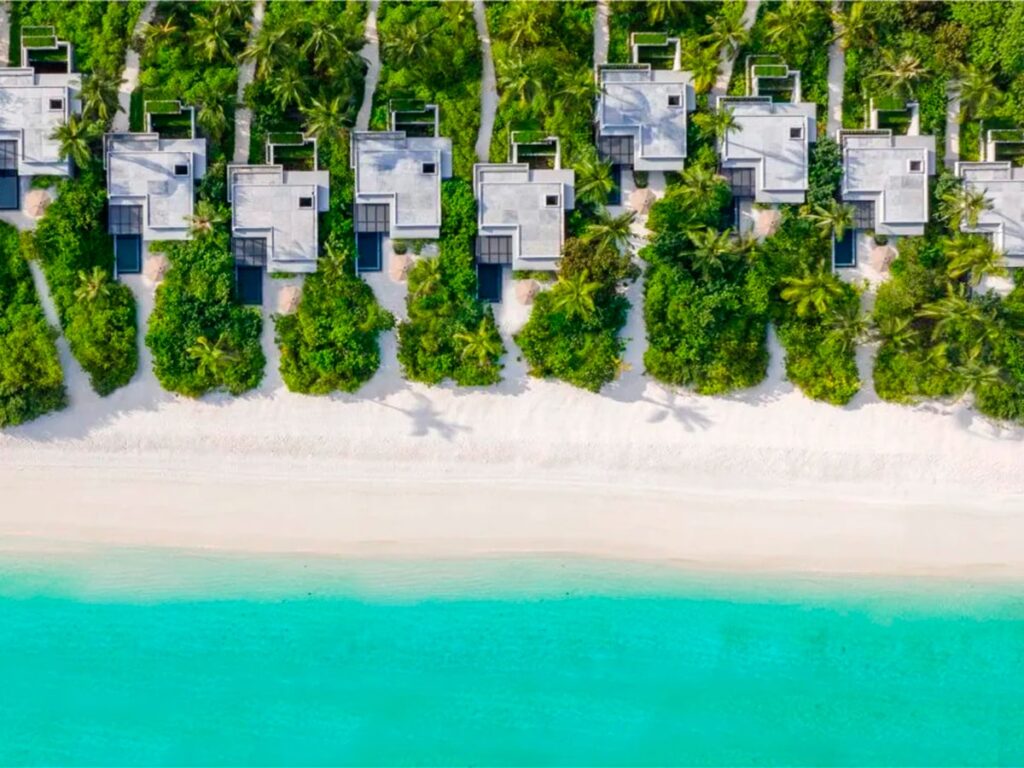 9. Alila Kothaifaru, Maldives
Alila Kothaifaru is one of the newest properties in the Maldives. This hotel seemingly integrates itself into the beautiful landscape it is set on. Set on an 11.2-hectare private island on the northern edge of the Maldives in Raa Atoll. The new Alila Kothaifaru has 80 villas, each with its own individual pool and stunning contemporary interior.
www.alilahotels.com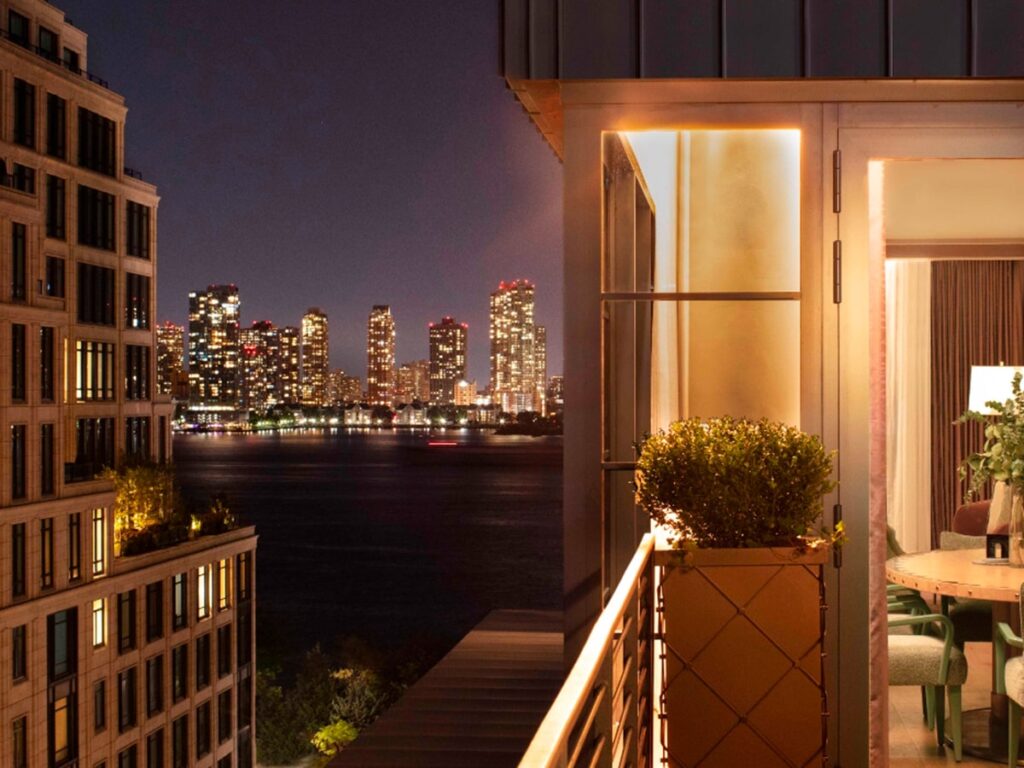 8. Hotel Barriere Fouquet's, New York
Parisian sophistication and elegance meet the bold and bustling city of New York at the brand-new Hotel Barriere Fouquet. This 97-room art deco-inspired hotel is full of Parisian opulence and glamour. The legendary Brasserie Fouquet opens at this Tribeca location offering a chic ambience and iconic French classics.
www.hotelsbarriere.com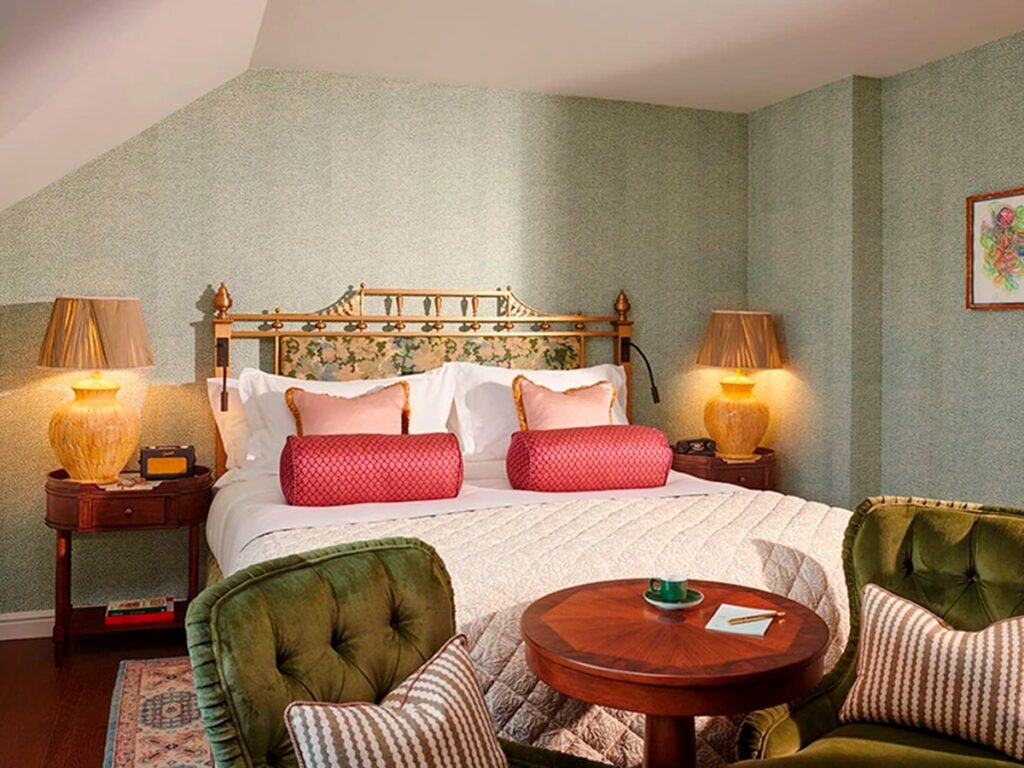 7. Gleneagles Townhouse, Edinburgh
Gleneagles is an iconic sporting and luxury country estate that has arrived in St. Andrew Square in the heart of charming Edinburgh. The Gleneagles Townhouse is the first luxury city hotel by Gleneagles. It features stunning architecture throughout the charming urban retreat, with each of the 33 guest rooms uniquely designed to embrace the building's heritage. This boutique hotel is full of timeless charm throughout its restaurant, wellness centre, bars, rooftop terrace and members' club.
gleneagles.com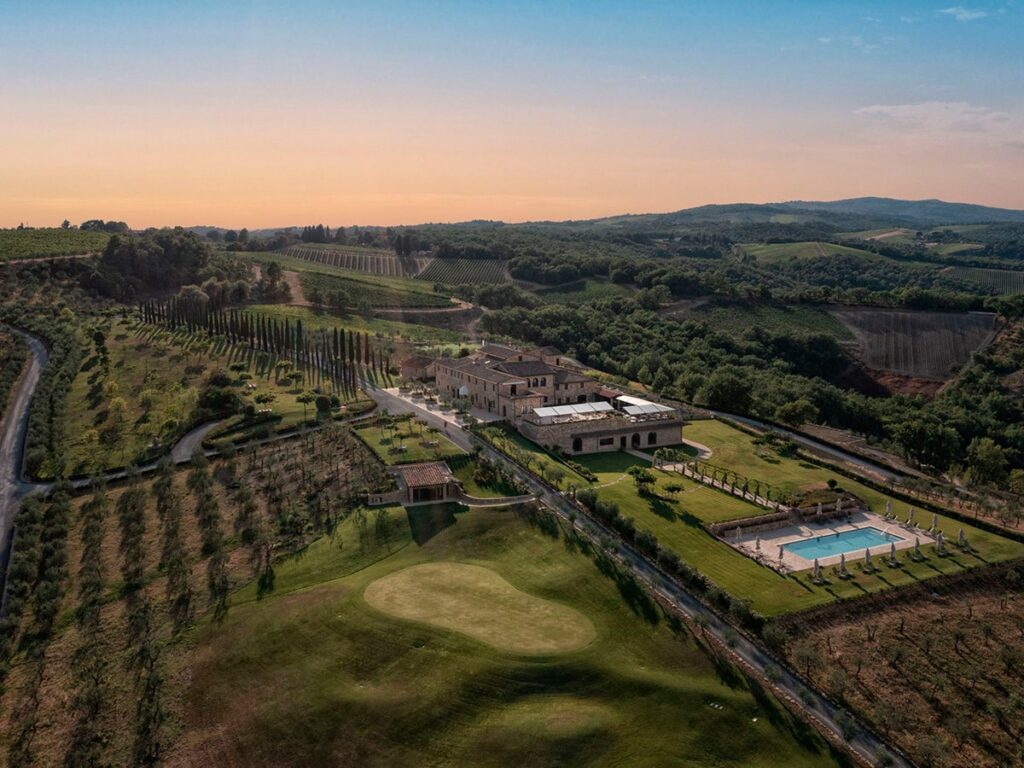 6. The Club House at Fontanelle Estate, Tuscany
Tuscany has become known as a travel destination due to its beautiful scenery and incredible food and wine. The Club House at Fontanelle Estate offers all the things we have come to know and love about the region. Surrounded by the calm of the Tuscan vineyards and rolling countryside, this resort features 15 lavish rooms and suites, a wellness sanctuary, three restaurants, golf facilities and a pool for the ultimate hidden retreat.
www.fontanellestate.com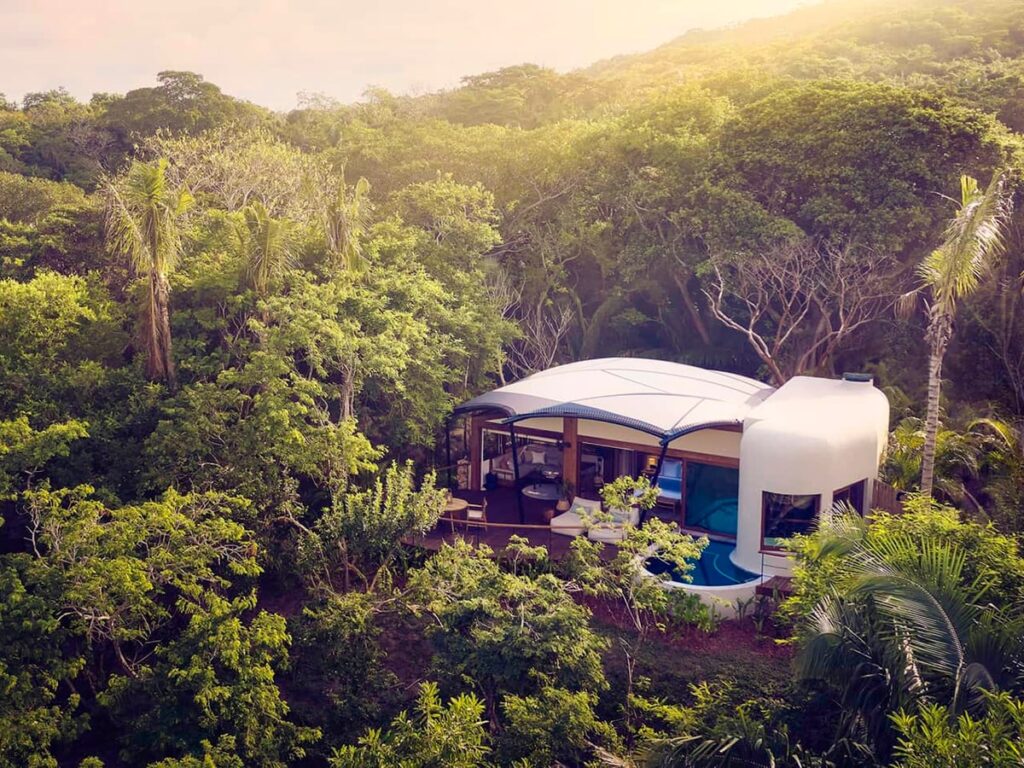 5. Naviva Four Seasons Resort, Punta Mita
Four Seasons resorts are always perfect, and the Naviva in Punta Mita is exactly that. This new luxury-tented camp resort is a unique travelling experience that perfectly highlights the nature surrounding it. Located in the deep green jungle, guests will be able to enjoy this personalized retreat in one of 15 luxury tents housed on 48 forested acres on the edge of a private peninsula overlooking the Pacific Ocean. Naviva is an adult-only sanctuary that celebrates the human desire to connect with nature.
www.fourseasons.com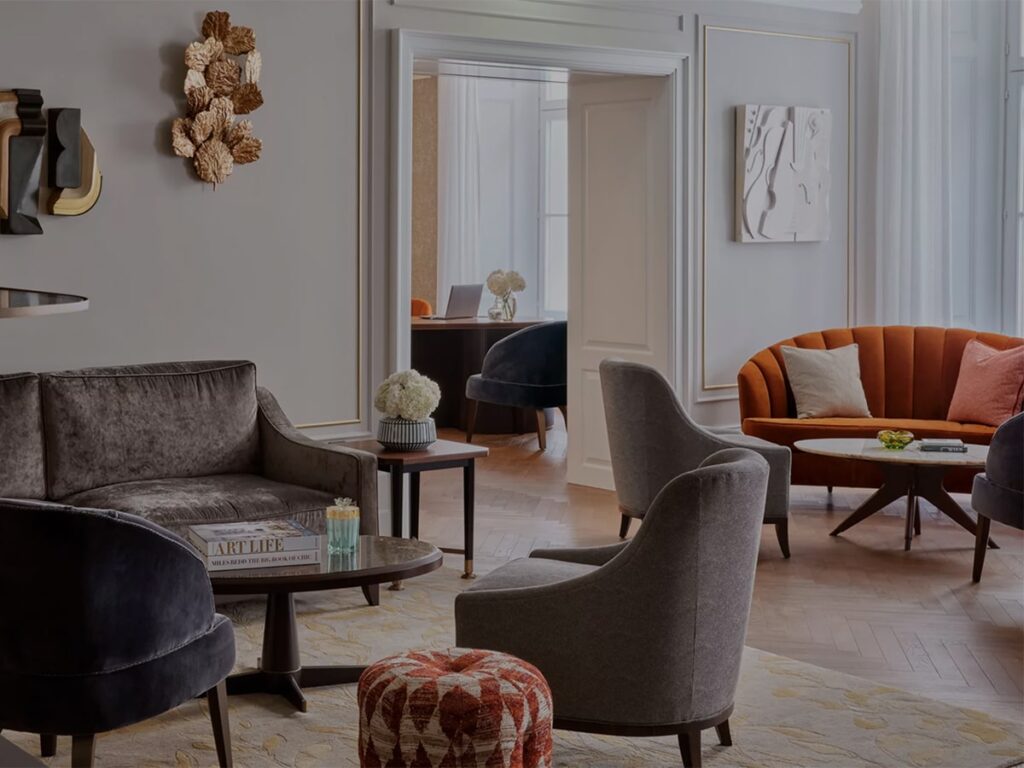 4. Rosewood, Vienna
The charm of Vienna is captured at the Rosewood. Housed in a grand 19th-century neoclassical building, the Rosewood Vienna is situated on Petersplatz, which is one of the most famous squares in Vienna's Old Town. Here, European architecture and design are perfectly combined with a refined modern style. This hotel has 99 guest rooms and suites, all with separate entertainment and relaxation spaces.
www.rosewoodhotels.com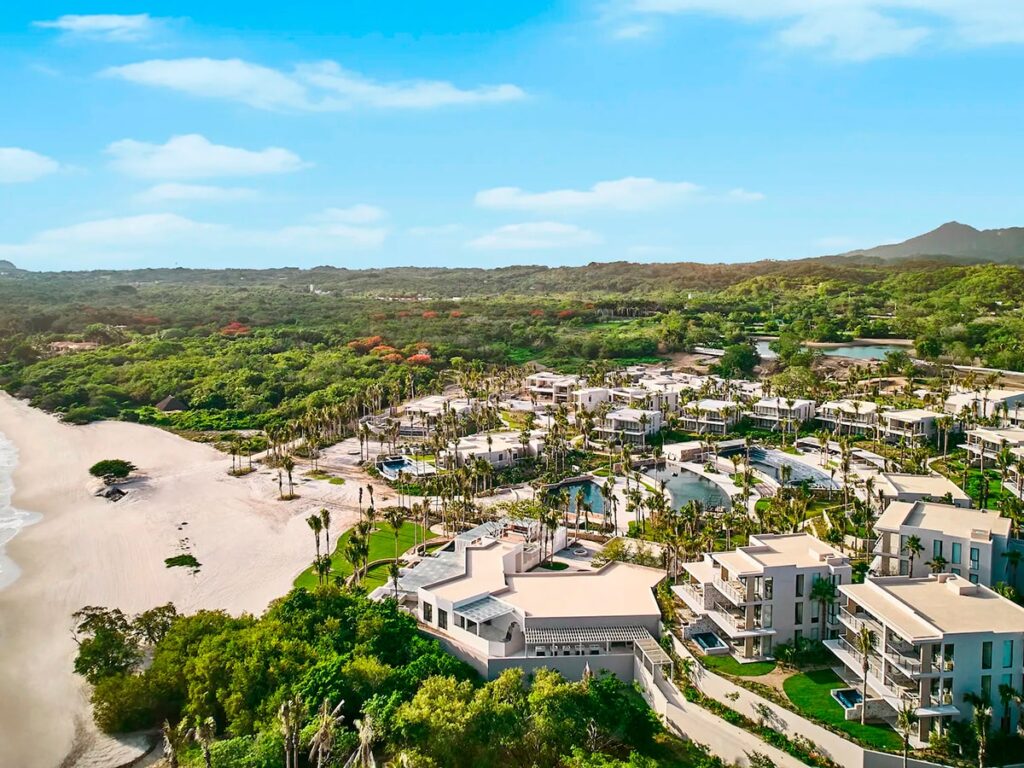 3. Susurros del Corazon, Punta Mita
Auberge Resorts' new luxury beachfront property in Punta Mita is the ultimate playground for the free-spirited. Located between jungled cliffs on a stretch of beautiful beach, Susurros del Corazón is a luxurious surf retreat like no other. It has 59 rooms and suites, 30 villas and homes, each of which offers indoor-outdoor spaces, including private terraces and sprawling nature-framing windows, so you can enjoy the indescribable beauty of Punta Mita.
aubergeresorts.com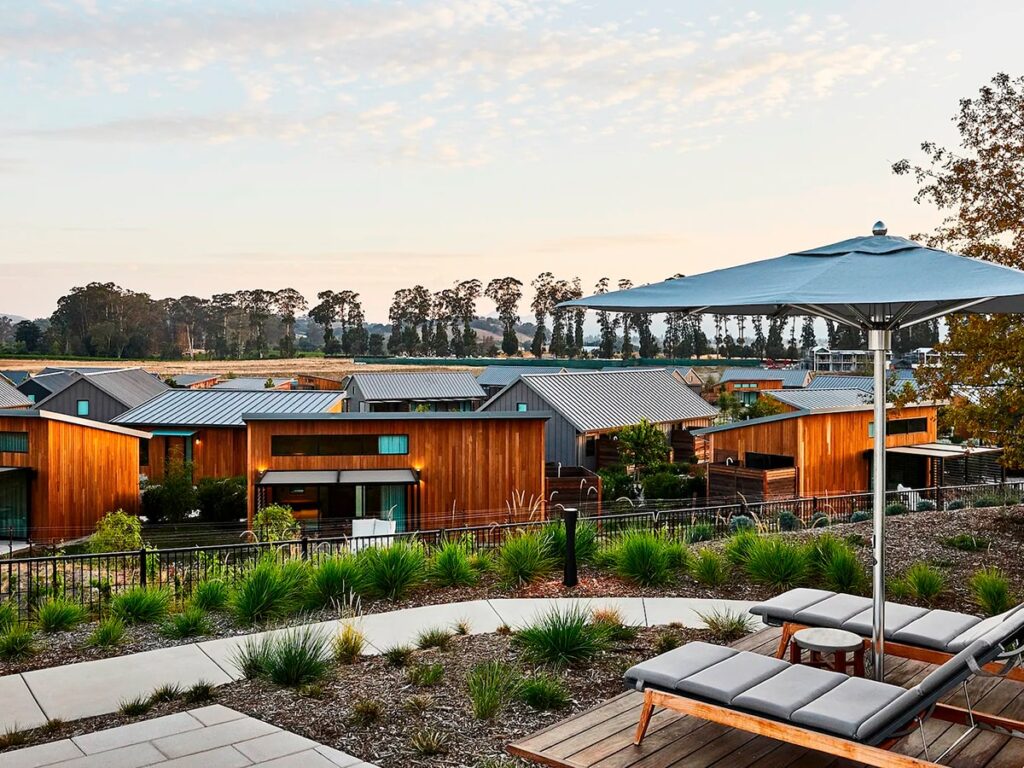 2. Stanly Ranch, Napa Valley
Stanly Ranch, Napa Valley, is another Auberge Resort that perfectly reflects its location. This elegant property is set on over 700 acres of farmland and rolling vineyards in the southern section of Napa Valley's wine-growing region. The historic Stanly Ranch resort has 135 modern farmhouse-style cottage guest rooms with outdoor terraces and fire pits so that guests can enjoy the beautiful views of the Mayacamas Mountains in the heart of wine country. This resort offers the ultimate luxurious ranch experience.
aubergeresorts.com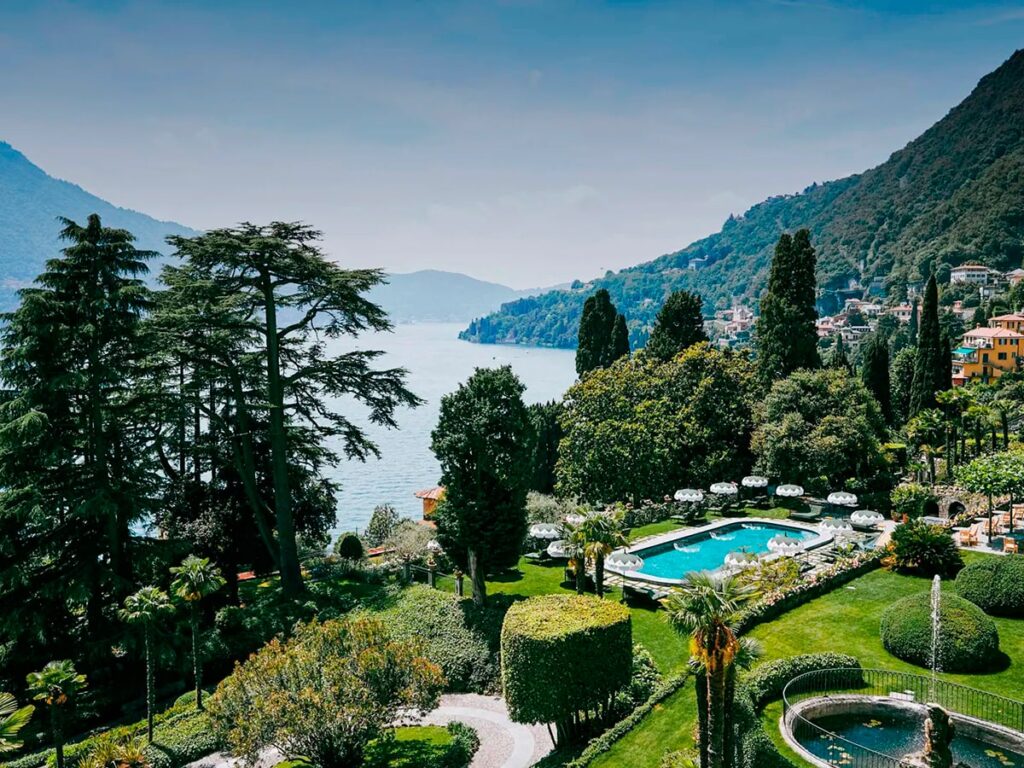 1. Passalacqua, Lake Como
Passalacqua, Lake Como is Number One on this year's list. The latest project from one of Italy's most well-known hotelier families, the De Santis family, and is the sister property of the lake's Grand Hotel Tremezzo. Passalacqua is a historical property dating back to the 18th century, the property has been owned by a Pope, visited by Winston Churchill and has now been turned into a luxury hotel. The location offers extreme privacy with only 24 suites, including the largest suite on Lake Como. This is the perfect place to celebrate the Italian art of dolce far niente.
www.passalacqua.it/en
Visit www.lti-members.com for more. Dolce readers are invited to become members of LTI using the Invitation Code INVITE400.