A Network of Angels – Audrey Guth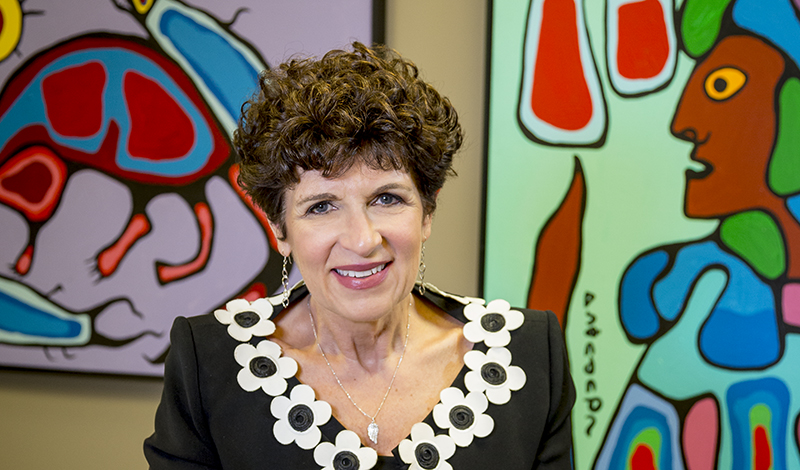 When a parent has cancer, everything changes for the children. Enter Audrey Guth, founder of the Nanny Angel Network, which provides relief child care. All the nannies are volunteers — angels, really. And for the mom's, there's no charge.
Interview By Victoria Scott
When someone tells you that you have cancer, it is a huge shock. That's what happened to Audrey Guth. "When I was diagnosed with cancer, it rocked my world," she says. "You know, everyone feels somewhat omnipotent, and you think, 'It's not going to be me.' And yet, it was me."
Guth found herself at Princess Margaret Cancer Centre in Toronto for treatment. There, Guth had an aha moment when she sat next to a woman. "She had a young child on her lap, and the child was pulling the scarf that she had covering her head — kept pulling it off her head. And I saw these tears well up in her eyes," she says. "It was just … 'Why is this child here? Why does this mother have to take care of this child while she's facing the most difficult time of her life? … I had this epiphany that I could help her." How? In 1988, Guth, a Toronto entrepreneur, had founded a nanny placement agency, Diamond Personnel.
Because of her experience, Guth was poised to know nannies who would love to volunteer and so the Nanny Angel Network was founded in 2009. Placing nannies is no small feat, but Guth's agency had already developed screening techniques (now used for the Nanny Angel Network) to ensure they would always find the best caregivers. In fact, her agency was so successful that it expanded across Canada and won Best Nanny Agency many times in City Parent magazine's Readers' Selection Awards. And last year, Guth was named a recipient of L'Oréal Paris's inaugural Canadian Women of Worth program.
PERSONAL EXPERIENCE?
Guth was nine years old when her father became ill. As the oldest of four children, she would often accompany him to treatments. "I had three younger siblings, and no one talked about it," she says. There were many unanswered questions. "But because I had buried my grief for so many years, I didn't even think about that in the beginning."
As the Nanny Angel Network began to grow, Guth began to learn about grief and bereavement, and that is when she realized that she had never really grieved for her own father. "Had I been able to grieve appropriately, I probably wouldn't have had so much anxiety around illness, death and dying. Then I connected the dots," she says. And this became the cornerstone of the organization: "No child should ever have to go through their mother's illness or the loss of a mother to cancer without a trusted, trained and supportive person in their life."
WHO ARE THESE ANGEL NANNIES?
All of the network's nannies need to have a year of professional experience. They are trained to provide normalcy, because when children are in this situation, everything changes. If a woman has a double mastectomy, for instance, she can't even hug her child at first. And the nannies bring the fun by playing games and taking kids outside for fresh air. "But she's also trained to answer difficult questions, like 'Did I cause my mom's cancer?' or 'What happens if my mom dies?'" says Guth.
These are questions a child won't ask a parent because they know it's a taboo subject, Guth says, so having someone who will answer truthfully is important. "The answer may be, 'It's a mystery. Everybody dies someday, [but] when they do is a mystery,'" she says. "Because kids have magical thinking, and if you don't answer the questions, they will make up their [own] answers. And they're much worse than the reality."
The Nanny Angel Network gets daily referrals, and any mom with a diagnosis of cancer in the Greater Toronto Area (GTA) is accepted. "But that doesn't necessarily mean we can send a volunteer right away; we have a wait-list," Guth says. They served 109 families last year. "We are already at 100 families so far this year, and I have about 30 families waiting, so I'm really desperate for volunteers."
THE ANGEL NETWORK GETS HELP, TOO
All of this good work requires funding: Sylvia Mantella, The Brides' Project, the Peter Gilgan Foundation, Barrick Gold Corporation, TJX Companies, Telus, Scotiabank, Emmanuelle Gattuso — the list goes on. "We have had really amazing support," she says.
And this good work also needs steering. "I have an incredible working board of directors, including Helena Axler (managing principal of Axler & Associates), Joyce Frustaglio (Vaughan, Ont., regional councillor for many years), as well as others. My daughter, Shauna Guth, who runs Diamond Personnel now, is one of the founding board members — it's not just me," she says.
"No child should ever have to go through their mother's illness or the loss of a mother to cancer without a trusted, trained and supportive person in their life." – Mary Baker Eddy
WHAT'S COMING DOWN THE PIPELINE?
In 2014, when CNN recognized Guth as a CNN Hero, that gave the Nanny Angel Network credibility and worldwide recognition. "We were getting calls from all over the world. 'How do we do this?' So that was a real endorsement that we were getting it right," says Guth. Knowing that her little idea has grown into an amazing organization brings her tremendous satisfaction. "I think the reward comes when moms say, 'This made such a difference in our lives,' and knowing that we filled a need that no one else addressed. That's so necessary. And because (moms are caregivers), we don't want to admit that we can't do the job that we're supposed to do, so we're the last ones to ask for help."
"I would like to see the Nanny Angel Network expand across North America in my lifetime — that is my aspiration," says Guth. In fact, this year she hopes to expand the network beyond the GTA.
"I'd like to leave a legacy that my children will be proud of, that I will have left this world a better place," she says. "And I think the Nanny Angel Network does make this world a better place."