Bart & Tim Grönefeld: Time Well Spent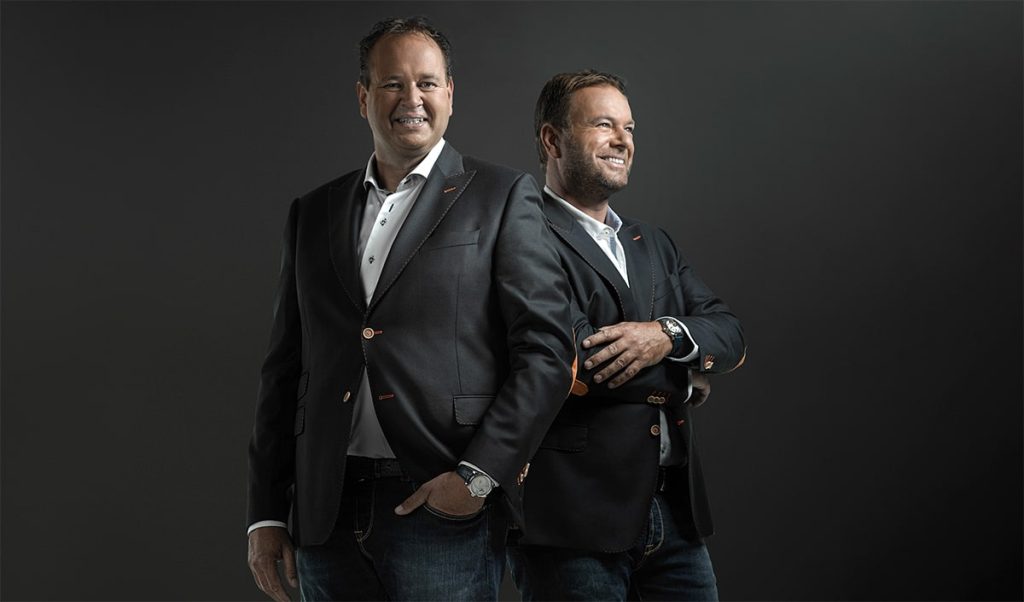 With Swiss training and by bringing this craftsmanship home to the Netherlands, Bart and Tim Grönefeld's passion for watchmaking creates some of the world's rarest and most exquisite timepieces.
Perhaps it is based upon some fable, but, for some reason in our mind's eye, our stereotypical image of a watchmaker is of an elderly man with white hair hunched over a table in a cluttered backroom of a shop under some single, hot white light, with his eye clenching a single magnifying glass. Bart and Tim Grönefeld of the Netherlands are the furthest thing from that stereotype and today are among the most admired, respected and sought-after independent makers of luxury watches in the world.
A Grönefeld watch is a rare and prized possession. Rolex may manufacture close to one million watches in a year, but Grönefeld makes just 90 watches in a year. Each handmade timepiece is meticulously crafted by skilled artisans and technicians, and, for the most simple watch, it takes approximately one month to make, and the waitlist is long — three years, at the latest count.
It is the continuation of a family tradition of watchmaking dating back to 1912 in Oldenzaal, the Netherlands, when Johan Grönefeld established his workshop and boutique. Johan was known as both an exceptional watchmaker and consummate businessman. His shop was in the shadow of the Basilica of Saint Plechelm, which has a clock tower, dating from 1240. Johan was also charged with looking after the church's clock mechanism. His prowess with watchmaking tools, combined with his creativity and inventiveness, led to his growing reputation far beyond his hometown.
"We are third-generation watchmakers," says Bart Grönefeld, in a recent interview with Dolce. "Our grandfather began in 1912 by repairing and servicing watches — that began the Grönefeld legacy. My parents took over our grandfather's shop when I was born in 1969, so I was raised in a jewelry store. The idea was for my brother and I to go to jewelry school, which would include watchmaking, but we are both technically minded, and the gears and levers interested us instead of the art aspect of jewelry, so we decided to become watchmakers."
Both Bart and his younger brother, Tim, travelled to Switzerland and trained at the prestigious watchmaking school of WOSTEP (Watchmakers of Switzerland Training and Educational Program), Neuchatel, and learned the complexities of the leading luxury brands of watches, but both had bigger dreams.
"We missed family and wanted to return to the Netherlands," recalls Bart. "So, we contacted the big brands to see if they had work for us back home, and, they did, so we started with an after-sales service shop. But, we were itching to show the world what we could do and tell the world what we are capable of and decided to launch our own brand in 2008."
With the financial collapse of 2009, luxury items took a direct hit, and Bart and Tim sold just a single watch in their first year, but, due to the quality, complexity of movements and mechanisms involved, that watch sold for 255,000 euros. They sold no watches in their second and third years, but the business began to grow through quality and reputation, and, by 2014, they were making 25 timepieces per year.
The intricacy of handmade watchmaking is a delicate dance of precision and time-honoured craftsmanship. Few luxury products require the skill, passion and knowledge needed to produce that kind of handcrafted timepiece. Grönefeld likens it to the difference between a photograph and a painting.
"The big brands are very nice and technically brilliant, but there's not really a soul inside," says Grönefeld. "They are like a photograph because everything is perfect, as you see it. But with a painting, there is a touch of the artist inside, and, with our watches, you can really see they are handmade. They are different."
Grönefeld watches are so exclusive and rare that, today, only 440 Grönefeld timepieces exist worldwide. The niche-market luxury items business faced another challenge with the onset of the pandemic in March 2020. The brothers feared they might be in peril, but, instead, the pandemic actually revealed the loyalty of their customer base, as not one order was cancelled, and after a few months, the business took off again with more than 250 watches on back order.
"Why not enjoy life and finally buy what you've always wanted to buy"
"Watch collectors were working from home, and sometimes you do things for yourself, and many people discovered us," observes Grönefeld. "I think there is also a sense of 'You Only Live Once.' Why not enjoy life and finally buy what you've always wanted to buy?"
The market for luxury handmade independent watches began in Asia, specifically Singapore, with the United States now being the largest market. Grönefeld is currently not taking orders, and its customers are only too happy to wait the three years after paying their deposit on a timepiece, which has an entry-level starting price of 33,000 euros. "People pay a 30 per cent deposit when they place an order, and say, 'I'll see you in three years,'" says Grönefeld. "Our customers are serious watch collectors and are enjoying the wait, as well."
There are few luxury products in the world as treasured and valued as a Grönefeld handmade watch, and certainly few products where customers happily pay a 30 per cent deposit and wait for three years. Because of the sense of excitement and anticipation for the beauty and quality of the timepieces, for these customers, and for the Grönefeld brothers, time is not standing still, but it's time well spent, indeed.
www.gronefeld.com
@gronefeld_watches
Interview by Estelle Zentil