Don Boyle: Future-Forward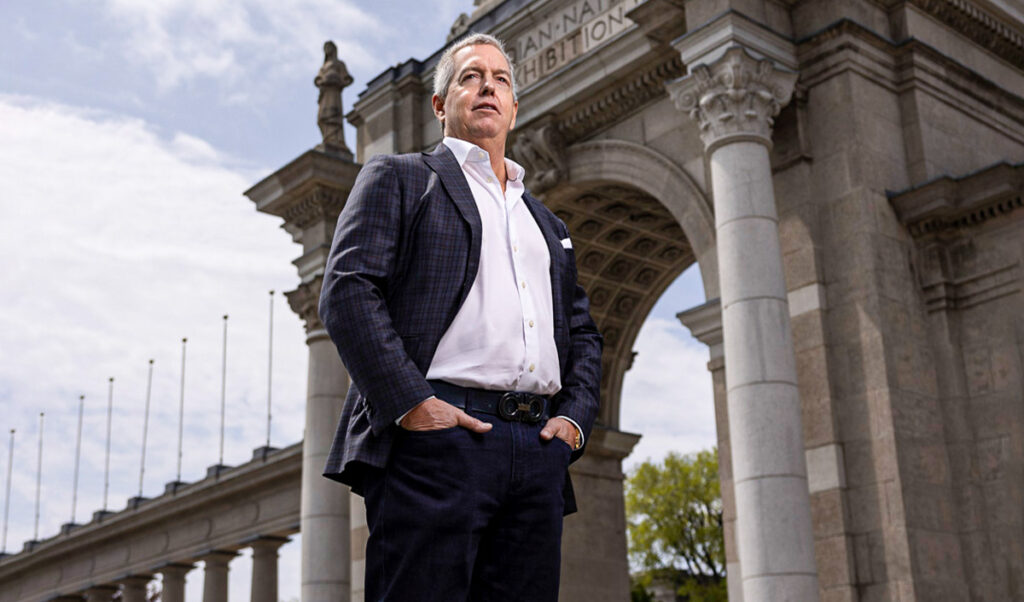 One of the rarest downtown gems of any major North American city, Toronto's Exhibition Place readies itself for its return to the world stage under CEO Don Boyle.
While different in their own ways due to their geographical or cultural makeup, North American cities do share some commonalities. Most are hundreds of square kilometres of concrete and asphalt, of towering buildings and sprawling residential suburbs. While some coastal cities have advantages due to their natural locations — think of New York City with its five distinctive boroughs, Miami with its South Beach and oceanfront setting, and San Francisco and Vancouver with their postcard views — some mid-continent cities need to be a little more creative in differentiating themselves.
Like Toronto.
North America's fourth largest city, its population is now approaching seven million in the Greater Toronto Area. The city's downtown area, boasting one of the continent's most dynamic skylines, is also home to an adjacent 78-hectare (193-acre) gem known as Exhibition Place, tucked along the north shore of Lake Ontario. This site currently hosts approximately 5.3 million visitors per year for exhibitions, conventions, events and entertainment, and has the ambitious goal of becoming a 365-day destination for an impressive range of activities.
The man taking charge of this weighty task is Chief Executive Officer Don Boyle, and Exhibition Place could not be in better hands than in Boyle's. He's someone who has worked in various parks and recreation roles in Ontario, including 12 years as Chief Administrative Officer in Haldimand County in Southwestern Ontario, where his mantra was to create a municipal administration "where the truth could be told."
Boyle, who grew up in a working-class family of seven in Verdun, Quebec, fully appreciates the value of hard work. "My parents organized our finances by allocating money for each household bill in its own envelope, with the leftover funds available to support all my siblings' interest in sports — in my case, hockey," Boyle told Dolce in a recent interview. "When I was 16, I moved from Verdun to Brampton, Ontario, leaving behind a community and teammates where I was recognized as a good athlete with lots of friends to a community where I knew no one. It was a humbling teenage experience that shaped me into the individual and leader I am today."
"Anyone who knows me understands that I stress simplicity, being real, and looking for staff who give their best — not necessarily being the best. Too often, municipalities make announcements about the great things they have accomplished when very few of these claims are actually accurate," says Boyle. "I focus my efforts on things that I have full or some control of, while ignoring things that I have no control over."
Now closing in on his fourth year as CEO, Boyle has full control over Exhibition Place and its future plans.
"Every day I am motivated to grow Exhibition Place by creating an intimate and welcoming public realm, establishing intentional pedestrian corridors and reducing vehicular roadways," says Boyle. "This transformation will take it from an old industrial-park feel to an intimate space for people. I am proud that we have built an organization with a 'family-first' focus. It will stand the test of time and support our aspirations in transforming the site to meet our 2022–2026 strategic goals."
French fur traders had no idea what they started when they built the small Fort Rouillé on the site in 1751 as a trading post, no idea that this important portage route would one day become the home of the world's largest annual fair and of Major League Baseball and an annual road race attracting the world's top race-car drivers. No idea it would attract the top acts in entertainment history in the 1970s and 1980s — and certainly no idea that, in 2026, it will be the site of World Cup soccer games.
When the Town of York was established in the 1790s on the site of what was to become Toronto, this plot of land, mostly flat and sloping gently down to the shoreline, was reserved for military purposes and named New Fort York. The fort was turned over to the Canadian military in 1870, which in 1893 renamed it Stanley Barracks.
However, in 1903 the Government of Canada decided it would take advantage of so much open space so close to the growing city of Toronto and sponsor a major exhibition on the site. Originally an agricultural fair, the event grew into the annual Canadian National Exhibition (CNE), or "The Ex" as it became affectionally known by locals, and soon it became the world's largest annual fair, a cacophony of midway noise and games of chance, amusement rides, animal displays, and food — lots of food.
The Ex became a late-August rite of passage for Toronto families in the 1950s and 1960s. It reached its pinnacle in the 1970s when more than three million people would visit over its two-week span. Braving The Flyer roller-coaster, experimenting with exotic foods and flavours in the Food Building, and venturing to the top of the Shell (later Bulova) Observation Tower were end-of-summer traditions for generations of Torontonians. There was even a pay phone at the top of the observation tower so you could phone home from high above the midway!
"EVERY DAY I AM MOTIVATED TO GROW EXHIBITION PLACE BY CREATING AN INTIMATE AND WELCOMING PUBLIC REALM"
During its halcyon days, the world's top entertainment acts would play the famed CNE Bandshell, which faced the north grandstand of Exhibition Stadium. The Beach Boys, Chicago and Stevie Wonder all graced the bandshell's stage, with famed drummer Buddy Rich and his orchestra opening for Frank Sinatra as late as September 1984.
"Exhibition Place is a beloved spot for many Torontonians," says Boyle. "To me, success means leaving a legacy in which we worked with our community and stakeholders to refine our site into a destination that is an even stronger economic powerhouse for the city."
Outside of the two-week CNE, major league sports were a fixture at Exhibition Stadium on the site. The Canadian Football League's Toronto Argonauts drew sellout crowds of 33,135 to every game during the 1960s and 1970s, and the stadium was expanded in 1977 to more than 44,000 to accommodate the expansion Toronto Blue Jays baseball team.
But that was a bad move. The proximity of Exhibition Stadium to Lake Ontario worked well for football fans to enjoy cooling breezes during the summer months, but not so much during the longer baseball season in the shoulder seasons of early spring and late autumn. Wind, rain, fog and seagulls — lots of seagulls — plagued the stadium, which became known as the "Mistake by the Lake." (Infamously, New York Yankees outfielder Dave Winfield once inadvertently killed a seagull when his throw to home plate hit the unfortunate bird.)
It was a torrential downpour during the 1982 Grey Cup Championship that convinced rain-soaked Ontario Premier Bill Davis and Metropolitan Toronto Chairman Paul Godfrey that a domed stadium must be built, and the SkyDome (now the Rogers Centre) opened in June 1989 in downtown Toronto. The Exhibition Stadium site stood vacant from 1999 until 2007, when BMO Field opened, primarily as the home of Major League Soccer in Toronto; it also welcomed the Argonauts back after many uncomfortable and poorly attended games at the downtown dome.
Today, Boyle's lofty goals for Exhibition Place have already led to the beginning of several projects, including a multi-modal and events- logistics project to study opportunities, potential bridge connections to the waterfront and Centennial Park enhancement. There is already a luxury boutique hotel on the site. Of course, the future of neighbouring Ontario Place, which opened in 1971, is also under discussion and has become a hot-button issue as it undergoes its own reinvention.
"Our vision is to become Canada's premier destination for conventions, exhibitions, events and entertainment," says Boyle. "We are a unique site in North America, and our ultimate goal is to transform Exhibition Place into an intimate space that facilitates unimpeded movement of people. This will connect the community to the north, visitors arriving on GO Transit and the future Ontario Line subway system, as well as our premier tenants across the site and the Ontario Place waterfront."
Exhibition Place has hosted a variety of high- profile events over the years, including the 2015 Pan American Games, the G20 Summit, the Collision tech conference and annual events such as the Honda Indy and Caribbean Carnival each July and the Royal Agricultural Winter Fair each November. Boyle has also been instrumental in fostering innovative thinking about how Exhibition Place can be used beyond its customary event parameters. "Although the pandemic posed challenges for everyone, including Exhibition Place, we pivoted our business model to host major film productions, including the Academy Award-winning Women Talking, directed by Sarah Polley," he says. "We accommodated more than 38 productions on-site while simultaneously transforming our organization and aligning our resources with our goals."
It's all a far cry from a fur-trading post or military fort, and the world's eyes will be upon this most distinctive North American downtown asset in just three short years as it plays host, with Vancouver, to the Canadian-site games of the 2026 FIFA World Cup finals. Boyle has no doubt Toronto, and in particular Exhibition Place, is ready for its close-up.
"Hosting the World Cup as North America's fourth largest city is an opportunity to unite people, invite the world to the city and to showcase all the great things about Toronto, Ontario and Canada," he says. "As Torontonians, we are fortunate to experience first-hand the many cultures, foods, histories and celebrations this city has to offer. We also share commonalities as daughters, sons, mothers and fathers. The World Cup will be a once-in-a-generation opportunity to showcase Toronto to the world." It is perhaps fitting that Exhibition Place has such a rich sporting history and an even more exciting sports future, as Boyle has brought attributes from athletics and his youthful experiences as a hockey player to his current role.
"Throughout my journey, the principles of sports have stayed with me. Now I instill values like teamwork (collaboration), discipline (accountability), and strategy (innovation) in my team at Exhibition Place," he says. "I embrace the fact that no team has three first-line centremen and that there are meaningful roles for everyone to contribute towards a team's success. The key is that everyone knows how they can contribute and then are recognized for it."
Don Boyle is the man of the moment, bringing forward thinking to reimagine Exhibition Place, reinventing a rare and valuable 78-hectare parcel of multi-purpose public space for the benefit of future generations, who'll be proud to enjoy it and call it their own.
PRODUCED BY MICHELLE ZERILLO-SOSA