Ferit Tecimer: The Art Of A Craftsman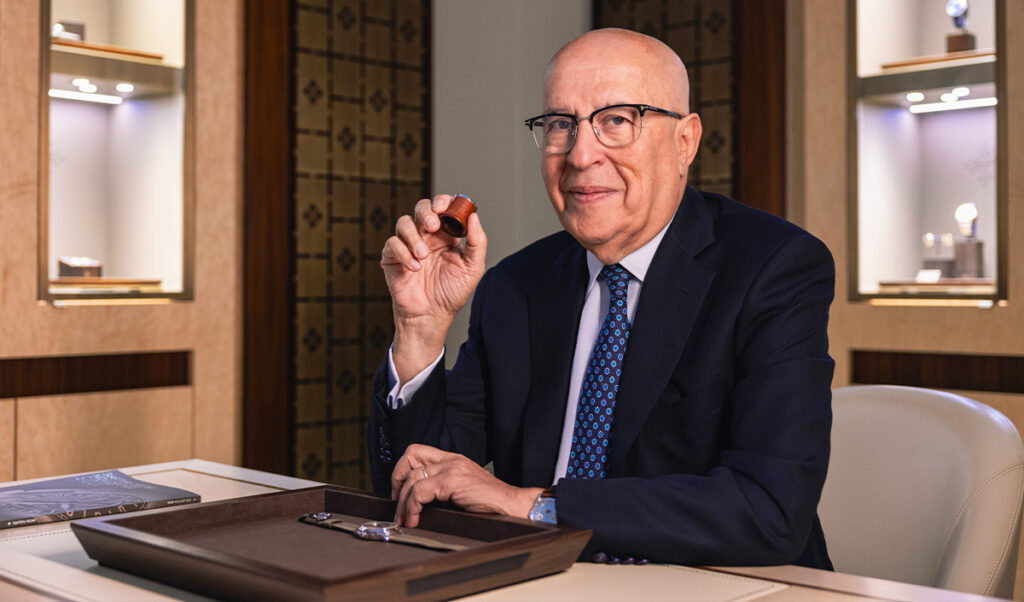 Ferit Tecimer's lifetime in jewelry, forged by his family's centuries in the business, has made Humbertown Jewellers one of Toronto's most respected homes for beautifully curated jewelry creations and exquisite timepieces.
Ferit Tecimer had grandiose plans when he immigrated to Canada and opened Humbertown Jewellers in Toronto in 1980. As a descendant of a family that had been in the jewelry business for 250 years, he envisioned his original small shop, just 600 square feet, selling many beautiful pieces of jewelry or perhaps a Patek Philippe or Rolex to glamorous clientele when he opened his door and awaited his customers.
On his first day in business 43 years ago, Ferit Tecimer and Humbertown Jewellers sold 17 batteries. It was the beginning of his education process of understanding how to do business in Canada.
"I needed to better understand the customer," said Tecimer in a recent interview with Dolce. "It took me about six months to figure out who is actually buying and who is simply looking."
After a modest start to his business over the first five to seven years, Humbertown Jewellers has become known for quality and service to its loyal base of customers with whom it has built relationships over the years, who appreciate the charm and warmth of the family-owned-and- operated business, located on the Kingsway in Etobicoke, just west of downtown Toronto.
"All my life I've believed in quality more than quantity," says Tecimer. "I never wanted to have 10 stores or 20 stores; I wanted to have one really fine store."
He has delivered with his store and his 14 multilingual employees. "We are like a family," he says proudly. Tecimer, who has a master's degree in architectural engineering and is descended from generations of jewellers, combines these attributes by meticulously designing and creating beautiful in-house jewelry and creating with the art and eye of a skilled craftsman the finest haute horlogerie Swiss timepieces.
"ALL MY LIFE I'VE BELIEVED IN QUALITY MORE THAN QUANTITY … I WANTED TO HAVE ONE REALLY FINE STORE"
Jewelry is one of the most personal accoutrements and a reflection of yourself, a statement of your style. Whether you favour a heavier look from Egyptian or Spanish history or the finer and more delicate appearance of Northern European traditions, you are proud to display your taste. But it takes a skilled craftsman to make what you envision come true.
When you meet and speak with Tecimer, it doesn't take you long to appreciate that he is a man of honesty, integrity and deep decency. He also has a pure understanding of what his customers are looking for and how to make them happy, always cognizant of the marketplace and current trends.
Tecimer's many years in the business have shown him that customers have different needs at different stages of their lives, and he has always been dedicated to finding or designing a distinctive piece to suit each of life's special moments. Nothing makes him happier than seeing the grown children of his early customers return to Humbertown Jewellers to look for a graduation watch or an engagement ring. By understanding his market, Tecimer can supply the perfect piece whatever the occasion.
"Years ago, when we started, people wanted to buy very elaborate pieces of jewelry that they'd only wear once or twice a year," he observes. "Today, people want more simple pieces that they can enjoy and may wear every day. In North America, if you want to sell high-end merchandise the finishings are very important. What separates us from other jewellers is that we sell very high- end, quality merchandise. We even hear from insurance companies that Humbertown sells a completely different type of jewelry than other companies, and we are very proud of that."
Humbertown Jewellers is an authorized service centre for many leading watch brands. Its on-site watchmaker is a veteran with more than 40 years' experience in refurbishing and repairing luxury watches and is a certified watchmaker for Rolex, Omega, IWC, Cartier, Panerai, Tudor and others. Humbertown routinely carries out challenging tasks, such as the restoration of antique timepieces and complete technical revisions on grand complication movements, all the while keeping abreast of the latest technology and trends.
Humbertown's 43 years in business also means it has been a member of its community, and that involvement has been extremely important to Tecimer. Humbertown has been a proud partner with the Princess Margaret Cancer Foundation through its involvement with The Fight to End Cancer team and the innovative and ground- breaking work it is doing to achieve that worthy goal.
Humbertown Jewellers was honoured at the 2018 Fight to End Cancer Gala for its contributions. "At Humbertown Jewellers, community involvement and giving back through charitable endeavours have always been a strong part of our personal and corporate belief system. We are proud to partner with The Fight to End Cancer team and join them in their fundraising efforts," said Tecimer upon receiving the recognition.
"MY BUSINESS IS VERY IMPORTANT TO ME, BUT MY EMPLOYEES AND MY FAMILY ARE AS IMPORTANT AS MY BUSINESS"
Personal life and business are interwoven for Tecimer, which affords him a healthy perspective regarding work and life balance. "My business is very important to me, but my employees and my family are as important as my business," he says. "Because if one of them is sick, then I am sick along with them, and if they are happy, I am happy along with them. I want my children and grandchildren to continue the business and continue to have one really good store because customers know us personally and, most importantly, they know what we are selling and what they are buying."
In these days of assembly lines, warehouses and mass production, Ferit Tecimer and his team at Humbertown Jewellers stand apart by delivering exceptional customer service, knowledge and perhaps the most valuable commodity when it comes to quality jewelry and timepieces — care, dedication, skill and pride in old-world craftsmanship, giving what they offer an intrinsic value that simply cannot be measured.
www.humbertownjewellers.com
@humbertownjewellers
INTERVIEW BY MARC CASTALDO