Kirstine Stewart – Executive Decisions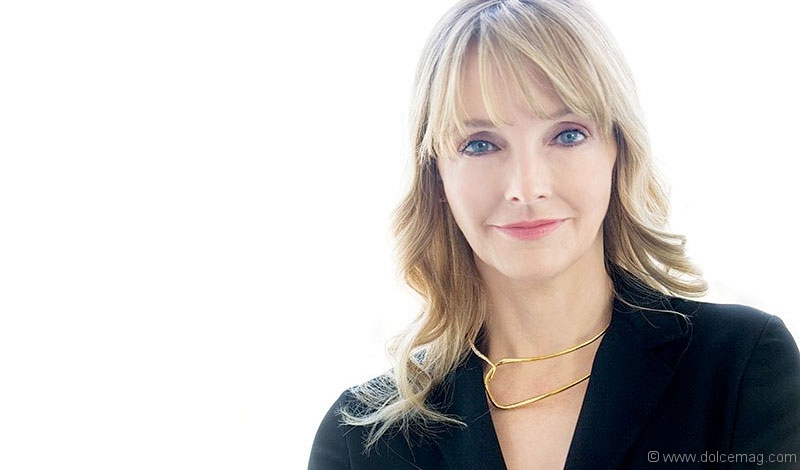 It's only been an hour since she announced her resignation as CBC's executive vice-president, but Kirstine Stewart is already trending on Twitter. From Richard Florida to Shinan Govani and Andrew Coyne, virtual congratulations from Canada's business and media fixtures are pervading the T-sphere with a celebratory rhythm. As one of the most famous faces in the pubcaster's upper- management past, Stewart's percipient watershed adieu is a bolt from the blue. In her seven-year run, Stewart has been hailed for rebranding the CBC. It seems she's now rebranding herself.
Over the weekend, Stewart left the country's largest cultural institution to lead Twitter's Canadian expansion as its first national hire. With the almighty CBC acronym suddenly snipped from the end of her Twitter handle,
@KirstineStewart's move, quite literally, symbolizes the end of an era. As a public corporation that subsists with the support of federal government funding, Stewart wasn't just the network's boss — in some ways she was Canada's. This might explain why the day's headlines don't seem to care about Twitter opening up shop in Toronto, they care that Stewart has been given the key. As the youngest and first female to own one of the biggest media jobs in the biz, breaking the glass ceiling wasn't just a realized cliché, it was a redefining coup that killed an antiquated picture of broadcasting.
I sat down with Stewart at her downtown Toronto condo a month before her departure, and even in the wake of transcribed words and hindsight there isn't a glimmer of an impending goodbye. Not a raised hand, a cautious answer or an apocalyptic sense of pessimism. Just a transparent woman with dreams the size of Front Street for a corporation she appeared to have a maternal devotion to — and the leopard-print heels to conquer them. If Stewart didn't see it coming, how could we?
Her floor-to-ceiling windows capture the arms of outstretched oak trees embedded in Fort York's history, while the sun casts its spell on a candy-apple-glazed sanctum of contemporary artwork and media memorabilia. On one wall, a large Lichtenstein-inspired comic book painting given to her as a wedding gift hangs high; in the corner, an authentic stage-set movie lamp with incandescent bulbs steals the show. "Kevin O'Leary got us that," she says, pointing up to a framed portrait of Muskoka Lake blanketed in fog.
Her sophisticated deep-V suit, smooth flaxen hair, cerulean stare and fair, dewy skin stirs up the image of a mid-forties powerhouse with her finger on the pulse of tomorrow. After a grand tour that leaves no room unturned, Stewart pulls two bar stools from her kitchen island, pours a glass of ice water and unclenches her new BlackBerry Z10 from a dangerous grip. She used to be able to type with her eyes closed but the new touchscreen requires some practise. "I've had to apologize to people for being curt," she says, laughing at some of the misconstrued emails she has accidentally sent to colleagues. When Stewart broke into the broadcast business in the late '80s, words were only exchanged verbally.
After receiving a degree in English literature at the University of Toronto, the Oakville-raised 19-year-old paused her early dreams of becoming a music composer to pursue a seemingly banal position at a local TV program distributor called Paragon Entertainment. She continued carving new positions for herself, from receptionist to sales executive, until she was finally named president of the company. "It was obvious she had the ability to move onwards and upwards," says her then-boss Isme Bennie. It was the Woodstock stage of Stewart's enterprising enigma — a pivotal event that changed the course of history. But her heyday was still ahead.
"I don't go with a sense of plan because I just think there's so many options," she says. One of those options led to a U.S. stretch as the senior vice-president of programming at Hallmark Entertainment, where she managed 17 international broadcast channels under a $300-million budget and a staff of 750. In 2003 she returned to Toronto to help Alliance Atlantis develop and manage programming for popular lifestyle channels such as HGTV and National Geographic. She had a gift for spotting the star power in household names like Debbie Travis and Mike Holmes, and for curating character-driven content that appealed to the masses. "People are attached to stories and they're attached to personalities and those personalities have to be authentic," she says, emphasizing that last word to underscore the difference between factual and flagrant reality.
The pre-emptive concern that these celebrities would be swept up by other major networks, enticed with bigger paycheques and wider audiences, never concerned her. "To me, having been in the States and having had the exposure, then you just move on or you make it so that they don't want to leave," she says. The trick was to create an environment so supportive that even the best of the best would be addicted to the brand. "There's a little more opportunity in that attitude where you're not afraid to build someone up because they might leave you. You build them up and you build an environment that they're not going to want to leave."
That insight, coupled with an impressive track record, catapulted her to a very significant place in the city's small-screen circles, and the CBC was quick to notice. In early 2006 they called Stewart to see if she was interested in applying to become general manager of television. "It was a big, high-up job to start with, but it was more, 'how do you ever have an effect on what goes on there?'" After much consideration and some wise words from a friend who told her, "It's the biggest sandbox you'll ever play in," she went for the interview and began building castles. "People, I think, were underestimating the power of opportunities in Canadian television," she says. "I thought, 'I'm along for that ride if you're ready to shake things up.'"
Canadian content became her calling card and ratings giants such as Dragons' Den, Little Mosque on the Prairie and Murdoch Mysteries gave Stewart the quiet confidence to continue her crusade. In January 2011 she succeeded her controversial boss, Richard Stursberg, and officially became the executive VP of English Services. When she accepted the new role, headlines such as The Globe and Mail's "Will Kirstine Stewart Save the CBC?" began permeating the news. "No pressure there, eh?" she jokes. "Someone said to me, 'It's like living in a fishbowl, right?'" She was suddenly the biggest name in Canadian media, a recognized face within the city's social circuit and the new wife of Little Mosque star Zaib Shaikh. Stewart was everywhere.
Just five days before she inked the deal with Twitter, CBC's venerable newsman Peter Mansbridge recalled their defining introduction. "It's interesting actually because it was that initial conversation that kind of established our relationship and my admiration for her as a straight shooter," he says over the phone. Before she joined in 2006 he had heard that Stewart was planning to push The National to an 11 p.m. time-slot and thought, "What the hell's going on? Who is this new person? And why are they trying to plunge the knife into my back before we've even met?" he says with his rich, baritone laugh. In a hurry to clear up the confusion, he arranged a meeting with Stewart at a small King Street restaurant. It was a misunderstanding, taken out of a context in a world of broken telephone. "What I appreciated is that she was very upfront with me about what her thinking had been … She's very determined, very focused, knows what she wants and is willing to fight for it."
Stewart has never been afraid to go with her gut. Her instincts paid off when she pushed to give Gerry Dee, star and producer of CBC's Mr. D, a rare shot at redemption after his pilot flopped. She picked up the phone, dialed Dee's number and said, "We think there's something there. We like you and we want to give you a second chance." She was right. "It wasn't the pilot it should have been but we changed some things around and made it work. That is a rarity and if you ask around that's something that a lot of networks will not do. They won't waste their time on something a second time," says Dee. Over one million viewers watched Mr. D's first episode, and the show has since developed a cult following. "She's taken my brand and made it into something an American TV show would do."
The screams down the hallway when Little Mosque on the Prairie debuted to over two million viewers still echo in her ears. "Nobody ever thought CBC could ever get over two million viewers. It gives me goosebumps," she says, rubbing her arms. But Stewart was just facing the reality of what she could accomplish with her hands tied by a shoestring federal budget. After being slammed with a 10 per cent cut in April 2011, the CBC's setbacks meant she would have to be economically innovative when it came to maintaining effective marketing strategies. In light of less advertising dollars, she began using her own voice as the instrument for drumming up the network's shows.
She was the most vocal brand ambassador the CBC ever had. She wore the gem logo at events, slipped it into every conversation, made "culture" and "Can-con" buzzwords, tweeted about her talent pool every two minutes and bled the perfect shade of apple red. She was proud of her place of work, and it poured out of every sentence, every sentiment. She was thrilled about winning the bid to broadcast the 2014 and 2016 Olympic Games, was looking forward to flying to New York to talk Hockey Night in Canada with NHL commissioner Gary Bettman, and was proud to announce that Dragons' Den had officially begun filming its eighth season.
Stewart made the CBC a topic of conversation, and she was no less a part of it. "Every cheer, every tweet she makes about a Canadian hockey team, there's a double reason for that. One, she's a sports fan. Two, it means programming in the future. It literally means programming for us," Mansbridge says. "She sends messages to her followers on Twitter, she mentioned us in articles, I think she's doing that to create a star system which we never really had," Dee states.
The $115-million funding slash over a three-year horizon meant much more than smooth marketing moves — it would also affect hundreds of jobs and tug the reins on her Canadian-content reign. As the boss, she would have to face her employees and tell them the truth: that their jobs were in jeopardy; that their workloads would be generous. "It's not a fun job to tell employees, producers and directors that they can't bring you back because we don't have the funding anymore. That is a horrible situation to be in. That's the bad side of that job I guess," says Dee, days before Stewart stepped down. "I think how she got through these years was pretty amazing."
Stewart's eyes become glassy for the first time when she thinks about a young man she met in the elevator after making that poignant announcement. "This guy turned to me and he said, 'I want to shake your hand,' and I said, 'Why's that?' And he said, 'I work on The National, I haven't been here very long, I'm probably one of those people you're talking about in terms of who's going to have to exit the building, but I've never heard anybody speak to me so honestly about what is going to happen and why it's going to happen, so thank you,'" she recalls. "That was such a generous moment that he gave me there. I'll always remember that." Seeing the bright spots in the darkest spaces was always the highlight for Stewart.
But these elevated exchanges rarely reached the top of the news cycle. "It's very difficult in that sort of environment to do your absolute best. Whatever you do, if they succeed it's despite you, if they fail it's because of you, and there's just been so much criticism of programming and constant fighting it's just very, very difficult to make a break, to change things," says Bennie, who's become a lifelong friend of Stewart's. Though her misses could never escape the public's microscope, Stewart found a way to make her mark in a way that mattered. "I thought really, what she did in a way, is sort of point fingers at that white, middle-class, male broadcast community and say, 'You know I can do it, there are women who can do it,'" Bennie adds.
When I ask her, on that sun-stricken afternoon, where she thinks she'll be 10 years from now, the woman who has never been known for making plans finally looks perplexed. "This is seven years for me," Stewart says. "I was seven years at my very first job, and I'd never been longer than seven years at any position, because that's just the media business, so we'll just have to see." In retrospect, her words are prophetic. "In the end we only live so long and you get paid what you get paid but you better get fulfilment out of what you do in a day. We're so lucky if you can have a job that gives you that, so why not get it?"
As if the corporate world's canonized Who Moved My Cheese were spread across his desk, CBC's English Services president Hubert T. LaCroix gave a cautious goodbye: "It is a fact of life in a competitive, creative business that when you have great people, others will try to entice them away with big opportunities," he writes in his release. In a paradoxical twist, those are the same fears Stewart used to fight when building her arsenal of superstars.
And yet here we are, a month later, on the phone discussing her new position as managing director of Twitter Canada. "I let them know as soon as I had gotten the offer," she says. "I'm not somebody who would oscillate on something like that because in the end, I think when you've kind of seen a path and you're excited about it and you want to go there, then it's time to do that."
It was a sentimental decision, she admits, but "it's the next step, you know? It's a big, wide world out there, but it's sometimes hard to go. I kind of feel like I've signed the yearbooks and now it's time to move on." Twitter is still tight-lipped about their Canadian dreams, but we can only assume that you don't hire Kirstine Stewart unless you intend to shake things up. "We're not talking about the same kind of content, but if you look at what my career has always been, whether it's in distribution or as a broadcaster, it's again that gut. I have a gut, luckily, for being able to pick content or things that connect to people," she says.
Whether it's told in 22 minutes or 140 characters, there are stories all around us. As for Stewart's? "I think this kind of occasion is a perfect indication why it doesn't make sense to have a five-year plan. Nobody knows what's going to happen."