Maison Messika: Jewelry Not Meant To Be Kept In The Safe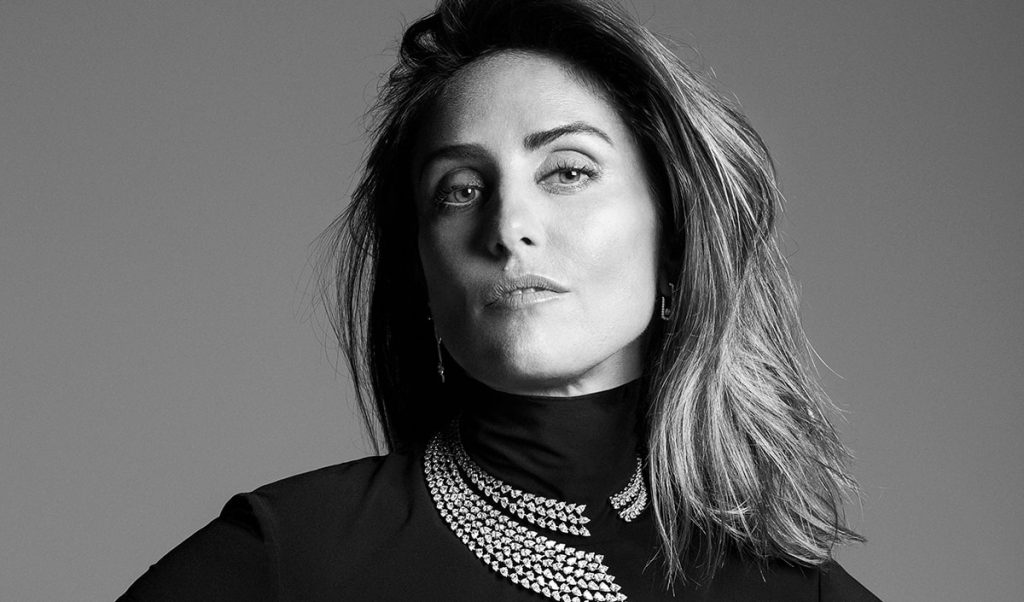 Jewelry heiress Valérie Messika shares the story behind Maison Messika's newest collection in collaboration with Kate Moss, the secrets of a French woman and her eternal connection to diamonds.
Growing up, Valérie Messika didn't play with dolls. Instead, as the daughter of world-renowned diamantaire André Messika, she was drawn to something a bit different. "I used to play with diamonds. I trained my eyes to look at the details. When you're a kid and your father gives you a magnifying glass to look at the clarity and the colour and the details inside a stone, it teaches you that everything is in the details."
As fate would have it, and continuing in her father's legacy, Valérie founded Maison Messika in 2005, a high jewelry line defined by delicate materials that highlight women's bodies. As Valérie explains, "The diamond was already a creation of God, which, by cutting, is made into something so beautiful. My goal was to put it on the skin, like a tattoo, to make a tribute to the femininity and the style of the woman."
Her most recent muse and face of the brand? Kate Moss. "Kate was my muse in my mind until the moment I launched the brand, because she embodies a femininity that I'm a big fan of. She's very effortlessly beautiful and stylish. I love her beauty and all the values of the femininity that she embodies."
The most recent milestone for the brand was its Messika's High Jewelry fashion show in the lush gardens of the Ritz Paris hotel, a star-studded event with guests from Anna Wintour to Christian Louboutin. "It was a big moment. I chose the Ritz hotel because Kate is super-loyal to the Ritz. It's like a home for her. We decided to do it in the garden, because the garden is like a big box of jewelry. It's super-, super-delicate, and, for me, to put diamonds that are more affordable, high jewelry in an outdoor garden fashion show, was such a cool message and corresponded so well to the brand."
When designing the collection, both Messika and Moss always kept the relationship between the jewelry, the woman and the piece of fashion she's wearing at the heart of the brand, as well as the brand's ethos of designing modern diamond creations for everyday wear. "My jewelry is not meant to be kept in the safe. Messika jewelry is about wearing for many occasions," says Valérie.
On one occasion, Beyoncé studded a Messika choker decorated with a 17-carat pear diamond at the 54th annual Super Bowl. Known for her pear-shaped jewels, Valérie explains why the shape of the diamond has a lot of meaning and reflects her outlook on life: "I love the melancholy nature of it. I'm a little bit of a melancholic person, not in a bad way, but in a good way. I love to remember the past, even if I look forward to the future. The pear shape is like a tear, it's very romantic, but at the same time there is a point which is strong. It's not round, it's not a circle, it's not infinite. The pear shape has an end with the point, but the point is very edgy, compared to the round shape. I love the two opposites."
We spoke with Valérie from her office in Paris, conversing in both English and French on her definition of beauty, why it's important for her to give back and how she takes her coffee: "avec une tartine." Oh, so é la French.
Q: Can you expand on your creative process and how you start conceptualizing a piece of your jewelry?
A: It's very organic and very spontaneous. My creative process is not when I'm seated at the office; it's always outside when I'm on my motorcycle or sometimes when I'm running or spending time with my girls, reading magazines or watching the cinema. I'm surrounded by inspiration, and everything surrounding me is a source of inspiration. Take women, for example. I love to see different ages, different styles, in the streets, the way they move. I love art; I love to go to galleries. It can come from architecture or when I'm watching at a fashion show. It's like my brain is like a computer. I have eyes; I catch everything surrounding me. And, at the end, it's like "Zzzzzz," and I adapt in my own world, because Messika is its own world and own DNA. And so, I'm always adapting the core value and DNA of the brand.
Q: What has been one of the most memorable pieces you've owned/created thus far?
A: I have a tennis bracelet from my grandmother. It's very flexible and made up of a fabric of diamonds. Also, Elizabeth Taylor, she's so iconic, and she used to have an amazing pear-shaped necklace. And so, I definitely fell in love with the pear shape through her. The last memorable piece is a pinky ring from my mother. For Messika, for me, the piece that is iconic is "the move." It's the collection where the diamonds are moving; they create sounds when they move with you.
Q: What do you love about Kate's femininity?
A: The femininity that I love is that she's super-stylish but effortless — it's never too much. She never has too much makeup. Sometimes, if you have jewelry, makeup, clothes, everything — you look stuffed up. You have to be balanced. And, for me, her femininity is about that. It seems like she just "woke up like this." Whatever she does, she keeps going. And so, it's a kind of empowered femininity with an effortless mood and stylish attitude.
Q: Many international jewelry brands have expanded their product range to accessories, bags, fragrances. Would you consider diversifying Messika?
A: I would love to. I don't know exactly when, but I'm sure I'm going to diversify Messika through fragrance, glasses or watches. My imagination is without limits, but at the moment I'd like to keep going on with my main business. But, for sure, I will diversify the brand.
Q: Can you speak on some of the causes that you're passionate about? Why is it important for you to give back?
A: When you're as lucky a person as I am, you can't forget to give back. I'm close to children because I'm a mom of two girls, so I try to support [children] as much as I can. For example, we donate to an association called "Toutes à l'école" for their education, because I strongly believe that women today can have more freedom if they have access to education. Also, I support Natalia Vodianova's organization (the Naked Heart Foundation). She is a friend of mine. She is supportive of children who have disabilities. I have a brother who has disabilities, and so, for me, it's very important to support those kinds of people and associations, because my brother makes me who I am today. I support Necker Hospital, which does research for the kids who have a disease, but for which they haven't found a diagnosis. The Necker Hospital is a very strong and important hospital for the kids, and I try to support by contributing to pay for a machine that can help give a diagnosis to the parents of the children who have the disease, because it's already a way to recover if they can also put a name to the disease.
Q: What is your definition of beauty?
A: Beauty is the radiance of the soul. If you have a beautiful soul, you radiate beauty. And even people who are perhaps less plastically pretty, if they have a beautiful soul and energy that they embody, they shine. So, beauty is a judgment that is subjective and often it comes through people's energies.
Q: How do you take your coffee?
A: I sit with my daughters at the table, while they eat their cereal, and I have my coffee with a tartine.
Q: What is the greatest gift you have ever received?
A: My children. I do not know if we can say that it is a gift, but, in fact, I had a hard time having them, and so, for me, they're my gift.
Q: What are your favourite restaurants?
A: I like Hôtel Costes, because I have my go-tos. There's an Italian atmosphere; it's in a garden. I love the Japanese restaurant Alléno; it's Michelin-starred. There's an Italian restaurant that I love on Rue Saint-Honoré called Giusé.
Q: What are the "French" beauty secrets?
A: Knowing how to prepare without appearing to be too prepared. Effortless. That means we have a pair of heeled shoes, but we don't necessarily pair them with a dress, but with jeans, instead. If we do Botox, we do it, but it doesn't show. It's not obvious.
Q: What does la dolce vita mean to you?
A: La dolce vita is the mix of art de vivre with food. Dolce vita is about food, wine, because I love wine. It's enjoying time with your family and friends, and living your professional life like a passion, because you're lucky enough to have work that is your passion; you don't feel like you're working. For me, that's la dolce vita.
www.messika.com
@messikajewelry
This interview has been edited for length and clarity.