Ross Mccall: "I Believe That All Levels Of Creativity Come From A Higher Source"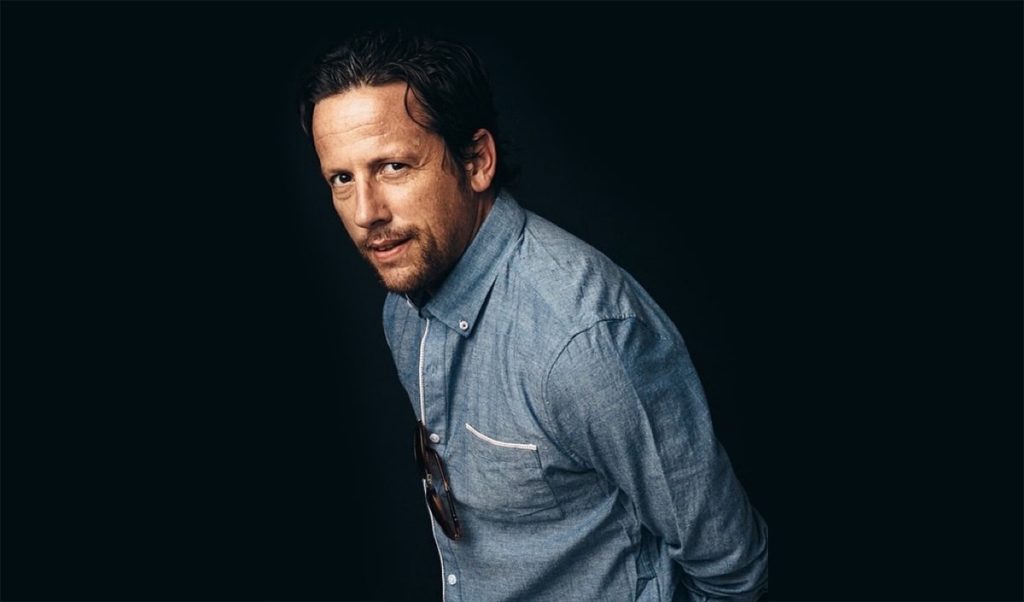 Sitting in the lobby of the Soho Hotel in London before heading out to a screening, Ross McCall spoke with Dolce to share his latest film, About Us, his love for football (some call it "soccer" — McCall calls it an "obsession"), his directorial debut and the drama teacher he'll never forget.
With past roles in Band of Brothers and White Collar, actor Ross McCall is clearly a man of action. But if you didn't think McCall had a romantic bone in his body, think again. His latest project, About Us — a film he wrote, produced and stars in — shows a much softer side to him. "I've also been told by people who've read the script that if they didn't pay attention to the title page and just read the script, which sometimes happens, they thought a woman had written it, which I take absolutely with a great pat on my back."
The screenplay, which is meant to deliver a healing message about troubled relationships, depicts a layered view on love and loss. "I would really love people to feel hopeful — and I mean that in just the way that the world is right now. The reaction people have when they come out of this movie is one of silence. People come out and they've had a very emotional journey; they're drained, they've been crying — male and female. They all come out wanting to tell their loved ones they love them. That's my message: it's just hope and that cheesy little thing we call 'love.'"
Q: Seeing as your latest project, About Us, explores the complex nature of love, can you tell me about some of the first loves you've experienced in your life?
A: I mean, even though the film is about the relationship between a couple, and a couple essentially going through a breakup, the themes and the tones of the film really are about love of everybody, and that can be your parents, to your pets, to whatever. I guess my first loves really were animals, funny enough. As a kid, I always wanted to be a vet and so I spend a lot of time rescuing dogs now, and that's sort of been an eye-opener for me and that would be the earliest memory I have of love.
And, of course, I grew up in a really loving family. I left home really early, which explains so much. I was on tour when I was 11 years old. That was before cellphones (I'm aging myself here), and where you could call your parents from a pay phone on a Sunday. I had a really tight-knit family threshold, and I guess they didn't really understand the entertainment business, either, because it was new to everybody. I was just away a lot. I have aching fondness of love. Usually, my earlier memories of that were about missing people, and I guess that parlays into my next love, which is sport.
I'm a big football fan. You guys call it "soccer," some would call it an "obsession" or an "obsessive love," but I literally have too many soccer shirts than a grown man should have. I have a secret drawer — actually, it's not even a secret door — it's open for everybody to see.
Q: Can you share a bit about what went into writing About Us? How long did it take, and from where did you draw your inspiration?
A: I don't know where you land spiritually, but I'm a reasonably spiritual person and I believe that all levels of creativity come from a higher source. Whether you're a good lawyer or a good bartender or a good writer, whatever it is, if it comes from a genius place, it comes from something that's bigger than us. And, so, I had an idea about a movie. I knew I wanted to keep it small, I knew I wanted to shoot it in Europe and I wanted it to be a two-hander: I just wanted two people in the movie. That then turned into three, but I do believe that once I was in the zone, words and sentences that I've never constructed before were coming onto the page. It's got a real spiritual feel about the film, not in a biblical way, just in a real way. People relate to it. If you've ever been in love or if you've ever been heartbroken or if you've ever suffered loss of a relationship, you tend to sort of thank God or ask for guidance — or whatever it is — during those times. And this film has an essence of that. It has an essence of letting go, it has an essence of living in the moment and enjoying every moment. The film came from that. Once I knew what the beginning, middle and end was, it was a pretty quick process. I wrote it quicker than any of my other scripts: from concept to shooting, a good year and a half.
"I Think Everybody Loves Love And I Think If There's A Way Of Showing It That Makes You Appreciate It Even More. I Think That's The Beauty"
Q: The producer of your film, Peter Winther, says he had a strong emotional reaction after reading the script and cried for 45 minutes. Why do you think that men will be able to connect to this story? What about it do you think resonates with them?
A: Anyone who watches my films or my TV shows, know I'm not the sweet, soft, romantic kind, and so I guess when they were getting the scripts, they probably thought it was another gangster movie. It's a very particular film; it really makes you recognize yourself and your partners and people in your life. I had a very big agent at CAA [Creative Artists Agency], and he read it and he put the script down just after lunch and he told his assistant not to forward any of his calls, and he drove to kiss his wife. He left the office to go do that once he read the script, and it's that kind of movie. I think everybody loves love and I think if there's a way of showing it that makes you appreciate it even more. I think that's the beauty.
Q: Can you tell me about your work with the conservation group Sea Shepherd, writing and directing the documentary Grind of the Faroe Islands, as well as your connection to the elephant rescue centre PAWS (Performing Animal Welfare Society), in Northern California?
A: PAWS is the elephant sanctuary in California and it's just an amazing place where they rescue elephants from circuses, zoos, all sorts. They use the army; the military will fly them on planes if they can to get them to Ed's place in Northern California. They get to roam free in hundreds of acres of land; it's stunning, it's so great. It's the ideal sanctuary; it's not a fake sanctuary. It's not a place that's open to the public; it's not a zoo. He literally rescues these animals and gives them the next 30 years of just roaming free and eating pumpkins whenever they want.
Sea Shepherd, they have a voice, and they want to protect the oceans. They want to stop the whale and dolphin slaughter that's going on around the world, and when they approached me, because I had shown some interest in them and said, "Well I don't just want to come and sign T-shirts; I would love to put my boots on the ground," and they said, "OK, what do you need?" I said, "I need a sound guy, a camera guy and a camera — let's go." And we went and made this documentary called The Grind of the Faroe Islands; it's on YouTube now. We made it a few years ago and it's only 22 minutes long, so it's really not a big commitment, but I sit on the fence and don't go bang a drum and start telling people how to live their lives, but I show you both sides. I show you what the Faroes think of it, and what it actually is, and you can sort of come to your own conclusion by the end of it.
Q: Can you tell us about some of your latest work?
A: Well, "Ire" is my next script after "About Love" and if "About Love" is about love, "Ire" is about self-hate, so it's about a completely different journey. It's about a prisoner in a London prison and his journey. I directed it, it's my directorial debut. I brought on the crew that I wanted. We had most of the same crew that we had on our little film, they were the same crew that I had on my massive Apple TV show with Uma Thurman, so we had the best of the best. I mean, I had the grip from Star Wars — it was crazy. And it was blood, sweat and tears, and we made this beautiful film. There are similarities between About Us and "Ire": long takes, very beautiful shots that tell a story that ultimately has a lot of heartbreak in it.
"… once I Was In The Zone, Words And Sentences That I've Never Constructed Before Were Coming Onto The Page"
Q: What actors do you look up to most?
A: All the originals: the De Niros, the Pacinos, the Chris Walkers. Jack Nicholson is probably my favourite actor. I loved all the bad boys, like Steve McQueen, the good boys, like Paul Newman. I think [Leonardo] DiCaprio is great. I think Brad Pitt is great. Tom Hardy is an old acquaintance of mine, and I think he smashes it. I just like good actors. Actresses: Marion Cotillard has always been a favourite, Michelle Williams, Cate Blanchett. I don't have anybody obscure; they're all the kind of people everyone would know.
Q: Have you had any mentors who have greatly affected your career/personal life?
A: There was a drama teacher at my school, and I was a little bit of a good-bad kid and always a little bit troublesome, but never dangerous. There was a year in particular, and my head wasn't in the education system. I was too set on writing, short stories, doing plays, and I remember my drama teacher coming to me once and saying to me, "Look, in your performance of drama, you'll get an A, but you didn't do any of the course work." The course work to me was boring, and she said, "Come see me after lunch every day, the last 15 minutes of your lunch break." She'd put a pen and paper in my hand and she said, "Just write what I say." I won't mention her name. God forbid she ever gets in trouble, but she got me through, because she really believed in me so much — I'll never forget her. And then I would say Tom Hanks has been a great friend and mentor. I can email him, he'll always reply and he helped me get my green card, so he's a great guy.
Q: What's your favourite movie snack?
A: Probably Skittles or Maltesers.
Q: What's your all-time favourite movie?
A: One Flew Over the Cuckoo's Nest, but it's tied with Cool Hand Luke.
Q: What's your favourite love story?
A: I think Shakespeare wrote some wonderful love stories. Obviously, I'm going to be different. I think one of the greatest love stories is the song "Something" that George Harrison wrote and the Beatles sung. I think it's the greatest love song ever, so that would be the greatest love story.
Q: What do you admire most about people?
A: Courage, faith, respect and honesty.
Q: What does la dolce vita/the sweet life mean to you?
A: It means waking up happy, it means going to bed happy. And if you could have a little dash of sunshine and a little Aperol spritz mixed in there, it would be perfect.
This interview has been edited for length and clarity.