Toronto Jewelry Boutiques – Nature's Bounty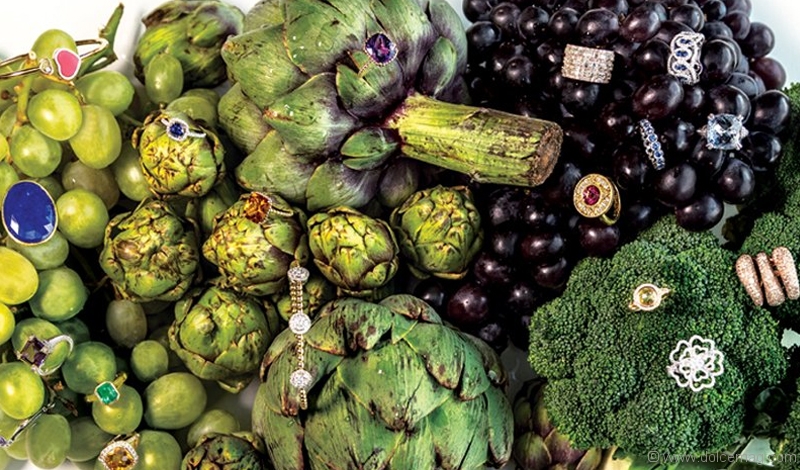 From mine to boutique, a piece of jewelry passes through many hands. Meet the artisans and curators who usher a gem to its final destination, ultimately making Toronto a more sparkling place.
1. Linda Penwarden
Penwarden Fine Jewellery
The story of how Linda Penwarden fell in love with jewelry design is something of a meet-cute. She was studying to be an illustrator at OCU (now OCAD), and in her second year she enrolled in a gemology course, just for fun.
"As soon as I soldered two pieces of metal together, I was just sold," she says. "It was a rush. It was life changing."
After transferring to George Brown's goldsmithing program, Penwarden eventually founded her own jewelry design business in 2003 — and today, Penwarden Fine Jewellery has blossomed into one of Toronto's most cherished treasure chests.
While Penwarden pays attention to trends, her signature is a more "classic-contemporary" vibe, which she creates in-house using the best-quality metals and stones available. The designer wants her pieces to last lifetimes, to be passed down through generations and still sparkle with style decades down the road.
As for what jewel lovers can look forward to finding in-store this fall? "Lots of colour — and lots of detail!" she exclaims. "I'm very inspired by the old-world look."
www.penwardenjewellery.com
2. Haigo Derian
L'Oro
While Haigo Derian doesn't design pieces of jewelry himself, he's an artisan in his own right, with an unparalleled talent for curating the "next big things" in accessories.
L'Oro was first founded by Derian's father, Vahram Derian, and eventually taken over by the young jewel expert. Now partnered with Jeff Karadjian, Derian brings a sense of familiarity to the renowned Vaughan boutique, which brings in some of the world's most prized brands, from Tag Heuer to Gucci, from Chopard to Omega, and everything in between.
Now over three decades old, L'Oro is seen as an authority in the north-of-Toronto jewelry scene, but despite its vast growth its atmosphere is still homey and familiar. Derian is dedicated to preserving the honesty and integrity with which his father founded the boutique, and he welcomes every client like they're part of the family.
www.loro.ca
3. Mark Lash
Mark Lash
For Mark Lash, it all started with a block of wax.
"My interest in jewelry design started while at university, [where] I discovered that I had a talent carving waxes, and realized that I had strong fine motor skills and a good eye for detail," he says. "As a result, I started to design some pieces of jewelry and from that point on I knew that I would make jewelry design my career."
Now the name and the talent behind Toronto's go-to jeweller for big rocks with big sentimental value, Lash gets his thrill not only from the designing process, but from the looks on the faces of his clients when he unveils their sparkling custom engagement ring or celebratory custom piece.
This season, Lash looks forward to acquainting his clients with rose and white gold, baguette-shaped diamonds and the ultra-trendy choker. "Rose cut, rustic and diamond slices along with fringes are making a strong statement this season," he says.
www.marklash.com
4. Chris Valente
Valente Jewellers
Chris Valente is living proof that immense talent doesn't always take long to hone. From a young age, the designer has come up with breathtaking pieces and original collections that add to the prestige of his family's boutique, Valente Jewellers, which was founded by his father, Carmen Valente, over 40 years ago.
On top of the passion for the craft that he inherited from his father, Chris Valente earned his expertise while studying in George Brown's Jewellery Arts program. Soon after graduation, he brought his next-level ideas to the family-run shop, where today he uses CAD software and laser technology to create pieces in his in-house studio-workshop. While he has a style that's all his own, Valente's designs are still reminiscent of the quality and splendour that Valente Jewellers has always been known and loved for.
As for what can be found in-store this season, Valente says yellow gold is making a comeback: "It's making a strong impact, from delicate necklaces to larger-style rings."
www.valentejewellers.com
5. Melissa Spivak
Samuel Kleinberg Jewellers.
Melissa Spivak inherited her love of sparkle. Throughout her childhood, her father, Lorne Spivak, owned several jewellery stores and now together they own the renowned jeweling company Samuel Kleinberg Jewellers, which was founded in 1968.
"[My father's] chain of retail stores figured prominently in my childhood memories," says Spivak. "I cherished these times when I would play dress-up with rings and necklaces. I remember feeling so glamorous, as if I were ready to walk the red carpet."
Today, Spivak is the lead designer at Samuel Kleinberg, and works with an incredible team of diamond specialists, designers and jewellers who all share two common things: a love of jewelry and a passion for adding sparkle to everyone's day.
Recently, Spivak took her talent one step further by launching her own line, which is now available in Samuel Kleinberg's Toronto showroom.
www.samuelkleinberg.com
6. Tamara Kronis
Studio1098
The 2010 opening of Studio1098 marked a paradigm shift in Tamara Kronis's life as she leapt from a career in law to one that was more fluent with her soul: jewelry designing. Since launching her boutique in Toronto, Kronis has become a much-loved maker known for her use of brightly coloured gemstones and a homier, less intimidating approach to the often-daunting sales process.
"I think I get clients more involved in the design process than most jewellers and will spend a lot of time with my clients up front, brainstorming design directions with them to get to a place where what we ultimately make is exactly what they were looking for, but better," says Kronis. "I love flexing my design muscles and have a natural curiosity about absolutely everything, so my clients have a huge influence on my designs."
This autumn, she's excited to dabble with the "statement piece" trend that's hit the runways — as a qualified gemologist in both Canada and the UK, sourcing unusual and interesting gemstones and pearls is her forte.
www.studio1098customjewellery.com
---
Rock this fall by donning the best and brightest from Toronto's favourite jewelry boutiques.
1. L'Oro: 14-karat yellow gold and lapis
2. Studio1098: 14-karat white gold and multicoloured sapphires
3. L'Oro: 18-karat yellow gold and lapis
4. L'Oro: 18-karat rose gold and diamonds
5. L'Oro: Purple quartz and white sapphires
6. Penwarden Fine Jewellery: 18-karat yellow gold and emerald
7. Penwarden Fine Jewellery: 14-karat yellow gold, citrine and diamonds
8. Valente Jewellers: 18-karat white gold, blue sapphire and diamonds
9. Penwarden Fine Jewellery: 14-karat yellow gold and citrine
10. Penwarden Fine Jewellery: 14-karat yellow gold and peridot
11. Samuel Kleinberg: 14-karat white gold and diamonds
12. Samuel Kleinberg: 18-karat yellow gold, 18-karat white gold and diamonds
13. Penwarden Fine Jewellery: 14-karat yellow gold and amethyst
14. Mark Lash: 18-karat rose gold and diamonds
15. Studio1098: 14-karat white gold and blue sapphires
16. Penwarden Fine Jewellery: 18-karat yellow gold, tourmaline and diamonds
17. Studio1098: 14-karat yellow gold and yellow sapphire
18. Samuel Kleinberg: 14-karat white gold and fancy diamonds
19. L'Oro: 18-karat rose gold, diamonds and mother of pearl
20. Mark Lash: 18-karat white gold and diamonds
21. Samuel Kleinberg: 14-karat gold and fancy diamonds
22. Mark Lash: 18-karat rose gold and diamonds
23. Penwarden Fine Jewellery: 14-karat yellow gold and garnet
24. L'Oro: Sterling silver, canary crystal and white sapphire
25. L'Oro: 18-karat gold, sterling silver and blue quartz
26. Valente Jewellers: 18-karat white gold, blue sapphires and diamonds
Photo By Carlos A. Pinto