A Man with Media Message – Bell Media CEO Randy Lennox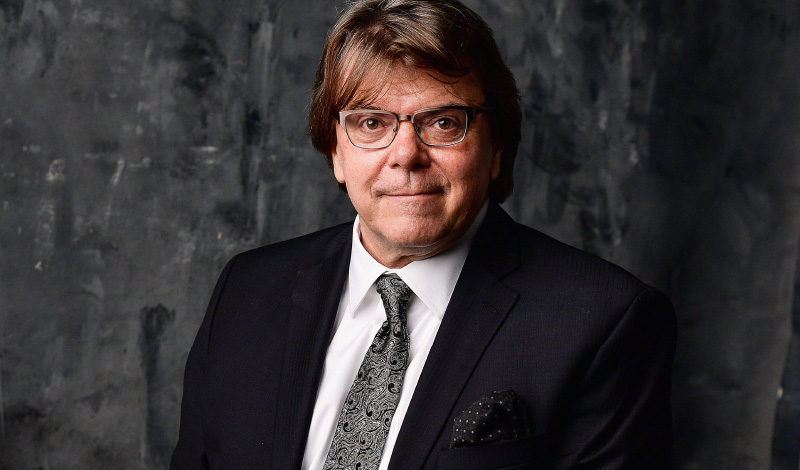 The CEO of Bell Media, Randy Lennox, has taken Bell to the next level by combining traditional and digital media.
If you've ever been to an awards dinner, you've probably had to sit through at least one of them: those tribute videos to introduce an honouree's lifelong achievements. Often, these are staid affairs, life summaries accompanied by a monotone voice-over, the perfect time to pass the dinner rolls or search for that errant dollop of salad dressing.
But this was not the case for the tribute video that honoured Randy Lennox, president of Bell Media and one of the communication world's most influential media executives, at the 2017 Juno Awards in Ottawa. The video preceded the presentation of his Walt Grealis Special Achievement Award.
The tribute was an eye-popping mic drop, with music legends U2, Sting, Gord Downie, Peter Gabriel and Gene Simmons singing Lennox's praises, alongside photos of Lennox with Sir Paul McCartney, Sir Elton John and the Rolling Stones.
Lennox spoke about his reaction in a recent interview with Dolce. "It was one of the biggest surprises of my life," he says. "When it opened with U2 cracking jokes, and they just kept coming, it was almost surreal. Particularly special was Gord Downie, who I'd known for 30 years and who was in challenging shape, as we know. That was a highlight for me. It was very humbling and heartwarming for me and my family."
The tribute was a primer for anyone not previously aware of Lennox's influence in the music industry. Not bad for a kid who got his start working in a record store. Lennox entered the industry not through the gold-record-adorned front lobby, but through the mailroom, rising through the ranks to eventually become president of Universal Music Canada.
His passion for music began at an early age, when he spent his earnings as a Toronto Star delivery boy on vinyl singles and had the audacity to phone CHUM Radio to complain about the Beatles being dropped from the #1 position on the CHUM Chart.
"It was almost sacrilegious for the Beatles to be knocked to #2, and I wanted CHUM to be aware of that," says Lennox. "The man at CHUM asked me, 'Son, how old are you?' I think I was eight."
Ironically, CHUM Radio is now part of Lennox's stable at Bell Media, which he joined in 2015 after a long, hard contemplation about whether to leave his beloved world of music.
"It was an incredibly difficult decision for me, but I got a chance to look at a media, music, television, digital and film perspective," says Lennox. "It was a lot like graduating from Universal and arriving at the culmination of what I'd been doing my whole life, and hopefully applying my ability to do content well in an environment that was in everything. It was really spreading my wings."
Those wings today have a considerable span. Lennox has combined elements of his career to create the new synchronicity that he is bringing to his position at Bell Media, allowing him to extend his creativity and business acumen across many platforms in ways previously unimagined, always giving the customer choices. For Lennox, compelling content and real-time delivery options are king.
Bell's empire includes such traditional media as CTV, CTV News Channel, Virgin Radio, CHUM Radio, TSN, Discovery, Much and the omnipresent CP24, whose screens are everywhere. Add to these the relatively new delivery platforms of iHeartRadio, CraveTV and SnackableTV, and Bell Media's new live theatrical production partnership, which produced the Meatloaf musical Bat Out of Hell last fall.
Bell Media made headlines in December 2017 when it kept secret the location of an intimate Neil Young concert, produced and streamed by Bell, until the day of the event. And the company has only just announced its acquisition of a majority stake in Pinewood Toronto Studios, along with plans to add another 170,000 square feet of sound stages and support space to the property, located in the Port Lands area.
Lennox's vision and strategy is to produce and deliver as much quality content to as many platforms — simultaneously, on demand and globally — as possible. That, he feels, is the future, and that future will always include legacy media.
"The death of traditional media has been greatly exaggerated," says Lennox. "Our new show The Launch is a perfect example. It airs on CTV at 9 p.m. and attracts about 1.5 million viewers, and we're also running it on iHeart, CraveTV and SnackableTV. At 10 p.m. the winner is announced, and that artist is also then on all those platforms, along with all the radio stations. The only way the scale is big enough to be successful is foundationally; The Launch was on CTV in the first place, and now Sony Television is taking it internationally for us. The key is to integrate traditional platforms and add value to them, and that can be powerful."
"There has always been something in Canada about proving to the world we're the little engine that could"
His position at Bell allows Lennox, a proud Canadian, to continue promoting Canadian artists to the world. "It's a great time to be Canadian. Canada has always punched above its weight in hockey players, comedians and musicians, and currently in music we have almost an embarrassment of riches. There has always been something in Canada about proving to the world we're the little engine that could. We may be polite about it, but we really want to show the world what we're made of," says Lennox.
Working within Bell also affords him the opportunity to make a difference in the community. Bell Let's Talk Day is an annual initiative to encourage discussion about mental health, with the goal of promoting awareness of mental health issues and ending social stigma about them. On that day, Bell donates five cents for every text and call made on its network, as well as for every social media interaction about the event. This year's Let's Talk Day on January 31, 2018, saw 138 million global interactions, which comes to a record $6.9 million. Since the program's inception in 2010, Bell has raised a total of $93 million for mental health research and support.
In Lennox's view, this important community commitment comes with the territory for Bell Media. "There is a wonderful saying … 'With leadership comes responsibility,'" says Lennox. "And with Bell being such a leader in so many ways, they want to give back, and with mental health and addiction being two of the most prevalent challenges in our society, it is absolutely the right initiative to take."
Communications and entertainment media may be constantly evolving, and the industry may be one of the most challenging and quickly changing, but to Randy Lennox, this is an exciting time of endless possibility.