The Dean of Olympic Broadcasting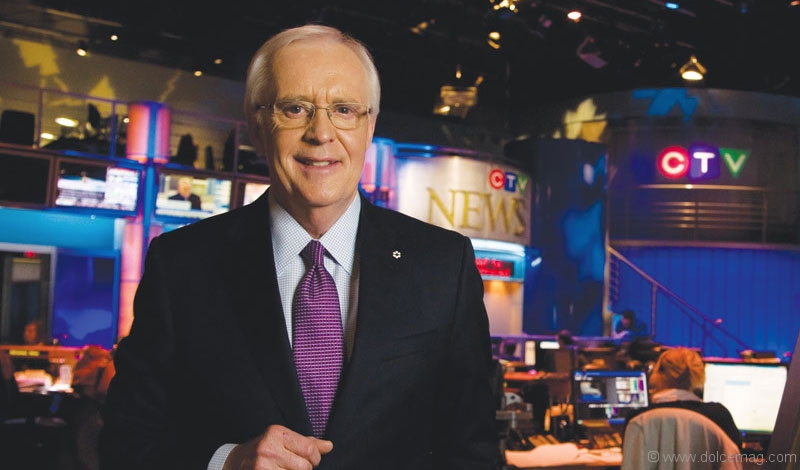 "It's all about research," says CTV sports broadcaster Brian Williams as he pulls from his bag a sizable folder bursting with documents. He shuffles through page after page of newspaper clippings and printed information, rhyming off all the significant facts and amusing tidbits he'll keep at a mental arm's reach for the 2012 Summer Olympics.
"London: it's the first city to host three Olympics: 1908, 1948 and 2012," he says. Right. "Canada's last medal in a [traditional] team sport in the Summer Olympics was the men's basketball in 1936 in Berlin," he adds. Really? "Nineteen-o-eight: the first games to include a parade of athletes." That started in London? Interesting. "The Queen also opened the '76 games in Canada [Montreal]. So she will be the first head of state to open two Olympic games." I didn't know that, either.
The list goes on. And on. I've been told that Williams is a literal fountain of knowledge, and the man does not disappoint. His insight to "the ultimate live event in television" is profound, seemingly intuitive and unquestionably overwhelming. But what else would you expect from the "dean" of Olympic broadcasting? After all, you don't become one of the most decorated names in Canadian journalism by phoning it in. "With London, history is so important … These are things you can't learn the night before," says Williams, who was appointed to the Order of Canada last year, and received the Sports Media Canada's Outstanding Sports Broadcasting award for his role in the 2010 Winter Olympics in Vancouver.
Unlike North America's big name sports– football, hockey, baseball, etc., – you can't just be an expert on one event. At the Olympics, you really need to be a jack-of-all-trades. "You not only have to know track and field," Williams says, "you've got to know boxing, you've got to know rowing, you've got to know canoe/kayak." And that's just the Summer Games. "You have to have information at your fingertips," adds the 65 year old, and without the help of his team – he gives full-credit to Marc LeBlanc and Paul Harrington –his award-winning coverage wouldn't nail the dismount. "When you're doing the Olympics, it's like a final exam – if you're studying the night before it's not going to work."
And Williams should know: This will be the 14th Olympics he's covered; he's been at it since 1976. Even after 36 years, he still succumbs to Olympic fever. "Think about it: 204 nations, 10,500 athletes. There is an excitement. London will be alive."
"It's intimidating, too," he quickly adds.
Throughout his prestigious career, he's learned that at the Olympics, you come to expect the unexpected. There's a whirlwind of activity at all times and you need to constantly be on your toes. The death of the Georgian luger in Vancouver, 2010; the bombing in Atlanta, Georgia, 1996; the Ben Johnson steroid scandal in Seoul, South Korea, 1988 – it can hit at a moment's notice, and as a broadcaster, you have to put it into context. "Athletes have been disqualified in the past," says the eight-time Gemini award-winner, recalling, in true broadcasting fashion, the morning he was awoken with the news about the Canadian sprinter, "but this wasn't the same as Stockholm in 1912 with the great American Jimmy Thorpe." This was the men's 100 metre, the centrepiece of the games. "I just came up and said, 'Good morning, there's been a positive drug test involving Ben Johnson,' and we went for the next several hours reacting to the story."
"For me, it's not my favourite [moment], but it's certainly my most memorable."
So, what is Brian Williams' favourite? "Probably Ali," he says, describing the scene at the 1996 games in Atlanta. At every Olympics, there's always speculation as to who will light the flame; Williams thought maybe Coretta Scott King, maybe Evander Holyfield, to showcase the new American South, one beyond racism. "Well nobody guessed – they cut to him, and there's the great man. It's Muhammad Ali!" Williams immediately began retelling Ali's tale from the 1960 Olympics in Rome, Italy, where he won gold as a light heavyweight. But when he returned home to Louisville, Kentucky, he was denied service at a restaurant because of the colour of his skin. He walked down to the river between Indiana and Kentucky, and in a courageous gesture, threw his medal into the water. "Here's a person of colour, here's a person with a physical handicap, Parkinson's [disease], doing this job and he did it with such dignity I had tears in my eyes. Muhammad Ali was, and remains to this day, one of my heroes."
And then there's always the heartfelt moments, too. He remembers interviewing Clara Hughes, a Canadian and the only athlete in Olympic history to win multiple medals in both the summer and winter games. At the 2006 Winter Olympics in Turin, Italy, she pledged to donate her entire savings to Right to Play, a charity where Hughes is an athlete advisor and Williams is also on the board of directors, if she won a gold medal. She did. And she did. "She had only, like, $10,000 or something, I can't remember the figure. She wins gold in speed skating and donates it to Right to Play, inspiring donations from Canadians in excess of $700,000."
The memories continue to roll. Joannie Rochette winning bronze in figure skating in Vancouver only days after her mother passed away. Meeting his American namesake, NBC's Brian Williams, at Vancouver in 2010. "He was so respectful of Canada," Williams says. "He's a great journalist. He's just a class act." Or when he met the late Vasily Alekseyev, the Russian super-heavyweight weightlifter, at his first Olympics in Montreal, 1976. "He had two steaks and a dozen eggs for breakfast," Williams says with a chuckle. "I'll never forget that."
"So many great, great moments like that."
While he reminisces about all the victories, defeats, highs and lows, he's also fearlessly outspoken. He's critical of the International Olympic Committee for never paying proper respect to the Israeli athletes killed during the Munich massacre at the 1972 Olympics.
Williams, a father of three daughters, also feels it's "sinful" that Saudi Arabia is allowed to compete when they don't permit women on their team. "I just think it's wrong. It's 2012, we're not in the 1800s anymore, and I'm prepared to say that."
"I believe that people, the viewer, is not stupid. And I believe that there has to be integrity involved," says Williams, who also holds an honourary doctor of humane letters from Aquinas College, the Michigan school where he graduated as a history and political science major. "Ken Reid [a retired Canadian Olympic alpine skier] once said to me, 'It's not just about athletic ability, but it's about integrity, respecting the rules.' And I think that if we expect the athletes to be like that, than I have to be like that as a broadcaster."
After Canada's monumental success at Vancouver, winning 26 total medals, including 14 gold, Williams is optimistic. "I sense the country is more enthused about the Olympics," he says. "There's a new confidence." And why shouldn't there be: a strong dollar and a steady economy are all sources of pride. There's hope that our athletes can outdo their 2008 performance in Beijing, where 18 medals were awarded to the Great White North, including three gold. "Medals matter," he says, but not just for the victory. Williams points to the bigger picture. "When Kyle Shewfelt won a gold medal in gymnastics in Athens, the Calgary gymnastics club was lined up with new young members the next day." It's a trickle-down effect, he explains. And this year, he's looking to athletes like Mary Spencer, an aboriginal boxer, to make a splash. If she wins a medal, like she's predicted to, she'll be an inspiration for today's First Nations' youth, "and I think that's so important to our country."