The Name's Boulud, Chef Daniel Boulud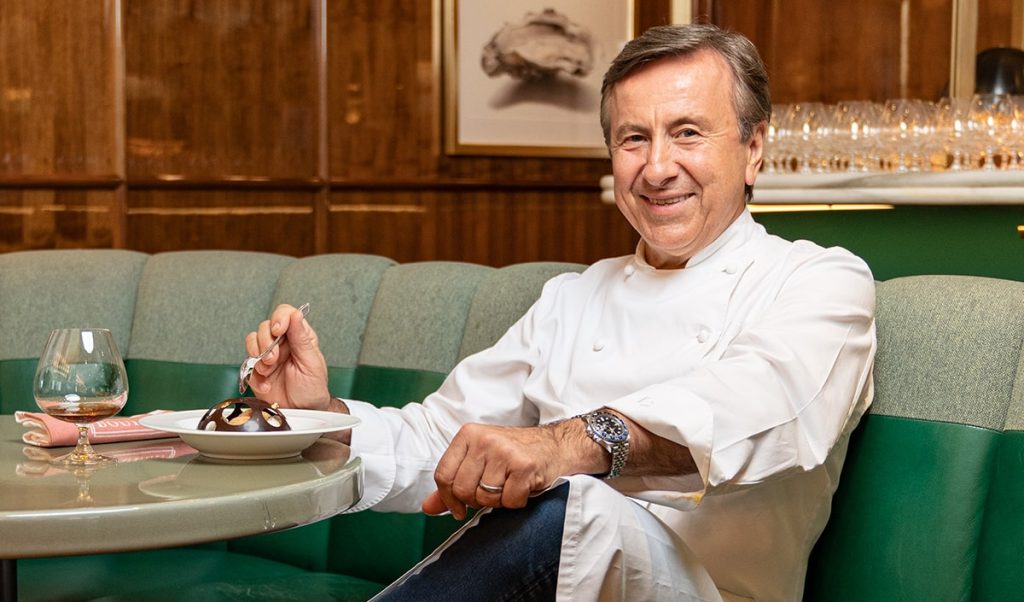 From his eponymous French brasserie at the Four Seasons Hotel in Yorkville, Toronto, Daniel Boulud shares the stories of working as a young chef in Lyon and how it has informed the restaurant's modern yet classically inspired menu today.
Shortly before Dolce sat down with Michelin-starred chef Daniel Boulud for an intimate conversation at Toronto's Café Boulud, we couldn't help but overhear a discussion between the chef and one of his assistants regarding Boulud's latest venture, Le Pavillon in New York City (NYC). The point from the conversation was clear: the placement of the flowers in the restaurant had to be impeccable. It's that dedication, that passion, and that attention to detail that has made Boulud one of the most celebrated chefs in the world. His charming French accent, paired with his contagious smile and kind eyes, is only part of what has contributed to his success.
Peppered with a few French words here and there, Dolce's interview with Boulud covered everything from his latest projects and most meaningful accolades to his earliest culinary memories (plucking feathers from pheasants, partridge and woodcocks, if you must know) and why he will always consider himself a chef, first and foremost.
Q: You brought your French cooking training from Lyon, France, all the way to New York City, where you made your reputation in the culinary world. What was most surprising when you arrived from overseas, both professionally and personally?
A: What I felt coming from France, having worked in different parts of France as a young chef, and coming from my hometown in Lyon, I felt America was in décalage (gap) — there was a difference of generation and a difference of time. They were still cooking the old stuff before I started to be a chef, cooking the old French cuisine more than the nouvelle cuisine.
As I learned cooking with some of the greatest chefs who were really making a revolution with French cuisine, I think that gave me the motivation to stay in America, because I felt that I had a role to play to bring something new, a new approach to French cuisine.
Q: Since arriving in New York City in 1982, you have continually evolved your cuisine. How do you think your cuisine/style has changed most since 1982?
A: I think it has been the exposure to so many other different cuisines. The exposure to cooks in the kitchen whom I've been mentoring for decades are from all over the world. We see the next generation of cooks from South America, from Asia, from Canada, from Europe who have worked with me and went out on their own and developed something fantastic. Even in this town here [Toronto], Patrick Kriss with Alo was an alum of Daniel [Boulud's restaurant]. He came to Daniel to become a chef and today he's one of the best chefs in this town.
Q: Your culinary empire has brought you many accolades. Out of all of those accolades, which one are you most proud of, and which one means most to you?
A: Of course, some of the accolades were because of my work. All the James Beard awards I won in America, the Lifetime Achievement Award by the World's 50 Best Restaurants and, of course, the Michelin Star achievement. But, personally, as a French, having left my country and really tried to make the best out of my craft and teach my craft to others, that was the Légion d'honneur by the French. When the French give you the Légion d'honneur, that is to thank you for what you have done, for your craft and how you sort of have the excellence of it and you're doing good for what French cuisines represents around the world, but also for the community of where you are.
One of the most amusing achievements is that I've been on the Upper East Side for almost four decades now in New York. And, about five, six years ago, there was a new subway line that opened on the West Side — on 72nd Street and 2nd Avenue, there's a station — and they commissioned artists to do the stations. The station on 72nd Street is by Vik Muniz, the famous Brazilian artist and a good friend of mine. One day, he said, "Daniel, I need to take a portrait of you," and he took a portrait of me, and three years later, when they opened the walls of the subway, the walls were made as a mosaic, and my portrait is in the mosaic of 72nd street. It will be there for maybe 100 years. I think that was a great achievement to have been a New Yorker for so many years, and, on the same zip code, to end up in my zip code. That and Madame Tussauds New York — those are the two achievements as a citizen of New York that I need to do.
Q: You say that your inspiration remains grounded in the rhythm of the seasons. Can you speak on the importance of following the seasons?
A: I think if I had ended up in the Caribbean or Florida, or a place where seasonality was not as prominent as New York City, I think it may have been different in my aspect of cooking. Being a New Yorker, first and foremost, and being French, I think French cuisine is driven by the heritage of the cuisine and the knowledge of the real classic cuisine, but also by the seasonality and the spontaneity with the seasonality, creating a new dish every year with what you expect to receive or what you are getting from the season. That, to me, is the biggest motivation and the biggest opportunity to have your menu constantly change — it's like creating a new partition using only classic notes.
Q: You are best known for your restaurant, Daniel, in New York City, which has two Michelin stars. It is an incredible honour and achievement to have been awarded these Michelin stars, but they must also come with incredible pressure to maintain them. Can you speak on this and the pressure that one must feel to maintain this status?
A: I never opened a restaurant for the sake of Michelin stars only, but I always felt, as a chef, that I always maintain the reputation as one of the top five chefs in New York City. Usually, when customers come to New York, they usually want to come to the "Big 5." And that does not mean that there aren't 50 other restaurants to go to, but it's Le Bernardin, Per Se, Jean-Georges, Eleven Madison Park and Daniel. It's kind of like when you go to Africa and you want to see the big five, you're going to see a lot of other animals. In New York City, I always felt like we were the big five. To that, I hope Michelin will come to Canada, because it's the best reward, but also elevates all standards. Michelin, today, is not about being stuffy, fussy or pretentious; it's all about fine cuisine and fine dining and fine casual sometimes. We have seen restaurants with 20 seats and a counter get three stars, so it's fantastic. There's a real evolution in the approach to Michelin fine dining. But, for me, what's important is what we do for our customer. What really kept me excited, besides cooking, is the customer and the relationship with them. I want them to be able to come back often to my restaurants and not just want it to be a special occasion where you need to check the box and go once in your life. I really feel that I want to be part of my town, part of the community, and I want to be part of people's lives.
Q: Behind every restaurant, there's an incredible team. How do you ensure your team reflects the values you'd like to project into the world through your restaurants?
A: For example, for Café Boulud, we have a casual approach to fine dining, and we have a lot of communication. My chef and the professionals who are around me can talk to one another and share what's happening. For example, the chef here can say, "Oh, I've noticed you have a new dish at Boulud Sud or Bar Boulud or at Le Pavillon, and what did you do? What was the technique? What was the recipe?" So we share the recipe amongst each other. When we make a menu, we talk about our organization around it, as well as what kind of dish fits best in the program of what we're doing. It's not cookie-cutter as much as if you have a more commercial type of restaurant, like a steakhouse. With the chef, the local team and the team working around me, we always work together collaborating.
Q: What do you love about Café Boulud, specifically, and of all the restaurants to choose from, which one would you eat at every day for the rest of your life?
A: Café Boulud is a casual approach to fine dining. It's definitely the definition of Daniel in a much more casual way. At the same time, you can enjoy scrambled eggs and caviar, or you can just have your sunny-side-up with bacon. That's how the high and low, the fine and the approachable, the affordable, the expensive, all live well together. You can have a bottle of Dom Pérignon with your brunch, or you can have a selection of sparkling [wine] from the Ontario region. Café Boulud has always defined itself as being approachable excellence.
Q: Congratulations on your newest restaurant, Le Pavillon in NYC. What's your approach when opening a restaurant?
A: For this one, in particular, this is in the heart of midtown, and we wanted to create an oasis of greenery and garden. In French, le pavillon is often built in an avenue or park, and it's a place where you entertain, you're celebrating. It's not a hotel or auberge, it's really just a party place. I felt that this name would be synonymous with celebration. In New York, the idea was really to create a very refined restaurant in a very sophisticated simplicity. The elements are very simple: beautiful fabric, very modern and very classic, at the same time. The elements are the stone floor, the fabrics, the greenery, the wood aspects of the restaurant and the classic chair from Herman Miller. It's the music, the acoustic, the feel, the energy — it makes you feel good. It makes you feel that it is sophisticated, but very casual and relaxed. I think that's what I love about my business. With hospitality, there are so many ways to express what hospitality should be, and we always try to reinvent in a new way. I think going to Le Pavillon is different from going to Daniel; it's different from going to Café Boulud, but, at the same time, there's the service. Service is so important in the restaurant. We put a very strong hallmark on service. We want to make sure that our team is well trained. Our sommeliers are knowledgeable and really approachable in their approach to wine and their advice with that. So, wine, wine service, and the feel of the room, but also the energy of the service and the cuisine and the experience are important.
Q: Many people might not know that you have a management company called The Dinex Group. Between being a savvy businessman and chef, which one do you like more?
A: Chef first. That's why I have a CEO, such as Sebastien Silvestri. I have a team of executives and, of course, I share my time with my corporate chef, my chef de cuisine and my team. But, where I feel my best is when I'm in the kitchen. I want to know everything about the business. I am in every negotiation. I am aware of everything, but, at the same time, I also let people take their responsibility and play their role in our group.
Q: What are your first memories in the kitchen?
A: I don't know if it's pretty, but the chef I worked for when I was 14–15 years old was a big hunter and would go to Alsace, in France, and his car was full of birds, because he had hunted pheasants, partridge and woodcocks. I would spend my entire day in the basement. It was one of those cellars with no fan, no air circulation, where I could pluck the bird without having the feathers go everywhere. I would pluck the bird all day long and go back from my meal and come back down. Because I was an apprentice, they usually make the youngest people do this work, and because I was born and raised on a farm, I knew how to pluck a chicken. And it's OK, you can start with very humble, simple things, which we feel are sometimes degrading, but, to me, it was making sure that I was doing a good job at the first task I was asked to do. I never complained. It teaches me to never complain.
Q: What are the most important things in life to you?
A: Loyalty, trust and energy and creativity.
Q: If you had to have dinner with one person, dead or alive, who would you choose?
A: I think I'd like to have dinner with Paul Bocuse again, because he was a mentor, a good friend and a genius and a real leader in our industry.
Q: What is your favourite kitchen tool?
A: The microplane, because, for example, today, I was microplaning parsnips. I wanted extra-fresh flavour of parsnips.
Q: What would be your last supper?
A: All my good friends, a big meal by the fireplace and with a lot of good wine.
Q: What does la dolce vita mean to you?
A: My family, my children and my friends all together cooking, drinking and playing together somewhere South of France, Italy or even home, in New York.