Sandi Treliving: For The Love Of A Brother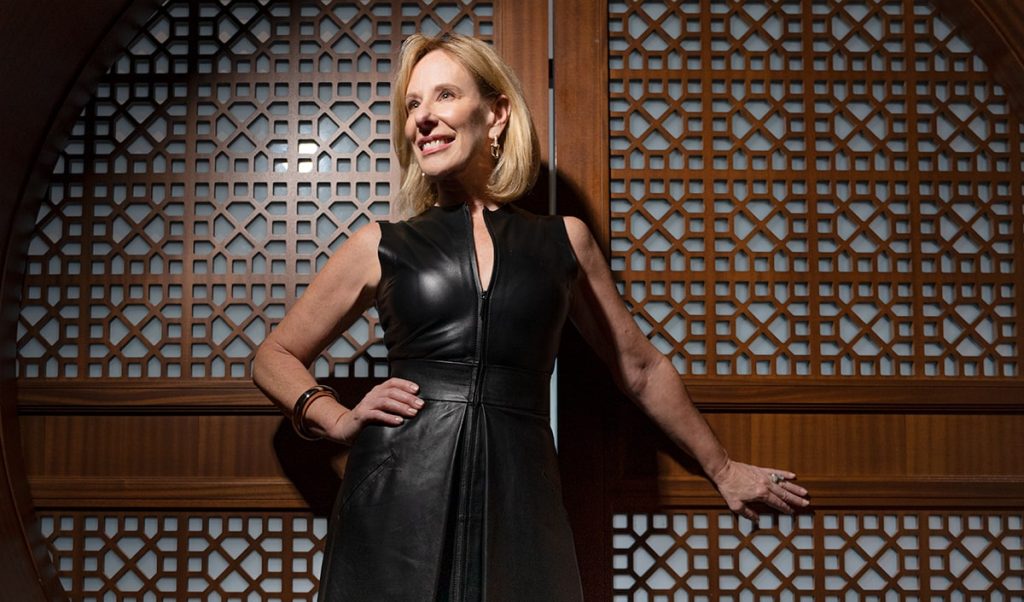 Call it what you want — volunteering, giving back, service to your community. When Sandi Treliving started volunteering at CAMH because she wanted to help people like her brother with mental health issues, it was just the beginning. Now, as director of the CAMH Foundation Board, she just keeps picking up speed and involving herself in all kinds of new initiatives, from womenmind, a community of philanthropists committed to closing the gender gap in mental health, to championing the Trans Canada Trail, which connects more than 1,000 communities and inspires active living. This fall, she will be chairing the advisory committee for Talent Fund Canada, supporting Canada's emerging filmmakers. Loaded with the kind of caring that comes from the heart and from personal experience, she's unstoppable.
When Sandi Treliving was just a child, her teenaged brother started showing symptoms of schizophrenia, but it wasn't until he was in his 30s that he actually received a proper diagnosis. This was back in the '70s, and it wasn't like it is now. There was really so little help available and that affected his wellness tremendously. Not just him, either, but the entire family. They knew that he was sick, they knew it wasn't his fault, but they didn't really talk about what was going on.
Because of her brother, Sandi had always wanted to do something related to the mental health field, but she struggled because she couldn't find anything that she saw as being particularly positive. That changed when she and her husband, Jim (an investor on Dragons' Den for 15 seasons and owner of the Boston Pizza chain), went to an event at the Centre for Addiction and Mental Health (CAMH). She was impressed. "I was so surprised by the advances, the vision, the leadership and their focus on care that it completely changed my thinking." The next day she called CAMH and spoke to someone at the foundation to ask for a tour of the campus. She started volunteering right away.
That was just the beginning for Sandi. In fact, she and her husband have partnered with CAMH for years now and, as health advocates, they're working on campaigns to raise awareness, end stigma, fundraise and improve treatment. Presently, she's the director of the CAMH Foundation Board. Since joining the foundation, Sandi has headed various initiatives, including co-chairing (with her husband) the campaign for Canada's 150 Leading Canadians for Mental Health in 2017 to recognize Canadians making a difference. And she was an advisor for CAMH's $200-million Breakthrough Campaign, Canada's largest hospital fundraising campaign for mental health.
Volunteering and giving back comes naturally to Sandi, and not only in the mental health field. This fall, for instance, she will be chairing the advisory committee for Talent Fund Canada. "My parents were always involved in the community: you knew your neighbours, you knew the people in town and you knew the ones who needed a little extra help, so we would often have somebody else at our dinner table," she says. Her mom went on to volunteer with Meals on Wheels, and her dad coached young girls'/ladies' softball, so they often had a billet at their home. When she started working, Sandi began volunteering with different organizations through her employer, and learned how they are run, and how important it is to find a good fit. One thing she wasn't expecting with CAMH is that it has been very healing for her. She's always talked about mental health, "but through this experience and learning more … it's just incredible," she adds.
Sandi is always looking for new projects and likes to get other people, including her own family, on board. One such initiative is womenmind, launched last year to help CAMH focus on closing the gender gap in mental health. Members of the womenmind community will also connect with and learn from one another through a variety of mentoring and networking opportunities. When Sandi spoke to the women in her family, they were overwhelmingly excited to join her. "One of the things that just gave me chills was when I said to Katie [her daughter], 'What do you think about this?' And she said, 'Mom, I've been trying to figure out how to get involved.' And to be able to do that, it's powerful," she says.
"I'm really Pleased with The women who Come forward And tell Their stories. It's hugely Important"
As a mental health advocate, Sandi is trying to reach as many people as possible, so she's using social media to reach out to her followers. On her Instagram page, she has started Female Fridays to highlight well-known Canadians such as Silken Laumann, who speaks openly about mental health; Dr. Renee Linklater at CAMH, working in the Indigenous mental health field; and Mary Simon, our new Governor General, who lent her expertise to 150 Leading Canadians for Mental Health. "I always say to people who have chosen to be in the mental health field that it is not sexy," Sandi says. "There is not a lot of money that has been spent in mental health, unlike other causes, so I'm really pleased with the women who come forward and tell their stories. It's hugely important."
Sandi is tremendously proud of what she's helping to build now, supporting the fundraising efforts for womenmind and for the research centre at CAMH. "We are already known as leaders in mental health research and care around the world, but we are going to be the only mental health centre where a research tower is on the campus of a mental health hospital," she says. "We will literally be going bench-to-bedside with evidence-based care and making a difference in the outcomes for years to come — and not just in Toronto, where the home is, but globally, as well."
Most of all, Sandi is grateful for so many things, not the least of which is that she will be celebrating 20 years of marriage this year. "I think the biggest thing is that we support each other, and I've always supported his career fully … and he has jumped in on my work in mental health in so many wonderful ways. His support is just huge," she says.
Sandi makes no secret of the fact that her brother and his illness made the biggest impact on her life. Had her brother received treatment for his psychosis when it initially began in his teens, the trajectory of his life would have been dramatically different, she says. And then she talks about the newest, tiniest member of her family now, her granddaughter, who is just six months old. "If I look at 20 years from now, how is the world going to change for her and the impact that will have been made? Because, you know what, because we put a focus on this, we highlight the need and we deliver on the impact."
Interview by Estelle Zentil