The New King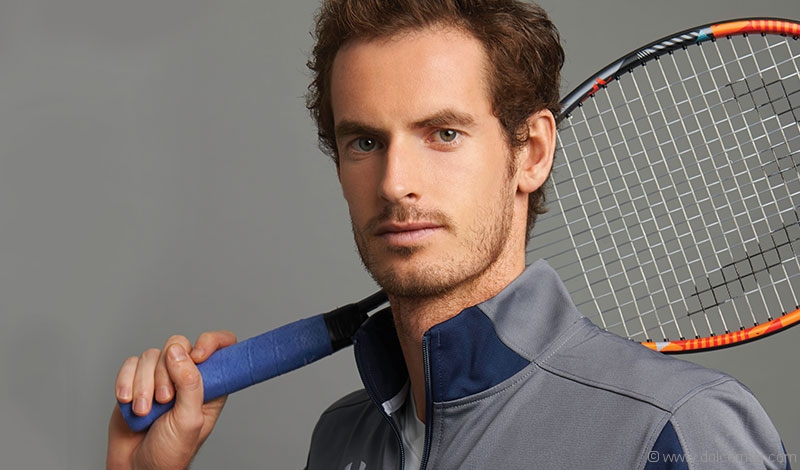 Tennis has a new golden boy, and he knows how to make a racket. Dolce caught up with Andy Murray, the Brit who smashed the Rio Olympics, before his next grand slam.
Andy Murray is relaxed. Even after a nine-hour flight from London to Beijing, when he has to do a photo shoot the afternoon of his arrival. Even after training for two hours on the court the very same day. So long for jet lag! This has been a fantastic year for the Brit, with a victory at Wimbledon and a gold medal at the Rio Olympics, and a possible No. 1 one ranking by the end of the year. He has played more matches this year than any other player, worrying some tennis experts that his body wouldn't be able to keep up. As they say, strike while the iron is hot. We sat down with Murray to discuss his career and coach Ivan Lendl's terrible jokes.
Q: You come from a family where professional sports looms large. Did you always know you would be doing this as your job? Did you have a plan B?
A: I loved playing sports growing up, I'd play absolutely anything. My grandfather was a professional football player, and my mum was a coach and ex-professional tennis player, so tennis was an easy route for me to pursue. I actually played a lot of football up until I was about 13 or 14 years of age, however I eventually had to make the decision on which one I was going to try seriously. I had trials for Glasgow Rangers, so if tennis hadn't worked out, I would probably have tried hard to forge myself a career in professional football.
Q: Can you describe the town of Dunblane, where you come from? I read that your grandparents still live there and that you maintain ties to the community to this day.
A: Dunblane is where I was brought up and has a special place in my heart. Although I only get to visit two or three times a year, it's somewhere that holds some of my best memories. I got married there last year to my wife, Kim, and my grandparents and father still live there. I recently bought and renovated an old hotel there as well (Cromlix House). My brother got married at the hotel a few years back and plenty of friends and relatives use the Albert Roux restaurant attached to the hotel, so that's great. The support the town has given me over the years has been nothing short of incredible, and I'll always be grateful for that.
Q: You decided to leave home at 15 to go train in Spain. I'm wondering how you came to that decision?
A: Leaving home is never an easy decision, but again it was another moment in my life where I knew that if I wanted to succeed and seriously chase a career in professional tennis, I needed to ensure I had the best possible setup around me. Sánchez-Casal is somewhere that I had heard a lot about, and a lot of the best tennis players in the world were training on clay courts every day, something which the UK doesn't have. After a lot of talking with my parents I decided that if I wanted to be the best I had to go and train with the best, so I left home for Barcelona. The decision turned out pretty good!
Q: When it was announced that Ivan Lendl was going to be your coach, people were surprised for various reasons, not least because of the perceived differences in personality. How familiar were you with him before making that decision? Had you seen his epic matches against Borg and McEnroe?
A: I think people were surprised, because not many players at that time had many "big name" ex-players as coaches. People kept talking about our differences at the beginning but a lot of people forgot that Ivan lost three or four grand slam finals before he managed to find the breakthrough. At that time I had lost a few finals, and I was looking for someone who could help me get over the line. Ivan was an incredibly hard worker as a player and he knew straight away how to get the best out of me. He had some incredible matches during his career, he is probably one of the greatest players from that era of tennis, so I definitely knew it was the right appointment. 
Q: Can you detail how his training methods differ from other coaches? Is there a side of him you experience while training with him that the public doesn't know?
A: Not really, Ivan is just Ivan. He's not really like anyone you'll ever meet. He knows how to work me incredibly hard, but he also knows when I just need someone to listen to my concerns, and he's great at that. He'll always ask me if there's anything I want to work on (which he normally already knows about anyway!). He's a great guy and he's a lot of fun to be around, which makes the training a lot easier. He needs to work on some of his jokes though, most of which aren't printable here! [Laughs]
 
Q: Compared to the era of Lendl, it does seems like players play much longer nowadays, sometimes playing into their mid-30s. I wonder if you ever talked to him about this. How do you explain that players can play so much longer? Is it because of the way they prepare themselves, the rackets?
A: It's very difficult to compare our eras of tennis because the differences between now and then are huge. There's a lot more on offer to players now that can help them to play longer. Players use physiotherapists more than ever because players are recognizing the importance of recovery — and also that it takes a lot more than just training to keep your body in perfect condition. There's a lot more emphasis now on being strong and flexible than there was back then, and obviously both of those are important to fitness and health later in your career. The technology on offer is also crucial; back then, players' rackets were heavy, rarely customized and pretty basic, whereas now, it's totally different, some of the technology in tennis rackets now is incredible. There have also been advances in nutrition. Lots of small improvements in these different areas add up.
 
Q: From an outsider's perspective, it seems that professional tennis is now as much about mental strength as it is about pure technical skills. A player like Djokovic seems to play even better for the important points. You show your emotions more, but you're still able to be one of the best in the world. What is your mental preparation to be able to compete at this extremely high level?
A: I think it's important to remember that every player is different. It helps me when I show emotion on the court. In my opinion it's not always good to keep those feelings bottled up, so I let them out on the court. If I'm frustrated after a point, I sometimes let the emotion out, but it's vital that I am focused for the next point and don't let the emotion affect that. You have to make sure you always believe in yourself and that comes from working as hard you can, especially when you're not on the court. To be able to compete at the highest level, you need to train harder than anyone else, and that's something I think I do which really helps me when I'm playing in a long and difficult match.
"it helps me when i show emotion on the court. In my opinion it's not always good to keep those feelings bottled up"
Q: Do you have a specific routine to deal with the constant pressure, both on the court and off the court?
A: I just try and keep everything the same. Me and my team always have a routine on match days that we rarely change, I'll always do the same warm-up, the same drills in practice and eat around the same times before each match. I know that if I do all these things I'll be in the best possible position I can be to win the match. Ensuring that I have worked as hard as I can to put myself in the best possible position to win the match is all I need to know, to go into a match confident.
 
Q: For a time, before your Grand Slam successes, you had the unique task of carrying the nation, Great Britain, on your shoulders. How did you deal with this? Did you ever think it was unfair?
A: Pressure is good, it makes you want to always better yourself. People always asked me about how I dealt with the pressure of the whole country wanting me to win Wimbledon and whether it affected me. If I'm honest, I enjoyed the pressure, in a way, it was nice to know that so many people wanted me to succeed and cared about the result. It's the same with nerves. I enjoy having nerves as it keeps me focused and on edge and ready to play my best.
 
Q: Do you think success, particularly your Grand Slam titles, has helped you be more relaxed than before?
A: It's important not to get too carried away, no matter how successful you have been. You have to focus on one match at a time, it can be easy to look ahead or look back at other results. The main thing is to just focus on your own game. As long as you've prepared yourself as best you can for every tournament and give your all, you can always walk off the court with your head held high, whatever the pressure or the outcome.
Q: You're maybe the first professional male tennis player to have been coached by a woman, Amélie Mauresmo. People talked about it a lot at the time. Did you notice anything different between being coached by men and being coached by a woman?
A: No, every coach has different attributes, but that's down to their style of coaching. Gender makes absolutely no difference to their ability.
Q: What do you think still needs to be done to break the gender barrier in the game?
A: That's a very difficult one to answer, because right now there aren't many female coaches in the men's game. People need to be more accepting and recognize that gender doesn't make a difference to ability and professionalism.
Q: I know you are No. 1 at the ATP. When did becoming No. 1 start becoming a goal for you? Did it only start when you reached No. 2, or was that always in the back of your mind?
A: Being No. 1 in the world is something that every player dreams about. Aside from winning Grand Slams it's the pinnacle of the game. To be able to say that you've been the best at what you do in the whole world isn't something that many people can say. It's always been a goal for me, I've just been unfortunate that so many of the guys around me have been playing so well and so consistently. It's always been at the back of my mind, but I've never tried to focus on it too much, I've just made sure that I keep focusing on the moment, making sure I prepare for every match and tournament as best I can, to give myself the best chance of winning, and then hopefully the ranking will take care of itself!
 
Q: I've read that you have a passion for boxing, is it true?
A: I love boxing. Muhammad Ali is, in my opinion, the greatest sportsman that has ever lived, and his career has always fascinated me. He was an incredibly hard worker in and out of the ring, which is something I've tried to replicate in my career. If there's ever boxing on I'll always make sure I watch it, particularly with the British fighters. British boxing is incredibly strong right now, and we have world champions in a lot of divisions, which is great for the sport. I'm not sure I'd ever have the courage to get in the ring though, it's a brutal sport.
 
Q: In terms of fashion, we've seen you dress up a bit more in recent years. Can you define your style and the men's brand you like to wear?
A: As I'm always somewhere between the tennis courts, the gym or the comfort of a hotel room, it'll probably come as no surprise that I love to wear comfortable clothes most of the time. It's important that I wear functional gear during the day, thankfully Under Armour make some great clothing. They've just released UA Sport, which I'm wearing in the photographs. It debuted at New York Fashion Week, so it's a bit more luxurious than traditional sportswear. When the time is right, though, I do enjoy putting on a good suit. There are plenty of brilliant British tailors.
Q: I know you're involved with charities, can you tell me a bit more about that?
A: It's always been really important to me to give back where I can, and I'm really fortunate to be able to work with some amazing charities.
 
I'm really passionate about animal welfare, so I've worked with the World Wildlife Fund and United for Wildlife for a number of years now. A lot of my work with them focuses around conservation and putting a stop to the illegal wildlife trade. We are incredibly lucky to live on a planet that has some of the most amazing species on it, and we should do everything we can to protect them and not exploit them.
As well as animal welfare, I'm also passionate about protecting the children of the world, particularly those that live in areas that are dangerous or caught up in war. UNICEF does some incredible work caring for and supporting child refugees that have been displaced through conflicts, and being able to help reunite children with their families and provide them with shelter and food is something that is really important to me. The images of the last few years have shocked everyone, but it particularly hit home with me as a new father, so toward the end of last season, for every ace I served, I made a donation to UNICEF's efforts in the refugee crisis in Europe.
Putting an end to malaria is something that is also incredibly important to me. Over a million people die each year from it but it's a preventable disease and one that we hope will be eradicated in my lifetime, so I also work with Malaria No More, which does lots of work in this space.
I don't just work with charities in an ambassadorial role; I recently participated in my own charity tennis exhibition match (Andy Murray Live), which was a great success. We raised a phenomenal amount of money for UNICEF and a local charity called Young Peoples Futures, it's something that we hope to take around the world eventually and raise as much money as we can wherever we go!
 
Q: What do you see yourself doing in the future? Do you think you will try coaching? Or do something completely different?
A: I'm not really sure at the moment, I still have a good few years left to play in my career, so I haven't thought too much about it. I still think my best tennis is ahead of me, I've had one of my best years this year, and I still think I can do better and that gets me really excited. I think in the first instance, I'll definitely take some time away from the game, just so that I can enjoy some down time with my family. That's the one thing about being a professional sportsman that is tough: you spend long periods of time away from your family, so I think as soon as I stop playing tennis, I'll spend as much time as I possibly can at home. Maybe after a break I could get into coaching as it's something that interests me. I also have set up my own management agency, so working with young talent in other sports is also of interest and I have plenty of knowledge to pass on. Right now though I'm pretty focused on being the best I can be as a player on the court and a father and husband off of it.
Photos by chai lizeng