A Roman Holiday … With Torque!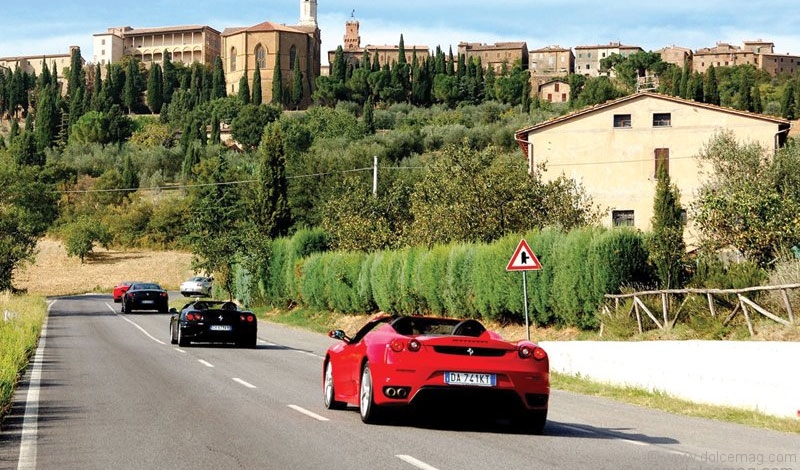 With the wind in your hair, the sound of rubber hitting the pavement and the rumble of a powerful engine, you and your favourite passenger can discover Ferrari's birthplace the way it should be seen!
When the dream of Enzo Ferrari started more than 80 years ago, the vision for a uniquely superior sports car was realized. Born out of a passion for racing, Ferrari first specialized in the automotive industry, setting the standard for true exhilaration. Since then, racing enthusiasts everywhere have become experts in appreciating life and its finer moments. Today that same feeling is still possible, especially when it comes to some of Red Travel's incomparable leisure opportunities.
The Ferrari Tour of Italy by Red Travel offers an experience like no other: a luxury journey through Italy behind the wheel of your choice from Ferrari's latest range of magnificent models. "We always keep our car portfolio up-to-date, thanks to a special agreement with Ferrari," says CEO Andrea Levy. "We own a limited-edition Ferrari 430 Scuderia, and we'll be one of the first in the world to own the new Ferrari California." Much more than just renting and exploring, this package treats elite travellers to the best the country has to offer. Dining in Italy's most acclaimed restaurants, being tended to by a warm, professional staff, and resting your head on only the finest hotel pillows, there's no better way to taste Italy.
As you expertly guide your dream car around the mountainous countryside, you'll live like a local, taking in all the sights of the country – from the universally renowned to those yet to be unveiled. With each heart-pounding turn of your wheel, you'll travel to the regions of Tuscany, Lazio and Umbria, where you can discover the unique charm and exclusivity of the sought-after cities of Florence and Rome, Milan and Perugia; Venice and Naples.
Each lavish location paints the picture of a thousand words. Stepping back for a panoramic breath, you'll feel the impression of a blockbuster screenshot. "Our guests are ravished after discovering sites in Val d'Orcia, the Chianti area, and the northern lakes of Maggiore, Como and Garda," Levy says. Whether retracing the steps of Francis of Assisi or the routes of the famous Mille Miglia road race, nothing can compare. Parking your dream-car outside a medieval basilica or askew of a historical yachting marina, every stop boasts some of the many pleasures Europe has to offer.
Perhaps what's most exciting about this invigorating adventure is that everything about it is tailored to you. "One special request came from a prince in Southeast Asia who called for the latest Ferraris, Lamborghinis, and an assortment of luxury cars and SUVs for his support staff," Levy says. "There were 20 people alone, consisting of bodyguards and butlers."
There's nothing quite like the feeling of independence that you get when you hit the open road; and since you'll be navigating your own way through the rolling hills, this is one getaway where you won't feel restricted by the confines of your resort or the instructions of your tour guide. From choosing your preferred vehicle to selecting the hidden gems to uncover along the way, this one-to-eight-day tour is completely customized.
Of course, since you are travelling in unfamiliar territory, the Ferrari Tour of Italy does come equipped with your very own Red Travel Tour Director, available at your disposal should a question of direction arise. "We provide full assistance without our clients noticing we're right around the corner," Levy says. Always riding close by in his own lavish sports car – an Alfa Romeo Brera 3.2 – a director will look after the daunting details of finding parking, bringing your bag to your room, and handwashing and refuelling your Ferrari. All you have to do is leave your car outside the hotel and enjoy the rest of your evening.
"My love for luxury Italian cars, combined with passion for Gran Turismo, led to the Red Travel Tour – from the sports car drive to accommodation and any other services including fine dining, spa treatments, and private visits," Levy says. With first-class treatment and a classically beautiful backdrop, you'll feel just like Audrey Hepburn and Gregory Peck did in their epic Italian love story … with a little more torque!