The Blueprints to a Million Dollar Home with Marina Khajetoorian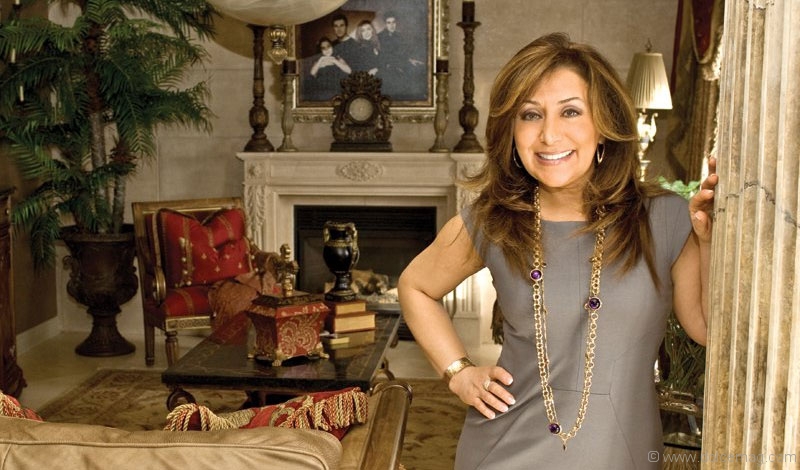 It starts off with imagination … and ends with realization. That is the philosophy behind the unparalleled vision of Interior Designs by Marina Khajetoorian. "I invariably honour history, tradition and time," says Marina, as she takes me through her magnificent showroom. Gussied up in rich, textured fabrics accented with voluptuous busts, stately columns and grand arches, the main floor spills with the traditions of a 17th century domicile. Take exciting steps down dark cherry wood stairs, and the brilliance of classical design juxtaposes the escapist elements of a Mediterranean villa. A rustic wall separates with curving arches, where a customized pool table, fully stocked circular bar and animal-print chairs settle you into a leisurely mood.
But apart from the dreamy limestone and the sheen of silk and soft, iridescent chenille and exquisitely decadent drapes, it's the intricate details and trimmings that whisper the story of a mysterious, beautiful home that oozes glamour and style.
Referred to by clients as an "angel," the well-travelled Marina infuses all of her projects with an inherent understanding of yesterday's treasures. That's because she relies not just on graduating from design school but on the feelings and tastes and vistas and smells of walking the cobblestone streets of Rome and lush vineyards of Tuscany; past the marvelous landscape of Spain or strolling down The State Hermitage Museum of Russia and through the culturally rich aura of Paris or Greece. "The history of architecture is my passion," smiles Marina, who is currently working on elite projects in Toronto, California and New York. "It's one thing to learn about history at school, but quite another to actually go and experience it."
Regardless of whether you want to thrive in a French-inspired atmosphere or jive to an upbeat, contemporary space, Marina has the drive and creative depth to convey the million-dollar look you deserve and dream of. "Designing isn't just about the principles of balance and harmony, proportion and colour. Design is what you can see through your eyes and what you can feel with your heart," says Marina, who has been transforming homes from A to Z for more than two decades. Specializing in unique, versatile design services, nothing stops Marina from delivering what she promises. From transforming the interior design of one room and crafting the blueprint for an exclusive cabana to laying the foundation of an elegant, custom-built home, Marina's masterworks rise with perfection and splendour.
"Since 1999, Marina has transformed our home, by redesigning and completing all phases of our kitchen, mud room, powder room, office, bed-sitting room, master bedroom and library renovations," says Dr. Barry Wilkes, a long-time client. "Marina has brought great pleasure to our home with her elegant yet practical creations," adds Lorraine Wilkes, Barry's spouse.
As a wife and mother herself, Marina harmonizes family and her career just as she does with her balanced projects. "I am very proud of my mother – she is a very caring, independent and ambitious woman and once you get to know her, you'll realize how she loves expressing her creativity in every aspect of her life," says her daughter, Annie. "She has instilled love and family values in our home and she shows such passion towards whatever she does, whether it's her entrepreneurial endeavours or family matters. She is the centrepiece of our home," adds her son, Armen.
And with her penchant for fluidity and detailed design, Marina captures her clients' personal lifestyles and marries them with their preferred tastes. "I don't want to get wrapped up in the design industry image," explains Marina. "For me it's about showing people what I can bring to their life."
With access to high-end suppliers from around the world, Marina has her fingertips on unique, opulent pieces that will alter your home with artistic mastery. "What my clients want is what I find for them – there are no limits, because nothing restricts me," says Marina. And by spoiling her clients with painstaking attention and her invaluable, creative dexterity, not one person walks away from her projects without their jaw dropping. www.mkinteriordesigns.ca