Miami Nice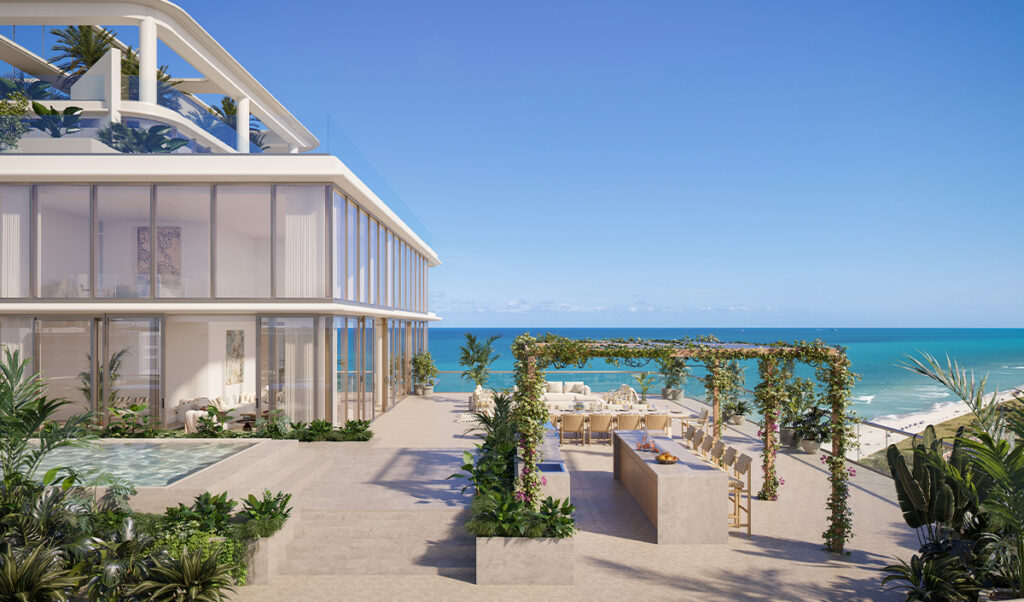 The exceptional Penthouse West at The Perigon elevates the luxury, style and sophistication of elegant Miami Beach living.
There is no style in America quite like Miami Beach style, an electric panoply of colour, fashion, food, music and South Beach art deco, all baked by the sun and surrounded by sandy, warm ocean beaches. It makes Miami Beach one of the world's most desirable places to live.
That environment's elegance will be elevated with the recent release of The Perigon's Penthouse West diamond-shaped two-storey condominium situated directly on Miami Beach, 17 storeys in the air, offering uninterrupted and panoramic views of the Miami skyline, Biscayne Bay and the Atlantic Ocean. This castle in the shimmering Miami Beach sky is listed at US$37 million and represents Miami Beach's highest level of luxury coastal living, with outstanding design and quality finishings in a building offering a five-star-resort feel, the ultimate in privacy and exclusivity.
"Catering to the most discerning buyers, we curated every detail of The Perigon with their lifestyle in mind, from architectural design to interiors to the food and beverage programs, always offering a refined yet approachable style of luxury," said Camilo Miguel Jr., CEO of Mast Capital, one of South Florida's most active real estate development and investment firms. "Penthouse West is the epitome of this offering, appealing to those seeking sophisticated design, seclusion and privacy, unparalleled views of the ocean and Biscayne Bay and the pinnacle of indoor-outdoor luxury living."
As one of the only new developments with a prized location directly on the sand at 5333 Collins Ave. between Indian Creek and the Atlantic Ocean, The Perigon residences exclusively offer a premium amenity suite, with Michelin-starred Chef Shaun Hergatt's curations and dining services, including a breakfast and sunset lounge and an oceanfront- residents-only-private restaurant and speakeasy reflective of a five-star resort. The Perigon also offers more than 20,000 square feet of amenities, including an oceanfront swimming pool with cabanas, terraced fitness centre with water views, children's playroom, private salon, screening room and billiards room.
Residents of Penthouse West will enter the stunning condominium through their private elevator landing. It leads directly to the four- bedroom, five-bathroom palace, which features an expansive 5,685 square feet of open interior space designed by architectural designer Tara Bernerd, celebrated for her hotel and private-yacht properties.
This interior is complemented by an impressive 6,487 square feet of exterior space spread over multiple outdoor terraces and a private landscaped rooftop. This private wraparound oasis includes a 30-foot infinity-edge swimming pool, sundeck, lounge area, and full outdoor summer kitchen, complete with a grill for exquisite evenings spent enjoying the very best of the Miami Beach lifestyle. Wall Street financiers and Pennsylvania steel tycoons had been coming to Florida by rail to escape the cold since the beginning of the 20th century, creating the grand mansions of Palm Beach and other coastal communities. But Miami Beach, tucked quietly away in the southeast corner of the state, really didn't burst onto the national consciousness until the early 1960s.
America's No. 1 television star at the time was Jackie Gleason, whose weekly variety show, American Scene Magazine, was also the No. 1 show. In 1964, Gleason moved the entire show from New York to Miami Beach so he could enjoy year-round golf. The show opened with dramatic footage, taken from a helicopter, that swooped in over the ocean and the sand, sun and apartment buildings, perfectly capturing the look and feel of Miami Beach while revealing it to the rest of the country.
Miami Beach was also the site for another interesting happening that year. It was where the Beatles vacationed after their first appearance on The Ed Sullivan Show, on February 9, 1964, as part of their first American tour — their "invasion of America." In fact, to accommodate The Beatles' poolside schedule, Ed Sullivan moved his entire show to Miami Beach for their second appearance the next week, on February 16. So, for trivia buffs, The Beatles' second appearance on the Sullivan show did not happen in New York City, but in a ballroom in the Hotel Deauville on Miami Beach, and they'd rehearsed in its basement. (You can win a few beers at pub trivia nights with that one.)
Today, the Miami Beach style — from Miami Vice to Miami nice — is known around the world. For The Perigon's Penthouse West, designer Bernerd envisioned the essence of a resort by selecting materials that subtly nod to the city's iconic beach, and her design language perfectly captures Miami's nautical and cultural traditions.
The colour palette for the home includes a warmer Italian walnut or a lighter European white oak. The unique combination of hand-selected organic fabrics, refined materials and tailored weaves creates dramatic volumes throughout the space with their juxtapositions of stone, glass and wood, best illustrated by the modern floating staircase connecting the two levels.
Bronze accent fixtures are featured in the chef 's kitchen, alongside custom Italian cabinetry, stone- faced drawers, polished marble countertops and backsplash, custom fluted marble island and a walk-in pantry. The kitchen also features a private breakfast terrace with magnificent water views, a perfect way to start the day. A double-height great room with a soaring 22- foot (6.7-metre) ceiling is one of the home's most impressive features, accentuated by a wraparound terrace. The entire Penthouse West home is surrounded by 10- to 12-foot-deep (3- to 3.65-metre- deep) outdoor terraces, extensions of the living space that capture the spirit and embrace the feel of Miami Beach.
The primary bedroom includes two oversized dressing rooms, a midnight bar and a private outdoor living room. The three guest suites all feature walk-in closets and private terraces and the staff quarters feature a separate ensuite bathroom.
In every way, Penthouse West at The Perigon captures the unmistakable feel of Miami Beach with bold architecture, impeccable design and a stylish and sophisticated elegance sure to please the most discerning homeowners.