Paradise Found: The Olara Lifestyle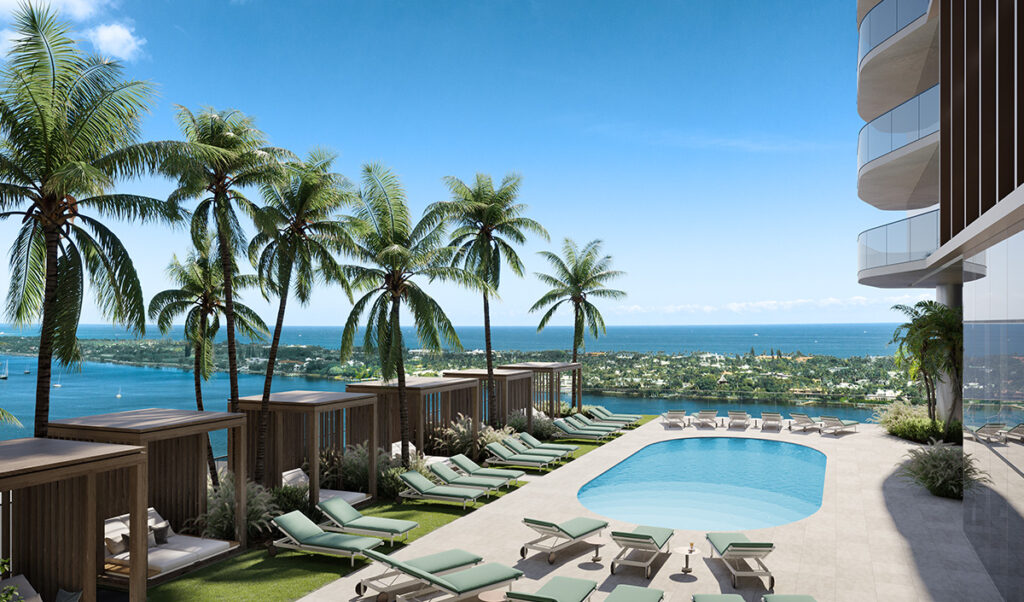 Olara is a luxury waterfront residential oasis in West Palm Beach, featuring expansive ocean views and over two acres of resort-inspired amenity spaces.
This fall, a new condo haven will break ground on West Palm Beach's Intracoastal Waterway. Developed by Savanna for effortless living, the condo has exceptional indoor and outdoor spaces that overlook the water. Just minutes away from white-sand beaches, Palm Beach International Airport and downtown West Palm Beach's four retail and entertainment districts lined with fashionable boutiques and quirky collectible shops, Clematis Street, Rosemary Square, Northwood Village and Antique Row, this 26-storey residence provides an unrivalled Palm Beach living experience.
Designed by Bernardo Fort-Brescia, founding principal of award-winning architecture firm Arquitectonica, Olara is a unique waterfront oasis made up soft curves and glass terraces that reflect the water before it.
It offers 275 condo units and 170 rental units, all beautifully designed and finished with a variety of floor plans. The crafted two- to four-bedroom-plus-den residences are surrounded by views of the Intracoastal, Palm Beach and the Atlantic Ocean. The soaring floor-to-ceiling windows and light and airy living spaces combine to create a tranquil ambiance for its residents.
Courtesy of the interiors by world-renowned design studio Gabellini Sheppard Associates, every detail, from the European-style gourmet kitchens with their burnished marble countertops, backsplashes and island, the spa-inspired bathrooms with their dual-sink vanities, to the climate-controlled full-size butler closets, are a testament to superior comfort, harmony and luxurious quality. A neutral natural colour palette with bronze accents has been chosen for the homes, including light oak flooring and white matte lacquer cabinetry.
What makes Olara truly special is the extravagant amenity spaces. The private sixth-floor deck contains a seamlessly integrated indoor and outdoor layout of 80,000 square feet of space dedicated to health and wellness activities. This space includes performance training zones with indoor-outdoor turf lanes, a Pilates studio, a Japanese-style Onsen, vitality pools and a world-class fitness centre and recovery spa designed by The Wright Fit.
On those days when all they want to do is just kick back, residents can enjoy the waterfront veranda, library, games room and multimedia lounge. After an afternoon of cruising on the ocean, residents can dock at the private marina and enjoy the celebrity-chef-helmed signature restaurant and an epicurean marketplace spannings over 30,000 square feet.
From the dedicated 24-hour doorman, valet, porter and concierge services to the in-home dining and catering service, the array of personalized resident features offers a feeling of warmth and hospitality tailored to the individual desires of each resident.
Andrew Kurd, Co-Chief Investment Officer of Savanna, says that the lifestyle that Olara provides is "fulfilling. Here you can wake up in the morning and get a great workout in. Then get yourself something to drink at the juice bar and relax by the pool. You can go to the spa in the afternoon or take one of the boats out in the evening and dine at our signature restaurant. That's the lifestyle. In the post-COVID world even more so, with the ability to work more remotely, having these amenities at your fingertips is second to none."
Pricing begins at US$2 million and goes up to US$10 million for the penthouses. The development is slated for completion in 2026. Olara is the newest and most exclusive residence overlooking the Intracoastal, with proximity to the world-class shopping and dining that Palm Beach offers. This is where life flows.