Spiritual trends in wellness travel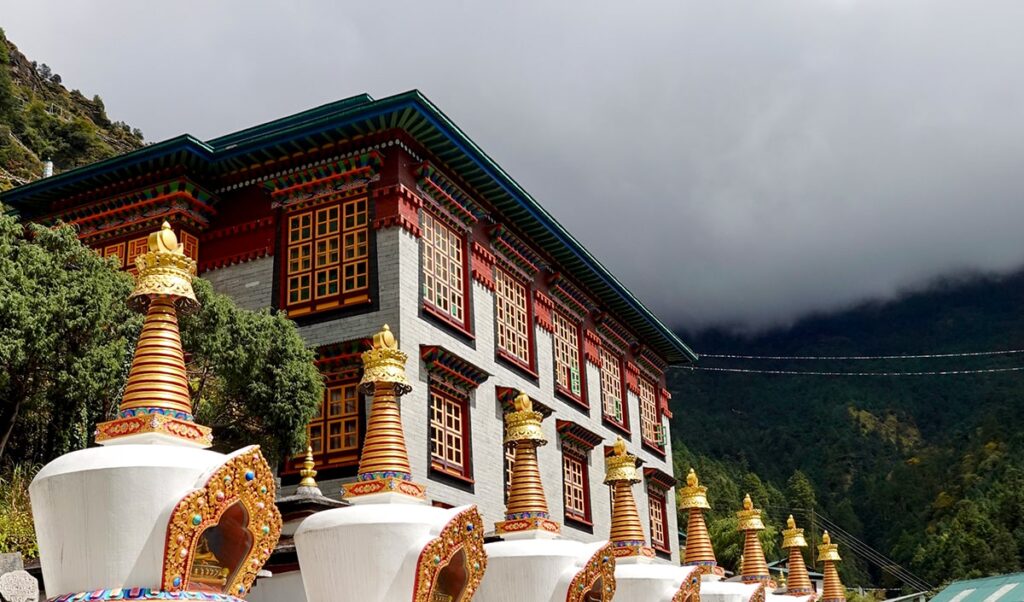 The new trend in post-COVID travel centres around small group experiences, remote outdoor destinations, and wellness in the form of spirituality.
I've never been one to take risks, I've never practised or been drawn to meditation, and the extent of any trekking I have ever done is leisurely walks in the ravines near my home. So, when an opportunity to spend one week in a remote village in the Nepalese Himalayas presented itself, my excitement surprised me. The itinerary promised travel along ancient paths, majestic views of some of the world's highest peaks, visits to remote Buddhist monasteries, a wholesome mountain cuisine, and an immersion into a culture that is deeply rooted in tradition and respect for the natural world. The trip's organizers sought "those who seek invigoration" and it felt as though they were speaking to me. But the itinerary details relayed other information, as well … meditations with monks, singing-bowl therapy, challenging high-altitude hiking through rocky terrain and in cold temperatures, and a recommendation to purchase an extensive insurance policy that covers rescue and evacuation. So, what was it about this particular trip that was calling to me?
Eight of the world's 14 highest peaks are found in the Himalayas of Nepal, including Mount Everest. The name "Himalayas" comes from the Sanskrit word meaning "abode of snow," but white is not the only colour that covers this landscape. There are lush green valleys and stretches of blue skies. Forests of rhododendrons bloom bright red in the spring. Buddhist monks are cloaked in maroon, Hindu sadhus are robed in orange, and prayer flags in primary colours are found strung along the mountains' trails and peaks. Remote villages, temples, and monasteries are scattered throughout, some seemingly sitting atop the clouds. The people are resilient and strong, their harsh living conditions never hampering their will or spirit. They are peace-loving people who believe in doing good deeds. They respect the natural environment in which they live and worship the mountains as their life-givers and protectors.
Sir Edmund Hillary's successful summit of Mount Everest in 1953 is what brought Nepal to the attention of the world, spurring countless expeditions and the birth of a trekking industry that was mainly associated with low-budget adventurists who wished to conquer the peaks. The industry has since changed. Well-facilitated mountain lodges and higher-quality hotels now exist, and luxury travel companies offer trekking expeditions with teams of porters, guides, cooks and wellness providers. Plentiful outdoor activities are possible now as well – mountain biking, rock climbing, river rafting and bird watching to name a few. And visitors can experience the practices of ancient cultures and traditions, and learn, share and give back.
Wellness tourism was a fast-growing industry in the decade before the pandemic, and despite recent disruptions, it is forecasted to grow as wellness takes on more importance for post-COVID consumers. However, while past wellness travel was centred on physical health, post-COVID travellers are now pursing wellness in the form of spirituality and nature-oriented experiences in remote destinations. They are avoiding commercial destinations and opting for small-group travel, because in post-COVID times connection is key to self-discovery and the ability to re-exist in the world. Travellers are seeking a remedy for the pain and stress of the past three years, and perhaps there is no destination that can better provide this today than the Himalayas, where nature is abundant and spirituality is omnipresent.
"I wanted to offer experiences in which both the visitor and the visited have a meaningful exchange, experiences that create a Beyul in everyone's lives."
– Ang Tshering Lama
Luxury hospitality brands in the region are responding to the demand for low-volume, spiritual, transformative tourism. Ananda, the luxury retreat in the Himalayan foothills of India and a pioneer of holistic health and wellness, reopened this year with the launch of new wellness programs that prioritize mental and spiritual health. They have also integrated emotional healing therapy that focuses on the bhava, or emotional state of mind, which is well-described in Hindu and Buddhist scriptures. Programs are led by expert doctors and practitioners, skilled therapists, and yogis.
Six Senses Bhutan, a collection of five lodges scattered throughout Bhutan's valleys, also reopened with a renewed focus on embracing their philosophy of wellness and self-discovery. Recognizing that guest values have changed, their new programs strive to restore the spirit and the mind through rare and meaningful experiences that take advantage of Bhutan's spirituality, traditions and hospitality. Sunrise meditations, incredible hikes, ancient monastery visits, encounters with yak herders and other locals, and the opportunity to learn about monastic life are a few of the possibilities they offer their guests.
My own post-COVID rejuvenation began at The Happy House, a private rental chalet near the village of Phaplu, in the northeastern Himalayas of Nepal. The chalet was built by Ang Tawa Lama, a grandson of a prominent Sherpa family, and funded by Count Guido Monzino, an explorer who led the first Italian expedition to climb Mount Everest in 1973. His summit was an extravagant affair with 6,000 porters carrying everything from fine wines and cigars to pasta and risotto, silver cutlery to gambling tables, and even a leather sofa. The chalet was loved by Sir Edmund Hillary, who stayed there on his return visits to Phaplu while he devoted himself to helping the Sherpa people and supporting the construction of many schools and hospitals. Sir Edmund described the chalet as his favourite place on earth, his happy house.
During the Maoist revolution in 1996 the house was abandoned by the Lama family, who moved to Queens, New York. In 2017, Ang Tawa's grandson, Ang Tshering, returned from the United States and restored the house to its traditional architectural style, opening it as a base for his new travel company, Beyul Experiences. He took from Sir Edmund's description of the home and renamed it The Happy House. "I was always being pulled back by the power that is believed to reside in the Himalayas. Being here, in Beyul, the spiritually charged sacred valleys of the Himalayas, one is instantly at peace. I see things more clearly when I am in the mountains, and I wanted to offer experiences in which both the visitor and the visited have a meaningful exchange, experiences that create a beyul in everyone's lives," says Ang.
I arrived at The Happy House to a tranquility radiating from the colourful flags strung along the entrance pathway between the soaring pine trees and fluttering in the mountain breeze. I would learn that these flags represent an ancient belief of carrying mantras through the wind into all-pervading space and to all sentient beings. I would also learn that everything here is steeped in meaning. Inside, I was awed by the intricate images on the walls, hand-painted in the monastic style of Thangka painting, with depictions of deities, birds, flowers, rivers and spiritually significant events. The furniture is an eclectic mix of Nepalese and Western pieces, with sofas covered in warm-hued fabrics and overlaid with cashmere blankets. I was told that some of the Western pieces, including Count Monzino's leather sofa, were left behind by some of the many explorers who passed through the chalet. I heard the firewood crackling in the warm glow of the fireplace and saw the one dining table in the room. The Happy House has only 10 guest rooms, and I understood that this would be an intimate and shared experience. There was no check-in, there were no formalities. The Happy House immediately felt like home.
It didn't take me long to understand why I came here, why I gambled on an opportunity that I would have ignored at a previous time. I had embarked on a necessary journey that was both spiritual and physical. The treks to remote mountain monasteries were rejuvenating. The meditations with monks were deeply reflective. The three-day expedition to summit Pikey Peak was physically challenging. Passing sacred stone walls and old yak houses, taking in the mountain vistas and liberating my thoughts with laughing yoga in the clouds, I felt that something great was about to happen, and it did: as I stood on the summit, I thought to myself, "If I can do this, I can do anything." A need within me had pushed me to take physical and spiritual risks, and by conquering my fears in both realms, I found myself. I returned to my family at The Happy House, a family of both staff and guests. We had hiked, cooked, eaten, sung and danced together. We had shared stories with each other. And nine of us who had arrived at The Happy House as strangers left as friends, ready to connect with ourselves and with the world again.