Q&A with Ryan Jackson, Interior Designer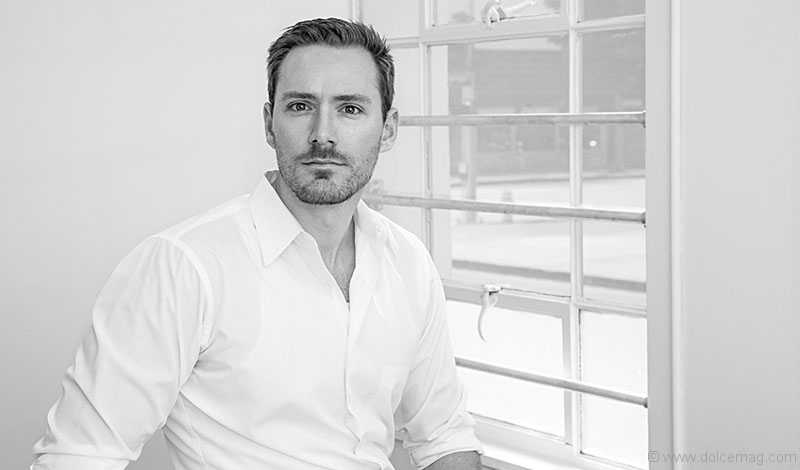 Dolce chats with Los Angeles-based interior and furniture designer Ryan Jackson to discuss his favourite pieces from his new lookbook, interior trends for 2017 and what's next for Studio Jackson.
Dolce Magazine: Your designs are very modern, with clean lines and smooth finishes. Was this always your style?
Ryan Jackson: It always has been. It's really where my passion lies. Ironically, I actually have a background in art history. So I think in coming full circle about understanding design from its very beginnings and all the way through, it's modernism where my heart lies.
DM: What are some of your more favourite classic works of art or architects? Is there anywhere you specifically draw inspiration from?
RJ: Sure! I would say that if I had to pick a classical architect that I respect the most it would be Christopher Wren. I think his ability, the function of space, the way he laid space out and understood the lifestyle and how buildings — whether they were palaces or whatever the case may be — really had an understanding that I think transcends all design styles.
DM: Can you tell us a bit about what specifically inspired this new lookbook for 2017?
RJ: Everything in the furniture line really draws an inspiration from my general understanding that timeless silhouettes and the simplicity of form — regardless of what you choose to adorn these pieces with — really will always reign true.
Amazing construction, well detailed — all my furniture is very contemporary and all the construction methods are traditional methods. All their frames, eight-way hand-tied sinuous springs, these are all things that were established hundreds of years ago; I've just adapted them to the contemporary form.
DM: From process to completion, can you tell us about what it was like to create the collection this year?
RJ: I designed a series of pieces of furniture drawing inspiration from a sketchbook from a very long time ago, one that I've been working on since I was a student, really. I just sort of began pulling inspiration from that. I took every piece and edited three things, a minimum of three things off of it. How could I distill everything down to where I couldn't take anything else away? So it was about editing and distillation of sketches that I've had since I was a student.
DM: In terms of the process of actually manufacturing the pieces, you were saying you employ a very old-fashioned method?
RJ: I do. You know, all of my stuff was made in Los Angeles and that was a huge part for me to have it sort-of "under my watch" and the people that I use — I'm actually a third generation interior designer, my family's from England, and my upholsterer is a third; my woodworker is a second generation from Rome. So it's really sort of a new school of multi-generational people working in this industry, all classically trained, but working in a contemporary vein. So it's a kind of fun dynamic where I got this team together of people. It's really collaboration. They know all these traditional methods that we're adapting for the contemporary market.
DM: In terms of the new collection, would you say there is a particular must-have piece to complete any space? Something so malleable that it works for any space.
RJ: I'd say the Seine Chair. It's a beautifully silhouetted barrel back tightly wrapped, and it's completely upholstered. All the leather is stitched inside out and then pulled over, like you would a dress onto a model, and attached. If you look, you can't see any seaming. It's all blind and reverse stitched. It would be a classical and contemporary piece that would fit any space comfortably.
DM: Where do you see interior design headed in 2017?
RJ: I think people are moving toward a minimal aesthetic. People have realized they don't need clutter and excess. People are feeling comfortable saying "more with less." I think they're collecting better pieces and feeling more comfortable. Baby Boomers are getting old — most of our clients are Baby Boomers, and they're downsizing. A huge group of people who are selling their 12,000- and 15,000-sq. ft. houses and they're buying a 7,000-sq. ft. house and they're making it a two-bedroom house, they're knocking down all the rooms and they're doing very contemporary spaces. I think for many years this wasn't something people felt comfortable doing, you know, it seemed almost nouveau but I think they're realizing how collected and worldly a contemporary space can be now. So people are moving towards that. And just by the sheer volume of the Baby Boom community people have to listen because they're putting their money there.
DM: In terms of your brand, where do you see that heading in the New Year? Any specific plans?
RJ: We're going to grow our metals, our custom metal pieces. Whether it's the Subtraction Table or the Gunner Bench, I think that's really one of the mediums we work in that set us apart from other people.
DM: Do you do custom work for clients?
RJ: Sure I do. I think a lot of the time, as well, there are some of the pieces in the line that are born of an idea that furniture responds to people's lives and I think all my clients are different people, in different places and require different things. I think a lot of the times, necessity being the mother of invention, I realize, "Oh, no one really has a piece that does 'X' I should design something that does that." If someone needs one, why don't I design one? Everyone can make something beautiful, but if something is just pretty as opposed to "That's a well-designed piece because it's beautiful and I use it all the time," that's something special.