Sleeping Out: A Powerful Kind of Philanthropy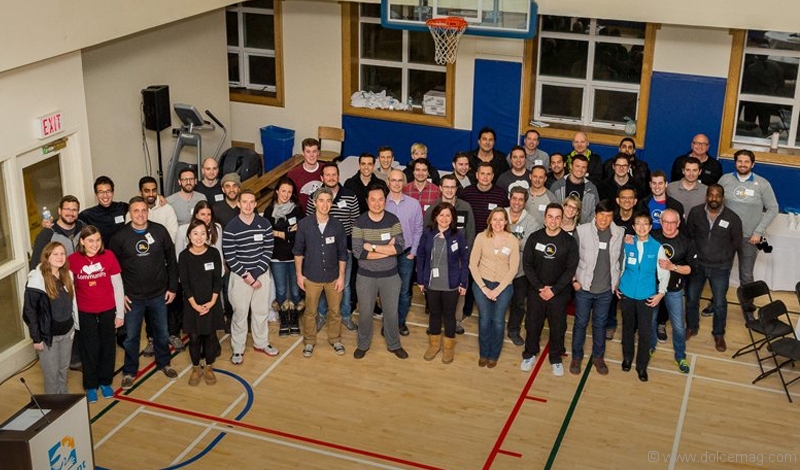 Covenant House hosts an annual fundraising event called Sleep Out, when Toronto's biggest business moguls spend a night on the street in support of homeless youth. Lifetime Developments' VP Brian Brown shares his experience
They say that charity isn't just about donating your money, but about donating your time. This really hit home for me as I chatted on the phone with Brian Brown, VP of Lifetime Developments, who spent the night of Thursday, April 7 on the street of Toronto.
This was the second year that Lifetime took part in the "Sleep Out," an annual fundraising event hosted by the downtown Toronto location of Covenant House, Canada's largest homeless youth agency. The goal of the Sleep Out is to raise awareness and funds to support the life-changing work that Covenant House does for the kids in Toronto who call the street their home. This year, Brown and three of his Lifetime team members were joined by a large group of other local business leaders as they camped in small groups around the city, swapping their beds for concrete, cardboard and sleeping bags.
The afternoon following the Sleep Out, Brian calls me to tell me about his experience. I ask him how he's feeling after last night.
"Tired," he chuckles. I say I can only imagine, recalling how I could barely stand walking from my car to my front door in the previous night's wintry weather.
"Leading up to it, it sounds exciting — you know, being amongst friends and spending the evening out and together," he says. "But as soon as you get outside and get in your sleeping bag and realize the conditions that you're sleeping under, it really makes you appreciate the things that you have."
Brown breaks down his night from beginning to end: At 6 p.m., all the participants gathered at Covenant House's location at Carlton and Gerrard streets. Executives from CIBC, RBC, Onyx Corporation, The Corporation of Delta, CentreCourt Developments and others braced themselves for a night on the street, but were first treated to a dinner cooked by youths studying in Covenant House's culinary education program.
After dinner, a handful of Covenant House alumni shared their inspirational stories, discussing how the organization changed their lives. Then the group broke off into two: the first-timers, who got a tour of the facility, and the participants who had taken part in the Sleep Out before, who gathered into a work group to discuss ways of further enriching the Covenant House's services for homeless youth.
Come 11 p.m., it was time to move outside.
Brown says that despite this year's weather being a bit nicer than last ("We were fortunate that it wasn't raining — last year was a miserable night"), he wasn't able to sleep much. He describes the near impossibility of finding sleep while using concrete as a mattress.
"I woke up after an hour and the temperature had dropped, the winds had picked up, and it was not a good feeling," he says. "You shift to another position to get yourself comfortable, and then you wake up another hour later."
My amazement at Brown and his fellow Sleep Out participants still hasn't faded these three days since we hung up the phone. It's very difficult to imagine the VP of a successful Toronto real estate development company spending a frigid night on the street, but I've learned that humility and charity are both integral components of Lifetime's mission. The company is genuine about their desire to help better their communities, specifically the ones where they build. For example, upon completion of Karma Condos at Yonge and College, Lifetime got involved with a number of charities in the neighbourhood, supporting their community-building programs.
It was around that time that Lifetime also established its own in-house non-profit, Lifeline Foundation, which earned charitable status two years ago.
"The intention of our foundation is to help raise funds to support Toronto-based, charitable organizations that have a strong focus on improving a number of conditions in the community," says Brown, "whether that be homelessness or medical-related issues, or other programs that are just based around injecting needed funds and support into the community."
The Sleep Out is just another way that Brown and his team like to chip in to the advancement of their community, using means other than just money. And with three young kids of his own at home, it's a legacy that Brown hopes to pass on.
"[The Sleep Out] was an important experience for my kids," says Brown. "They knew why I was sleeping out and that it was important to me. It's important for them to, at an early age, understand that not everyone has it as good as others do."
This year's event was an incredible success, with all the teams involved having raised over $210,000 for Covenant House's many services programs, from its 24-7 medical assistance and shelter provision to counselling and education.