Contempo Studio: The Finest In Custom Home Design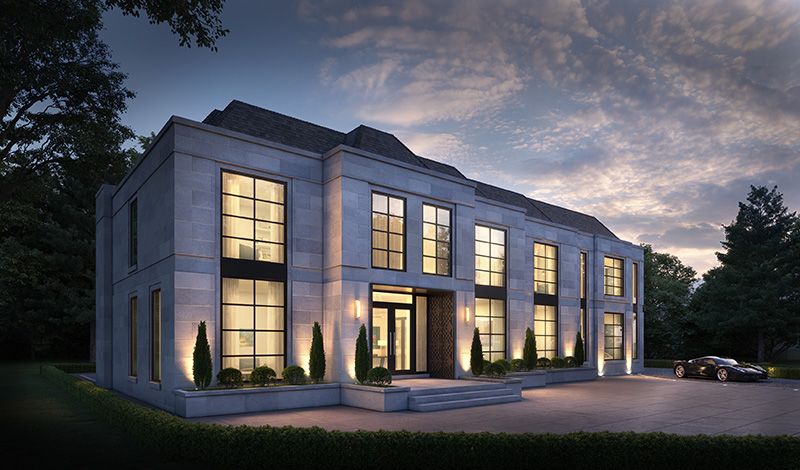 As tastes and life change, more discerning clients are turning to Contempo to ensure their custom home design is an enjoyable experience.
If you are fortunate enough in life to reach a stage whereby you can plan and build your custom dream home, the team you select is a crucial part of the planning. The right decision can make the entire process fun, exciting and enjoyable, and provide great memories.
Contempo Studio is the right decision: a six-year-old Toronto-based custom home designer recognized as an industry leader in contemporary design and fresh ideas and attentive customer service that make client dreams come true.
For Contempo owner Marin Zabzuni, he realizes while custom home design involves a thousand moving parts, perhaps the most important aspect to clients is the designer's ability to simply 'listen,' from the first consultation to handing over the keys.
"Listening is absolutely critical," says Zabzuni. "There's always a wish list, and we always look at the parameters of what is possible, taking into consideration zoning bylaws, committee of adjustment rules and what variances are feasible. Communications with the client, the city and the neighbours are very important, and we stay ahead of it."
Besides the ability to translate clients' wishes with its considerable design talents, Contempo's one-stop-shop approach may also separate itself from other designers. It takes care of everything, from zoning bylaws through permits and handling all paperwork with a municipality, leaving the client worry-free in knowing the required logistics are expertly handled.
"Our clients are consistent in mentioning the comfort in knowing they are dealing with us," says Zabzuni. "They love that it's one-on-one communications and it's one vision to take care of all their needs. It makes everything much smoother and easier."
Contempo Studio's individual approach not only creates beauty in custom home design, but also practicality of purpose in how the interior functionality works for how the client actually lives, as life has changed over the decades, and home design must accommodate the new reality.
"Families are growing and need more space," says Zabzuni. "We see a lot more open concept in designs and more windows, as clients want more natural light inside the home. We approach diverse design models that blend into respective neighbourhoods, as curb appeal is important to us and our clients, and each project is designed to fit the customer palate and become more inviting. Our commitment to contemporary design is to be exquisite and timeless, while creating a beautiful canvas for our clients to accessorize. Our motto for each project is to provide subtle and timeless luxury."
Contempo's excellent reputation for design, quality of work and customer service makes it a preferred designer for some of Canada's top builders of luxury homes, such as Stonebrooke Homes of Woodbridge, Ont., which has a long history with Contempo.
"Marin and his team are a pleasure to work with — professional, constructive, creative, solutions-oriented, hard-working and effective," says Stonebrooke Homes president Robert Di Toro. "Their design elements blend seamlessly, providing contract and connection to each of our unique developments, in turn allowing us to precisely execute each build and showcase a stunning portfolio of designer luxury homes."
Contempo realizes how important the custom home design process is to every client. They are trusting Contempo Studio to make their dreams come true, and that's a responsibility Zabzuni and his team take very seriously.
Explains Zabzuni, "I always put myself in the owner's shoes, as if it were our house, as that's how we can best help them and make the right decisions. We're confident in our abilities for excellent, quality design, and that lives throughout the service we give. We're always there for our clients and happy to take on this responsibility."
---