Greg Kolodziejczyk: Art In Stone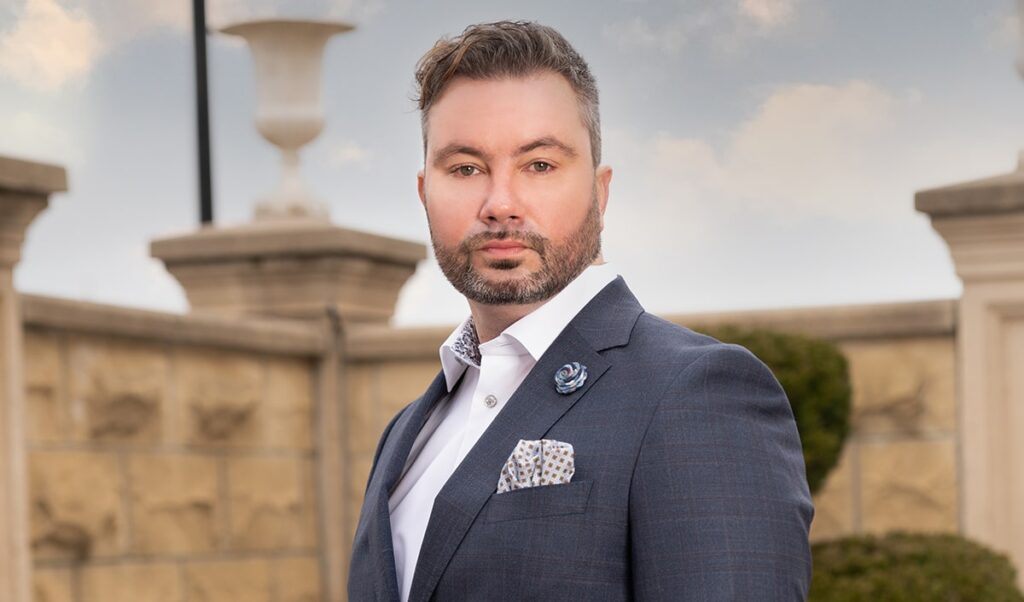 Greg Kolodziejczyk and the artisans at Prospect Construction provide luxury custom stone masonry to high-end architects and custom homebuilders across the Greater Toronto Area.
Artists work in many media and with many different materials, such as paint and canvas, clay and sculpture, woods and cabinetry, or perhaps the most challenging: the artistry of stone masonry. While you may return to a painting to add colour or make subtle changes to a sculpture or add accents when woodworking, stone masonry is final and masons have to get it right the first time. "Put it in stone" is not just an expression, it's a reality.
Greg Kolodziejczyk and his team at Prospect Construction are just that reality to custom builders of luxury homes across the Greater Toronto Area, artisans of stone masonry of the highest order, taking pride in an honourable craft passed down to Kolodziejczyk by his father.
In his teenage years Kolodziejczyk worked summers for his father's Prospect Homes company, a builder based out of Hamilton, eventually joining him full-time and learning everything about the meticulous nature of stone masonry. In his twenties he left to follow his music passion as a guitarist in a Toronto rock band, while working in the mortgage business to pay the bills. But he soon realized office life was not for him.
"WE BRING EXCEPTIONAL CUSTOMER SERVICE AND COMMUNICATIONS AND WE'RE EXTREMELY DETAIL- ORIENTED IN WORKING WITH OUR BUILDERS AND CLIENTS."
"The natural calling just woke up inside of me and I knew I needed to be outside working with my hands," recalls Kolodziejczyk. "What you are born into will come back to you at a certain age."
He returned to work with his father, furthering his education and skills until he began his own company, forming Prospect Construction in 2016, now one of the most respected custom luxury stone masonry companies in Ontario, sought- out by the finest architects and builders of luxury custom homes.
Testament to the reputation Prospect Construction has earned is a recent 25,000-square- foot home by acclaimed architect Richard Wengle, which features all-limestone exteriors by Prospect in a job that took 18 months to complete due to the care and craftmanship Prospect brings to its work.
"It's a very meticulous type of work and not everyone can do it," says Kolodziejczyk. "It's really an art that takes years to learn. We bring exceptional customer service and communications and we're extremely detail-oriented in working with our builders and other clients. Prospect is different because we stand out and our skill level is a class above our competitors."
Prospect Construction also stands out online through www.prospectconstruction.ca and on social media, with an extensive presence on Instagram, including slickly produced and creative short videos Kolodziejczyk produces that show first-hand to prospective clients the quality, craftmanship and passion they bring to every project. He is also quick to tag every other trade involved in his projects, saying, "Why not include everyone on the team? It's a win-win for everybody."
"IT'S A VERY METICULOUS TYPE OF WORK AND NOT EVERYONE CAN DO IT."
Prospect works primarily with high-end architects and custom homebuilders in providing its main services of luxury custom limestone installation and custom pre-cast installation — on-time and on-budget. It will also work with individual homeowners wishing to improve the exterior of their homes by recommending certain limestone manufacturers, then completing the installation with Prospect's exacting skill. As Kolodziejczyk points out, "Every stone piece is so different and so detailed, and where we really excel is that we're on-site all the time to ensure deadlines are being met."
Kolodziejczyk's success in building Prospect Construction allows him to give back to his community through projects that are near and dear to his heart. One of his daughters has autism, and Prospect is currently exploring a partnership with Waves of Change, which addresses autism in our society.
Kolodziejczyk's definition of success is not monetary, but a deeper, inner feeling that speaks to his upbringing and the passion and pride he has in his craft forged by his father and grandfather and the lessons they provided him in continuing the family profession. "My definition of success is the level of satisfaction I receive from an excellent completed project," he says.
Luxury stone provides the most dramatic first impression for any residence. It denotes quality and elevates elegance, making the perfect lifestyle statement through design. There is art in many materials and forms, and as Greg Kolodziejczyk and Prospect Construction have so clearly demonstrated, in luxury stone masonry, art is forever.