Five Trail Whiskey: A Sensorial Drinking Experience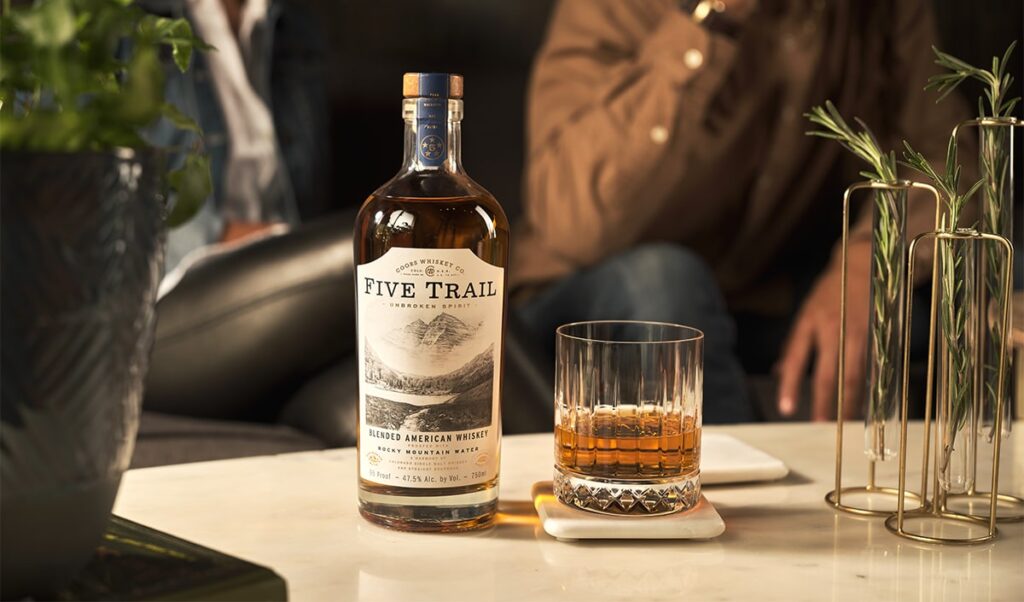 Thanks to a taste that's been carefully crafted and perfected, Five Trail whiskey is a blended American whiskey ideal for connoisseurs and newcomers alike.
The desire to create whiskey came to David Coors, vice president at Next Generation Beverages for Molson Coors, 20 years ago. He'd been home from university for the holidays when he asked his father, Pete Coors, why they didn't make whiskey. When his father replied that they were already good at one thing, and that was making beer, the conversation, and idea, was shelved.
That is, however, until 2019, when Molson Coors launched its Next Generation Beverages division and started exploring other categories to participate in. "It was finally the right time to revisit that 20-year-old conversation and launch a whiskey," says Coors. "There's a prominent connection between whiskey and beer. The processes before distillation are very similar, and ingredients, such as malt and water, are key in both."
Five Trail whiskey is the result of that conversation. Described as "an intentionally blended American whiskey," Coors describes its aroma as "fruity, sweet, clean and crisp with notes of baking spices and fresh herbs." Its taste notes balance oak with golden apple, honey, roasted nuts, caramel, ginger and chocolate malt, and the drink manages to finish with a "warm, powerful coating that mixes sweetness and spice."
The taste of the whiskey is so complex and has been so meticulously crafted that Coors goes as far as to call it an experience. "Five Trail will take your palate on a journey," Coors continues. "You can really identify each of the components: the sweetness from the wheated bourbon up front, the body and complexity of the four-grain bourbon through the mid-palate, and the slight ginger spice on the finish from the single malt." He adds that it's best enjoyed neat, on a large rock, or in a whiskey- forward cocktail like its Five Trail Old Fashioned.
"FIVE TRAIL WILL TAKE YOUR PALATE ON A JOURNEY. YOU CAN REALLY IDENTIFY EACH OF THE COMPONENTS."
The process of making it relies on collaboration, not just with distillers but with experts who know their craft, and all of the whiskies are aged for a minimum of four years. "We married that with what we know best: our malt and the pristine Colorado Rocky Mountain water from our home state of Colorado," Coors says. "Put together, we've delivered a truly unique and incredibly well-crafted product from a team of experts in their respective yet connected fields."
Thanks to this process, and the flavour notes that come together, it does well when it comes to pairings. "If you want Five Trail to shine, we recommend pairing it with simple snacks to avoid overpowering the flavours," Coors continues. "Some good options include salted crackers or chips, dried fruits and nuts, dark chocolate and milk cheeses. In terms of a meal, it can stand up to the best steak, pork, lamb and smoked salmon."
There's also an element of history that goes into its creation. Coors's great-great-grandfather immigrated to America over 150 years ago, and he describes how Five Trail is founded on "that unbroken spirit; trials, tribulations and a frontier spirit that lives in us as strongly today as it did in him." He continues to say how he's inspired by previous generations, and taps into other established experts and their own histories to achieve a quality product.
Five Trail whiskey's entry into the market comes at a time when whiskey has become a go- to for many. In fact, in a report on what Ontarians were drinking in 2022 by the LCBO, whiskies from the Americas have been trending upwards. With Five Trail satisfying those tastes but also creating something new, there's no doubt its future looks bright.
"Life is full of sweet moments and it's important to cherish each one of them, and even better when you can celebrate those moments with family, friends and, of course, a glass of Five Trail."