Marwan Rizek – Cameo Kitchens And Fine Cabinetry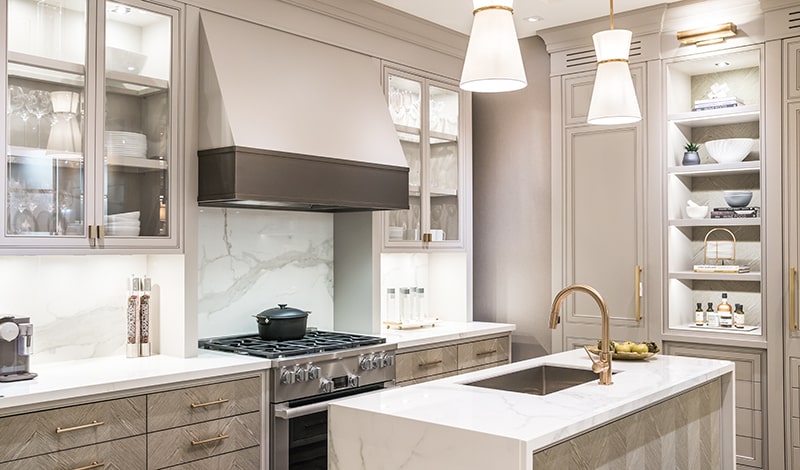 An industry leader known for bespoke luxury design and superior quality, with the mission to never abandon handmade products for mass production.
The concept of "home" has taken on a deeper, richer meaning during this turbulent 2020. More than just the place we return to at the end of the day, now that the world has been on lockdown for months, home is currently where we've been spending our days, becoming our safe sanctuary space.
As a result, people have more time to notice and consider their home environment. Many have been using the lockdown as a time to beautify their nests and move forward with long-delayed home renovation projects, especially when it comes to favoured areas such as the kitchen and the bath.
A lot of free time previously spent shopping is now being replaced by de-cluttering, cooking and baking, which create a sense of well-being.
Watching this trend carefully is Cameo Kitchens and Fine Cabinetry of Toronto. One of the most respected companies in the industry, Cameo is known for its high-quality designs and skilled craftsmanship of expertly fabricated custom cabinetry and millwork.
Founder and principal Marwan Rizek says that when the lockdown began in March, Cameo began to receive a growing number of inquiries regarding kitchen and bath renovations. The timing was not a coincidence.
"The renovation market is going to grow because of COVID-19, as people are spending more time at home," says Rizek. "People will be upgrading, as they are becoming more aware of their strengths and weaknesses of their residence, and there is a strong desire to feel happy and safe within the comforts of their home."
With his decades of experience in luxury lifestyles and understanding of how people actually live in their home, Rizek expects this trend to continue throughout 2020, as people entrench and are more comfortable working at home. "People are now actively aware they need to improve where they live," he observes. "Home offices will be a necessity. Cameo's team adapts a methodology of simple and effective processes when it comes to designing each client's dream kitchen or home office."
Pride and passion, for both his company and his profession, resonate clearly when speaking with Rizek. He founded Cameo when he was just 24 years old in 1983, and not as a cabinetmaker, but with a background in marketing and management. "What I saw was an industry with a lack of good business skills and sense," he recalls. "I wanted to build a business and a brand and a real company with innovation. Whatever I do, I want to be the best."
That business strategy was born from Rizek's keen eye for detail and quality of product. "I did a lot of research to find out how we can be better, starting with the products: 'How can we make our products the best they can possibly be?'" says Rizek. "Reputation in this business is everything, as referrals are extremely important. You get the best materials and craftsmanship and design, which result in repeat business and life-long clients."
All of Cameo's interiors are built using only the highest-quality materials that maintain their good looks. For the ultimate in functionality and durability, all Cameo cabinets feature world-class Blum drawer slides (in aluminum, stainless steel or dovetail wood construction) and Blum cabinet hinges, delivering a kitchen that looks and works beautifully for years to come. The company offers a full five-year warranty from the date of installation, and all hardware comes with a lifetime warranty. The experience is enhanced with Cameo's design ethos.
Years of hard work establishing the company paid off about a decade ago, when the Toronto real estate market took off, and condominium prices rose to today's $1,500-plus per square foot, up from about $500 per square foot. Developers of luxury residences were catering to empty nesters who were downsizing, but maintaining their lifestyles. They needed to deliver the best for purchasers in design, materials and superior craftsmanship, when it came to kitchens, baths, vanities and closets.
Quality recognizes quality, and those boutique-living developers chose to work with Cameo, to deliver the customization their purchasers were demanding. A Cameo kitchen brings immediate value to a project. At the same time, clients who had a Cameo kitchen in their luxury home wanted that same level of craftsmanship when they downsized into their condominium, leading to a large number of repeat clients for Cameo. Customers trust the company for its expertise and bespoke luxury design.
Today, with 60 employees, Cameo's craftsmanship can be found in some of the finest homes and boutique-living condominium developments in the Greater Toronto Area, including 128 Hazelton and 181 Davenport in Toronto's exclusive Yorkville neighbourhood. Cameo is also the premier kitchen supplier to Avenue & Park, 321 Davenport, The Davies, Forest Hill Private Residences and Charbonnel on Avenue Road, 4 The Kingsway and the WaterColours, a luxury private residence located on Grand Cayman's famed Seven Mile Beach.
Cameo's highly regarded reputation in the industry for design, quality and business integrity allows it to collaborate with some of the city's most notable and prominent developers, architects and designers.
The personalized customer experience with Cameo is designed to eliminate the fear of renovating and to make the process as smooth and joyful as possible. It starts in the splendid 3,000-square-foot showroom, with the customer sharing their vision with Cameo's professional designers who are experts in ensuring the interior work is efficient and functional for each customer's lifestyle. Their designers make dream kitchens a reality. At the showroom and throughout its operations, Cameo is adapting to the rapidly changing conditions, while also proactively addressing new protocols to ensure both client and employee safety. At Cameo, fine cabinetmaking is a partnership between the customer and the artisan.
Cameo's 35,000-square-foot manufacturing facility then produces the top-quality millwork in its customized, handmade fashion, as per exact specifications. Cameo uses expert craftspeople to deliver and install, continuing its customer relationships with excellent after-sales service.
"We treat every project individually," says Rizek. "It's like a handmade, custom suit, and we have full control. We can do whatever the client wants in building a custom product. Our mission is to never abandon hand craftsmanship for mass production."
This is where the passion of Rizek and his team is on full display, taking deep pride in their craftsmanship. "It means everything," says Rizek. "That's how we built the business. I take a lot of pride, passion and care in this business, always trying to satisfy the client. I take a lot of joy from seeing that customers are happy."
We all have many plans for when we start getting back "out there," and Cameo Kitchens and Fine Cabinetry can make coming home feel more special than ever before. "After all," Rizek concludes, "at Cameo, we approach each assignment with the desire to deliver projects that are over and above the client's expectations. That's the Cameo mandate."