Two Sisters Vineyards: It's All In The Details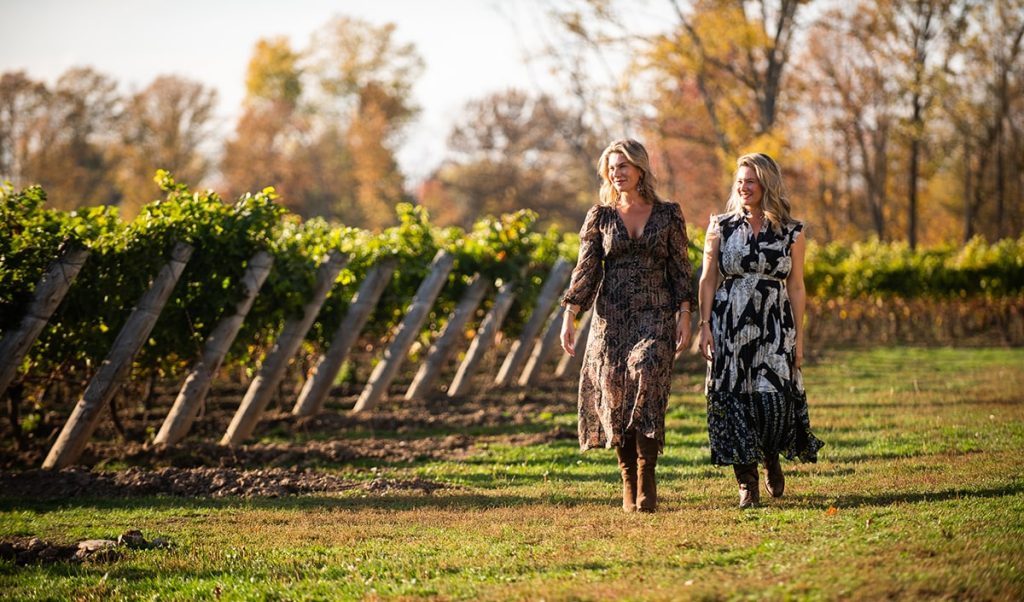 An inside look at the award-winning Two Sisters Vineyards, nestled in the heart of Niagara-on-the-Lake.
When asked how they would describe their estate in three words, sisters Melissa Marotta-Paolicelli and Angela Marotta usually say, "Inviting, sensorial and refined." Though their story begins in 2007, when the pair planted their first vineyard, today their estate spans more than 130 acres in Niagara-on-the-Lake. It's also been named the best-performing winery in Canada by WineAlign and one of Canada's top growing companies by The Globe and Mail.
"From the very beginning, our family has shared a passion for beautiful wines and elevated experience," says Melissa. "The vision we had, to transport guests and enjoy a wine and culinary experience that will be memorable, continues."
Take a look at what's on offer at Two Sisters Vineyards, and you'll see why they're second to none. The estate building itself is inspired by the family's Italian heritage, setting a scene of beauty while paying homage to European architecture.
First, you have the wines. Spanning reds and whites, which guests can experience through tasting visits and tours, the grapes are selected for their ability to thrive in cooler climates, and are situated over four vineyards. "We're positioned in a very desirable location," says Angela. "Being the closest winery to the Niagara River, we see warmer air currents coming from the river."
All of the red wines are estate grown, with the fruit coming from these vineyards before they're aged for at least two years. "It all starts with our winemaker Adam Pearce who shares our vision and philosophy of delivering ultra-premium wines every year," Angela continues. "With extended barrel aging from 18 months to three years, as well as small-lot production, we ensure the fruit dictates the direction of the wine that's bottled."
Make a visit to the estate and you'll be able to pair the wine with food via their on-site restaurant, Kitchen76. "We stay true to the essence of Italian cuisine, which is simplicity with excellent quality ingredients," Melissa explains. "Sharing the dishes we grew up with and were taught about by our mother and grandmother are now holding a proud place on our menu. We love it when someone has one of these dishes and says, 'It tastes just like home.'"
For those who want to make the most out of what Two Sisters Vineyards has to offer, the company welcomes guests to sign up to a two-tier exclusive membership. The VIP Club offers mixed six-bottle cases shipped quarterly, as well as privileges that include complimentary tasting vouchers for friends and family, complimentary dessert and ice-wine pairing when eating at Kitchen76 and special pricing for select events.
The other kind of membership, Cellar240, focuses on offering 12 red wines every quarter, with privileges that also span Kitchen76, event invitations and access to the Barrel Room for private dining. As Melissa says, "This is a very special club for the wine lover who looks to enjoy wines and cellars for enjoyment."
For both, these clubs are the best way to experience Two Sisters Vineyards. "Many wineries offer a wine club, but, at Two Sisters, we pride ourselves on going the extra mile, with world-class customer service and a unique club experience," says Angela. "Our club members don't just receive exclusive benefits and award-winning wines quarterly, they become part of the Two Sisters family."