ACURA NSX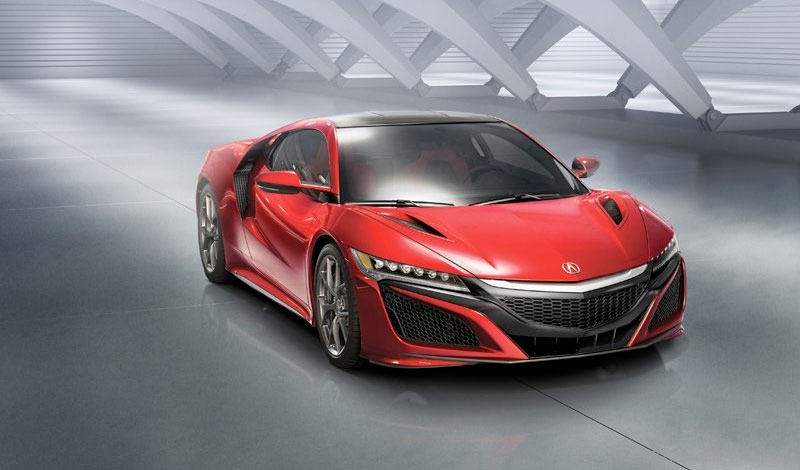 It was a bold move when Honda released the original NSX a quarter of a century ago. The Japanese manufacturer was determined to stake its claim in the supercar realm and when the mid-engine two-seater debuted at the Chicago Auto Show in 1989 it was a warning shot straight across the bows of Ferrari and Porsche. Not only was the NSX, sold under the Acura banner in North America, the first production car in the world with an all-aluminum body, but it was also a supercar that was accessible. The "people's supercar," as it was known, was lauded both for its performance and its reliability, redefining what consumers expected from high-end sports vehicles.
Not bad for Japan's first supercar.
Fast-forward to 2015 — a decade since the last NSX was built and three years since Acura started teasing the public with a mid-engine concept that carried the NSX name — and Acura is ready to bring their beloved supercar back to the streets. At this year's Canadian International AutoShow, president and CEO of Honda Canada Jerry Chenkin explained that the resurrected NSX "represents the return to Acura's roots with a giant leap forward." Indeed, things have certainly changed.
The new NSX is substantially longer and wider than the original, with a frame made of aluminium, high-strength steel and what they're describing as "other advanced materials." Up front, Acura's now-signature Jewel Eye LED headlights bookend the chrome strip of the thinner power plenum grille, while massive, angular honeycomb intakes give it a mischievous grin. Its body's flowing lines are accented by sharp, knife-like angles to give it an ultra-modern style, and gaping air intakes blend seamlessly with the C-pillar. Lean, modern tail lights run the width of its rear, and huge air extractors and diffusers dominate the bottom of the back bumper and frame four centre-mounted exhaust pipes.
Inside, the same aggressive styling of the exterior continues. Chenkin explained that the interior is a "human support cockpit" that is focused on "functionality and human fit." Stitched leather panels and aluminum wrap the doors and dash, while an LCD instrument panel is positioned behind the sculpted steering wheel.
Powering the new NSX is a hybrid system that combines a 75-degree, twin-turbo V-6 with three electrical motors. One electric motor is wedged between the V-6 and the 9-speed dual-clutch automatic transmission in the midsection of the car, while each of the other two are placed behind the left and right front wheels. Power from the V-6 and one electric motor is sent to the rear wheels while the front wheels get all electricity. This "Sport Hybrid Super Handling All-Wheel Drive" system is similar to what we've seen in other recent supercars, providing drivers with instantaneous torque even at low RPM. Chenkin added that the new NSX also has the "lowest centre of gravity in its class" for tighter handling.
When it comes to exact specifications, Acura, however, is remaining tight-lipped. It's reported that they're still doing final testing before production begins later this year, and no word has been released on total power output, acceleration, curb weight or battery capacity. Acura has stated, though, that the new NSX will deliver over 550 horsepower, which puts it right up there with rival supercars.
Pricing will start around $155,000 (USD) and customer orders will be taken later this year. If the original NSX holds a special place in your heart, then this is one to keep an eye on, as more information will be released this summer.
General Specs
Engine: Twin-turbo V-6 with three electric motors
Horsepower: +550
Transmission: 9-speed dual-clutch automatic
Drivetrain: Three-motor hybrid all-wheel drive
Price: Starting from approximately
$155,000 (USD)