The Porsche Cayman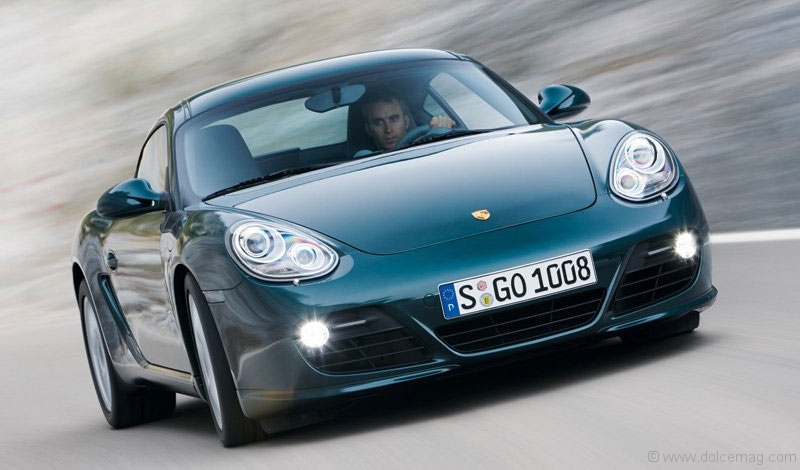 The meaning of performance and charm is something that becomes clear when you look at either one of Porsche's two Caymans. Originally launched in 2006, assertive and sporty styling is what makes the new Caymans' appearance so distinctive. Refined headlights boast a sleek aerodynamic look, revealing swiftly shaped halogens, LEDs and front fog lamps mounted in outer air intakes. "The Cayman series has this beautiful aggressiveness to it," says Dan Maeda, sales manager at Downtown Porsche. "Whether you're a Porsche lover or not, they make people turn their heads and stare." Of course, it's also what's on the inside that counts.
The 2.9-litre, 6-cylinder engine flaunts an impressive 265-horsepower, roaring from 0 – 100 kilometres in 5.8 seconds. Adding to the Cayman's high-speed agility is the engine's lightweight alloy, which also reduces overall fuel consumption. For enthusiasts looking to go out with a bang, a sport exhaust system is available for more resonant sound. And state-of-the-art innovation reaches peaking heights when it comes to the Cayman's interior. Unlike the Porsche Boxster, the generously spacious hatchback has plenty of luggage room. The Tire Pressure Monitoring System allows drivers to check all four tires from the instrument panel, and receive warnings in the event of low tire pressure. A standard CDR-30 audio system is also featured, compatible with an optional upgrade to the BOSE Surround Sound System.
Porsche fans seeking some added spunk will relish in the Cayman S. This model's direct fuel injection gives greater fuel output and enhanced motor efficiency. The 3.4-L, 6-cylinder engine pushes 320-hp, allowing a noticeable jump from 0 – 100 km in 5.2 seconds. If that isn't enough power for Porsche-admiring heavy-footers, the optional Sport Chrono Package will increase speed to 4.9 seconds. "The straight line acceleration is definitely one of my favourite features," Maeda says. "It's the kind of muscle that makes driving the Cayman S feel exhilarating." The high-performance vehicle has led to predictions that it might cannibalize Porsche Carrera sales, since the Cayman S is almost as fast and about $20,000 cheaper.
It also differs in comparison to the standard Cayman, showing off a front spoiler and a new stainless steel twin tailpipe. Rear disc breaks are four millimetres thicker – optimized to handle more rigorous breaking – which complements the 18-inch Cayman S II wheels, also available in a 19-inch upgrade. Security won't be an issue with the contact-sensitive exterior protection alarm system, featuring optional radar-based interior surveillance.
No matter what model they choose, Cayman fans agree: Porsche has gone the extra mile. "Their ideal ride would probably mean driving on a sunny day along a mountain pass or country road," Maeda says. Like its predecessors before it, the Porsche Cayman remains a smooth, sexy ride; complete with a surplus of striking automotive features.
General Specifications
Engine: 2.9-L flat 6, DOHC, 24 valves | 3.4-L flat 6, DOHC, 24 valves
Transmission: 6-speed manual | (7-speed automatic optional)
Drivetrain: Rear-wheel-drive
Suspension: Independent front and rear
Brakes: 4-wheel disc with ABS, Stability Control System
Price: $63,900 – $75,800 (Cdn)