Aesop Yorkville: Echoes of A Neighbourhood's Victorian Past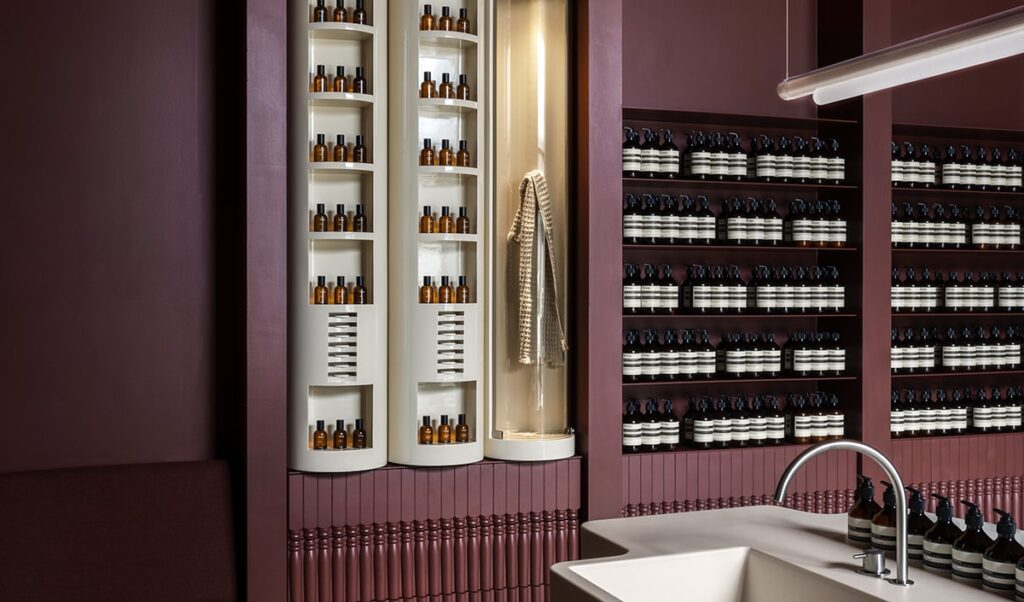 Beautifully designed and crafted, the new Australian skincare brand's signature store in vibrant Yorkville becomes a unique destination within the downtown core.
In seeking new locations, Aesop's first consideration is to work with what already exists. With their intention to weave themselves into the fabric of the place and add something of merit rather than impose a discordant presence, their consistent practice is to use a locally relevant design vocabulary.
The winner of the 2022 Best of Canada design award, Aesop's latest signature store in Toronto, situated in storied, vibrant Yorkville, is designed in partnership with local studio Odami, Designline's 2022 Designer of the Year. Unique Store Fixtures, North America's leading millwork services company specializing in in-store displays and retailing environments, fabricated this stunning store. Combining traditional carpentry methods and state-of-the-art technology with proficiency, artistry and premium materials, Unique Store Fixtures helped to bring the designers' vision to life by manufacturing interior millwork and displays at the new Aesop store.
"The design narrative for the project is based on some of the peculiarities of Yorkville. The smaller, more intimate scale compared to other parts of the downtown core and the abundance of beautiful Victorian houses in the surroundings were inspiration sources that we drew from," says Odami about the inspiration behind this project. "The driving idea was to create a store that feels inviting, domestic and uses Victorian elements, like the wood-turned spindles, in a contemporary way. The result is a space that feels modern yet warm and belongs to such a distinct place as Yorkville."
"We manufactured the unique, custom woodbased components for this project with high attention to detail to execute the creative vision of the designers and bring it to life through the fabrication of our custom millwork," says Ferro Corrente, COO of Unique Store Fixtures.
The award-winning design is anchored by a sense of warmth and sees traditional materials imagined anew. The walls and ceiling are painted in a rich ruby hue, whose dusky quality lends the space a restful intimacy. Closely packed rows of maple balusters – evocative of historical homes and porches found throughout Yorkville – form unconventional wainscoting that lines the room. A large basin stands in the centre, surrounded by opportunities for repose and respite, courtesy of cushioned benches and a dedicated tea station.
The geometry of the store is akin to that of a bustling town square: a large and open space with smaller enclaves around its perimeter. A cylindrical Fragrance Library is almost camouflaged in one of the walls. Its doors rotate to reveal Aesop's growing collection of unorthodox aromas, as well as an infusion chamber for items of clothing in need of a fragrant boost.
Despite the pandemic's impact on the availability of materials and additional restrictions, the project was smooth. "We took on a complex project and had the peace of mind to know that we are working with highly qualified professionals that can take up a challenge. Unique Store Fixtures' team puts great care into the work they do, and for us, as designers, it's very important to know we are working with professionals who can bring our design vision to life," says Odami about their successful collaboration with Unique Store Fixtures.
In this new tranquil Aesop store, clients can explore and select from a complete range of skin, hair and body-care products distinguished by botanical and laboratory-generated ingredients of the highest quality. The store's trained consultants are able to offer advice about products best suited to individual needs.
aesop.com
@aesopskincare
uniquestorefixtures.com
@uniquestorefixtures