Aldo Bensadoun: Gentle Sole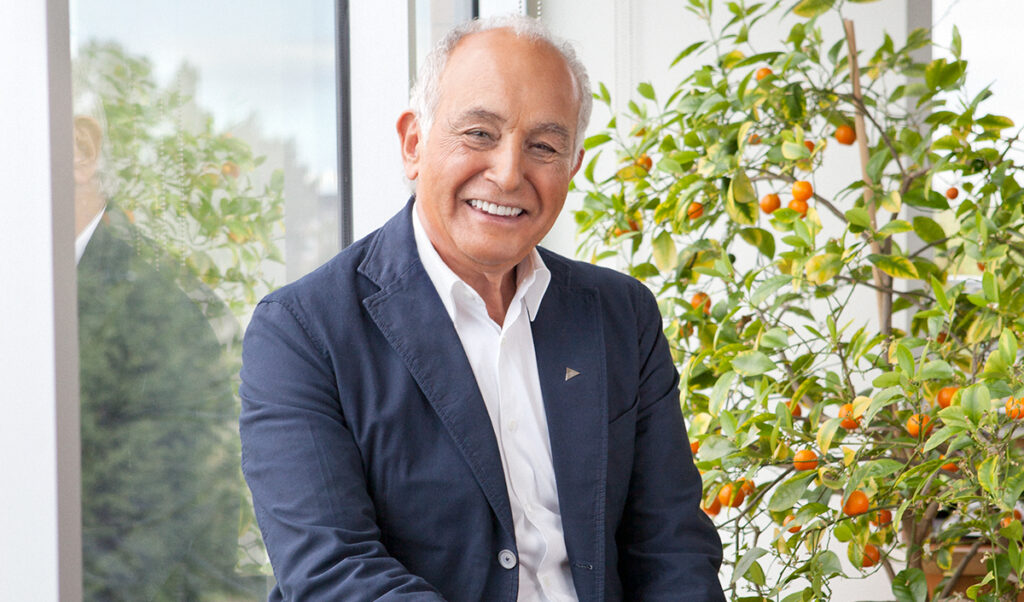 Shoe and accessory giant ALDO Group has grown to operate in more than 100 countries over its 50 years, but it was started by Aldo Bensadoun as a company with a greater purpose.
If you were a clever enough child a couple of generations ago, you may have paid very close attention to what your parents and grandparents did for a living. If what they did captured your attention, you had loving, close mentors and if you studied their work, it may have resulted in a tailor-made career based on their example. You never know if just being around something will plant a subconscious seed that may flourish later in life, a seed you can drawn upon unexpectedly.
That may be more difficult these days when old-school professions may not translate to the digital world, but it was certainly beneficial to a young Aldo Bensadoun, who was born in Morocco to Algerian parents who had immigrated to Fez and owned two shoe stores. Aldo was one of those clever kids who observed and asked the right questions, which, he says, by serendipity launched him on an unparalleled retailing career. Bensadoun's ALDO Group today operates nearly 1,500 stores in more than 110 countries and is celebrating 50 successful years in business.
"I learned hard work from my parents, as the stores were open very long hours and my father sometimes would not be home until 10 o'clock at night and my mother came home at five or six o'clock to do the cooking," recalls the wise and affable Bensadoun in a recent interview with Dolce. "I learned discipline from my parents, I learned resilience, I learned to not show off, I learned to share and I learned philanthropy from my parents."
Those early days in an international city such as Fez also taught Bensadoun something else. "The majority of the population of Morocco was Muslim and we were sort of like ex-pats, so what I learned and saw from my parents was tremendous co-operation and even love between the various segments of the population, no matter their colour or religion, as our house was full of people of different religions. So, there was a lot of diversity," says Bensadoun.
"I wanted to make sure the company I was going to create had a very strong purpose and that purpose was to make the world a little gentler."
His parents returned to France and Bensadoun grew up in the south of France, but after high school, headed to the United States to attend Cornell University in New York State on a scholarship. The culture shock of living in America during the 1960s was profound. "In France, we all had long hair in the 1960s, but at Cornell, all the kids had crewcuts!" he laughs.
But then, fate, as it so often does, stepped into his life when Bensadoun visited Montreal at the height of the Swinging Sixties. Montreal was at the height of its powers in that period, hosting the world at Expo 67, still the gold standard by which all international expositions are measured.
"I loved Montreal because, number one, they spoke French as well as English," says Bensadoun. "There was a lot of diversity, there was a lot of fashion. People were beautiful and dressed in European fashion. It was so cosmopolitan and very advanced, really booming with so many tourists and languages spoken. It was a very vibrant city."
That vibrancy convinced Bensadoun he had to be a part of it and he departed the Cornell crewcuts for the city that fascinated him and transferred to McGill University to complete his undergraduate studies. In those days, France had compulsory military service, and being a French citizen, Bensadoun served 18 months in the French army following his graduation from McGill, including a stint in officer's school, where he taught economics.
Bensadoun began to work for a company as a market research analyst and enjoyed great success. At that time, despite his family's history, he never envisioned a future in retailing, much less the footwear industry. One day his employer sent him on an assignment. One of their clients was having a packaging problem, so they sent Bensadoun off to solve the problem at this particular company.
Of course, there are a million industries in the world and millions more companies, but this company was, you guessed it, a shoe company.
"I feel it was serendipity in the sense that my grandfather was a cobbler in Algeria and my father was a shoe retailer," says Bensadoun. "I went to this company and I solved its packaging problem. They were so happy with my solution they immediately offered me a job at triple the salary I was making."
He spent seven years with his new employer, observing and learning, not just the shoe and footwear business, but retailing in general and, most specifically, the secrets of efficient manufacturing, design and getting product onto store shelves. This education and acquired knowledge led him to start his own company in 1972. However, the company Bensadoun had in mind was not going to be defined by profits and the bottom line. The company was to be reflective of Bensadoun's nature and a testament to his character.
"I wanted to make sure that the company I was going to create had a very strong purpose and that purpose was to make the world a little gentler," says Bensadoun. "So, my star that I would always look at in building that company was that through its actions that company would make the world gentler, by having people around me and with me who would have the same values of love, respect and integrity. These were the building blocks of the company, which would make the world a better place for society in general."
Yes, a company must be profitable in order to be successful, but there is no reason a business cannot also be noble. "The idea was that everyone within the company should flourish, do well, reach their full potential and give back to make the world gentler," says Bensadoun. "Today, with my son David as the CEO, it's nice to see us continuing to do everything we can to help society and the people around us and we are still carrying those values and that purpose."
Bensadoun launched the ALDO Group, branded as Aldo, in Montreal as a small shoe concession within the department store Le Château. With his business acumen, Bensadoun soon began to grow the business, opening the first free-standing Aldo store in Montreal in 1978, followed by stores in Quebec City, Ottawa and Winnipeg, and eventually across Canada, with expansion into the United States in 1993.
The first store outside of North America opened in Israel in 1995 and the brand expanded into Saudi Arabia in 2001, England in 2002, Singapore in 2003: today it operates under three retail banners: Aldo, Call It Spring and Globo. It also owns a wholesale division that oversees a private label and licensed-brand business which designs, produces and distributes footwear and handbags for major retailers. In every way and by every measure, Bensadoun is a self-made success story who has received both the Order of Canada and the Order of Quebec. A man, it should be pointed out, who taught himself Italian so he could deal directly with European suppliers, without middlemen. The brand's shoes are designed, produced and delivered within a matter of weeks, a process that ensures current styles and on-trend products at accessible prices. Its vertically integrated model allows Aldo to quickly turn around designs and cuts out middlemen on distribution and manufacturing. The majority of its stores are owned by the ALDO Group, while its international stores are franchised. It is these franchisees who carry forward as envoys of Bensadoun's vision to make our world a gentler place.
"Here you have people from around the world working with us, of different colours of skin and religions, of different languages, but we all are using the same language as far as values are concerned," says Bensadoun. "They take those values that they learn from us and they carry them back to their regions. It could be Africa, India, the Middle East, but you have those values of improving the world, of acting with love, respect and integrity being applied in Nigeria or Saudi Arabia or wherever you want. And we as a team here, we have to act with our morals in our dealings with all of these people." He may have founded a retailing behemoth, but Bensadoun is very much a gentle soul. He also started the Bensadoun School of Retail Management in order to give back to his retailing industry. "I believe every single citizen can have an effect on the community where they live and on the world in general," he says.
Bensadoun is a prime example of that. His business may be footwear, but in so many other ways, from his personal values to his business philosophy to his considerable philanthropic efforts, Aldo Bensadoun has made, and continues to make, a difference from the ground up.
INTERVIEW BY ESTELLE ZENTIL