Dr. Olivier Courtin: Pioneering The Beauty Industry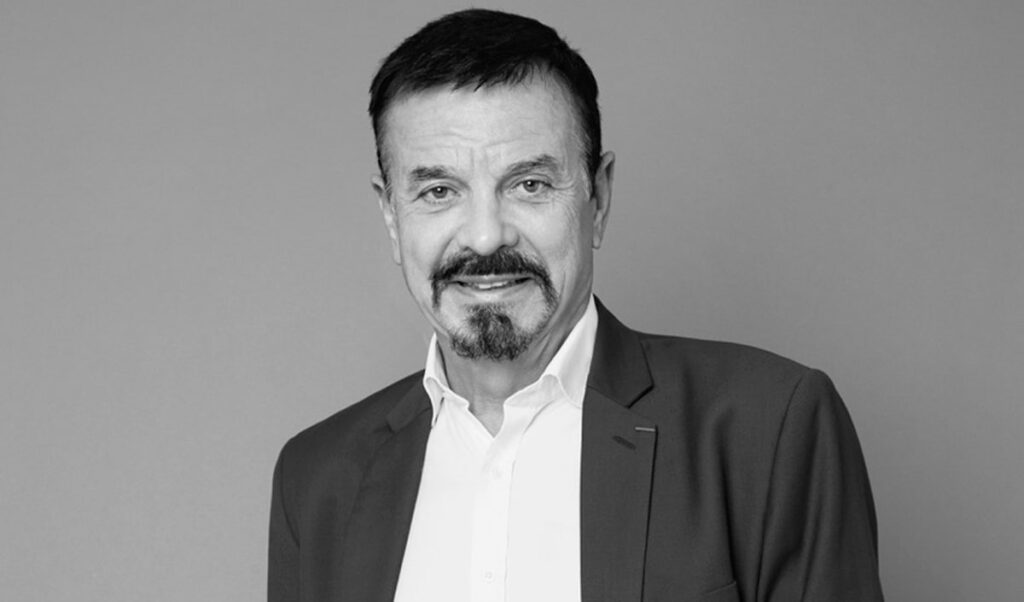 Dr. Olivier Courtin, managing director of Clarins Group, shares the brand's latest relaunch, myBlend.
What comes to mind when you think of French beauty? Perhaps a red lip, Coco Chanel, or a je ne sais quoi style that somehow comes together perfectly. And although French beauty often equates with looking natural and effortless, it doesn't mean that there isn't a lot of effort put into it. It's French beauty houses like Clarins that push the needle in the beauty world and offer incredible products for women all over the world, providing the key to obtaining that quintessential French beauty. Clarins was founded in 1954, when Jacques Courtin-Clarins opened his first spa on Rue Tronchet in Paris. Nearly 68 years later, Mr. Courtin's sons Christian and Olivier Courtin carry on their father's legacy by continuing to innovate in both the skin care and beauty spheres with its current product line.
Formally trained as a plastic surgeon, Olivier Courtin understands what goes into creating an effective product on a scientific level. In 2007, myBlend, a Clarins line of skin care and cutting-edge esthetic technology, was launched. In May 2022 myBlend was relaunched under the aegis of Dr. Courtin, bringing with it a new way of experiencing beauty that is more comprehensive, more personalized, and more socially conscious, so that women no longer have to choose between effectiveness and clean beauty, technology and nature. In our exclusive interview with Dr. Courtin, we learn more about the latest relaunch of myBlend, his definition of quintessential French beauty, and his biggest health and beauty tips.
Q: What did you learn from your father, Jacques Courtin-Clarins, growing up?
A: I learned many things from my father. But if I should mention one, it would be that he taught me that if you want to see a project through to the end, you have to believe in it and act with conviction.
Q: How have you been able to successfully manage your father's legacy since his first spa opening in 1954?
A: It may seem very simple, but I often try to imagine how he would act: his aim was always to do what was good for the company, and not for him. That helps me a lot.
Q: What do you love about working with your brother, Christian?
A: The most enjoyable side of our professional relationship is our good communication. Whatever the subject, even when we don't agree, we talk about it until we agree about the decision to be made.
Q: Can you share a little bit about Clarins Research Laboratories and what you do in your role as director?
A: I'm not the director of Clarins Research Laboratories anymore, but I'm involved with products, and science and research, with regular meetings with the teams.
Q: How does your background as a surgeon impact the products that come to market?
A: It has a large impact. Among them:
• No compromise between efficacy and respect for the skin, and no limit on formula cost
• Obsession with proof of efficacy and investment in evaluation tools and R&D technology
• Respect for skin tolerance and microbiota
• Work and share with the best experts
• High interest in innovations such as new molecules and beauty tech
• Teamwork
Q: Can you share what makes you excited about the new formulation of myBlend?
A: I wanted to prove that my intuition was correct: the impact of lifestyle, emotions and environment on skin aging is even more important than aging itself. And the power of my [Peptides-complex] 4P to act on signs of aging by stimulating natural mechanisms. My philosophy of formulation is:
• Stimulate natural mechanisms of regeneration and act on sensorial receptors through a complex of peptides
• Reinforce natural skin defence with fermented turmeric extract plus marine-based prebiome
• Visible correction with the use of molecules (hyaluronic acid, retinol, vitamin C, glycolic acid).
Q: Can you share what the vision was for the redesign of myBlend and a few key points on what makes it more cutting-edge?
A: My objective was to propose to women and men the most made-to-measure, efficient alternative to surgery thanks to the synergy of the best actual skin solution: non-invasive beauty tech (electrostimulation, electroporation, radio frequency, cryotherapy) and the power of touch and a highly concentrated formula. This powerful association offers instant and long-term results while being totally safe for the skin.
Beyond the spa experience, my objective was also to enable men and women to continue at home to take care of their skin with the same level of efficiency: the highly concentrated formula and the medical LED mask proposed in our spa are the same that we propose for use at home. This is the guarantee for beautiful skin in the long term.
Q: What makes myBlend stand out from the rest of the comprehensive beauty treatments offered at other spas?
A: With myBlend, we have a made-to-measure approach, with a combination of beauty tech and power of touch and high-performance cosmetics.
Q: As a brand, you've always embraced sustainability. Can you share why this is important to Clarins' ethos?
A: It's like going back to the first chapter of my father's life with Clarins. We have always used plants; therefore, the preservation of nature was essential to him. Every action to preserve nature is part of the core values of Clarins.
Q: What are your top three best-selling products and why do you think they are such a success?
A: Double Serum, a very efficient product that meets the need of our clients; Super Restorative, a very efficient cream thanks to the action of Harungana; Tonic Body Treatment Oil, which works well for many women during their pregnancy and for other stages of life, as well.
Q: What message would you like to share with other global leaders in the beauty realm?
A: I don't believe it's my role to share a message with other global leaders.
Q: What is your secret to living well?
A: Scientific progress has shown that healthy eating is a pillar to living longer and in good health.
Q: If you had to describe Clarins using three words, what would they be?
A: Commitment, respect, efficiency.
Q: How would you define "quintessential French beauty"?
A: I think if one word could define it, it would be "simplicity."
Q: Do you believe that America's idea of beauty differs from Europe's?
A: It may have been different in the past, but now we are witnessing a standardization through social networks.
Q: What are some of your biggest health and beauty tips?
A: It's important to be physically active on a regular basis, eat healthy food, take pleasure in what you do and carry on social relationships.
Q: What do you think your father would think of your family business today?
A: I'm sure my father would be proud of what my brother and I and our daughters are accomplishing for Clarins.
Q: Why is it important for you to give back philanthropically?
A: Like the respect for nature, it's part of the core values of Clarins and my family.
Q: What are some of your business goals for the next five years?
A: One of our main business goals is to be, worldwide, among the three top companies in skin care, and among the six first in makeup.
Q: What does la dolce vita, the sweet life, mean to you?
A: For me, la dolce vita is synonymous with party. Sweet life to me is enjoying life.