Sassoon Salon: Fifty Years Of Style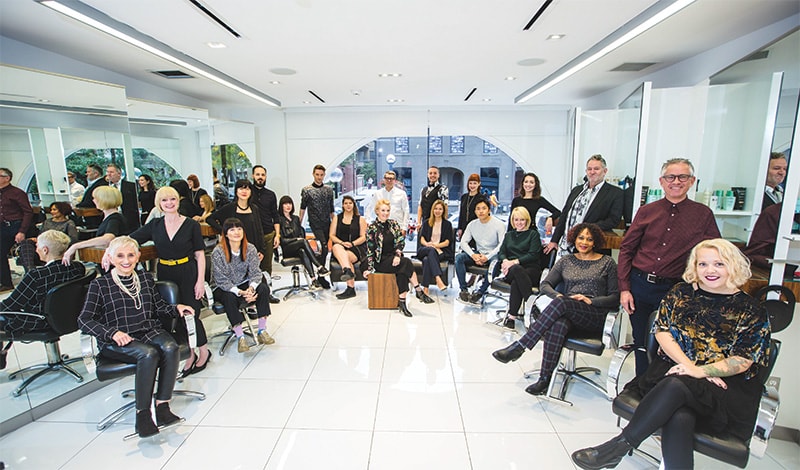 Sassoon Salon and Academy in Yorkville celebrates a milestone with its golden anniversary.
Interview by Victoria Scott
How do you define style? Through the perception of colour? The elegance of fabric designs? How about the shape of a well-crafted sculpture?
There are many forms of style and art that can be defined as the "right one," but there are certain professionals who may be a hair ahead of the rest of us. One strand in particular is Sassoon Salon in Yorkville, located at 122 Scollard St. in Toronto, as this established brand is celebrating its 50th anniversary in business this year.
In October, Sassoon Salon hosted A Night in Style and showcased the elegance of pampering and stylistic endeavours created from the heritage of the company.
"We are celebrating the 50th anniversary of Sassoon Salon and Academy here in Toronto. It's a milestone," says Nhi Tran, a creative director of Yorkville's Sassoon Salon. "We have had previous Nights of Style, and we usually like to celebrate the evening with our dedicated guests by bringing the community together. It's a way to showcase creativity and to celebrate an evening with the Sassoon team."
This night was particularly special, as the Sassoon Toronto team was celebrating the history and ancestry of the salon. There was a great deal of pride in the cutting-edge art forms and the classical training techniques that have been developed from the original Sassoon Salon in London.
"The salon opened here [in Toronto] in 1968, and it was pretty much taking the idea from London and introducing it to Canada, to Toronto," says Tran. "The idea really is to focus on the philosophy of Sassoon and training people and following the high standard of work. Basically, we really owe it to the team. The team has always dedicated their heart and soul to the company, to the work that we do, due to that high standard."
The Sassoon team and their guests are a key focal point for the salon. The company has noticed that its work has been and continues to be seen throughout the community and held in high regard due to the esteemed mark the salon has made over the past 50 years.
The Sassoon Academy has elevated the level of professionalism in the beauty and hair industry from the curriculum and the training used, including a dedication and focus on cuts, colour precision and a "gold-standard" for hairstyle training.
"Most important are the people, our guests. Our guests who come to visit us on a regular basis. Our guests who believe in our work and really showcase our work through their lifestyle. Our guests also include the students who come through our academy and study the Sassoon cutting technique," says Tran.