Jimmy Fallon – Ring Master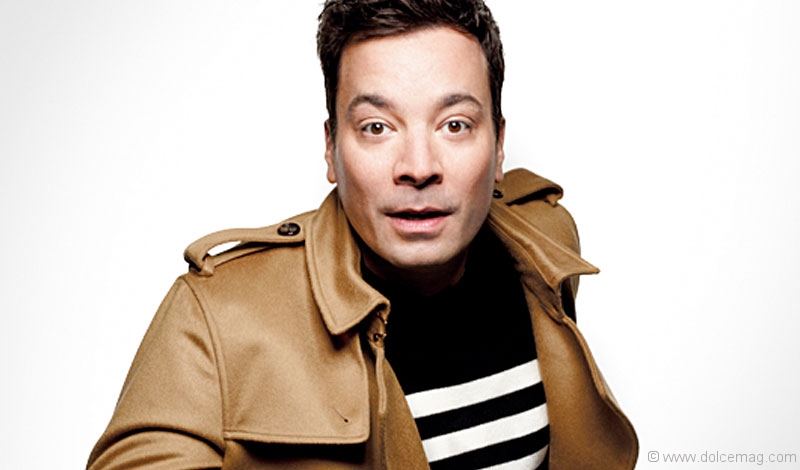 Could there ever be a man that would be happy and in a good mood — and be funny at the same time — from the moment he wakes up to the time he goes to sleep? Jimmy Fallon is that person. He's exactly like you see him on TV or online. After two seconds of talking to him, you'll feel like he's been your friend for years, and after less than a minute he'll have you, and everyone else in the room, laughing.
As soon as we meet, Jimmy Fallon comments on my grey felt hat, which I bought in the Zara store in Shanghai, near the Bund. "I tried to get into hats recently although I never thought I looked good in them. But I had Tom Hanks on the show and we went out one night in New York and he was wearing a beret. I go, 'You wear a beret?' He goes, 'Yeah, I wear a beret; you get them on the street for five bucks. It keeps your head warm. My mother always told me to keep my head warm.' I go, 'But you wear all sorts of hats … I don't look good in a hat.' Tom immediately replied, 'You look like YOU in a hat.' I went, 'OK, I'll always remember that.' Then I went out and got a hat." Fallon has tons of stories like this in the middle of many hugs and laughs. He has insisted we come to see his show and, at the end of the interview, wanted us to go out for drinks the next time I came to New York. It was hard not to think that I was spending time with the nicest guy in show business.
Being host of The Tonight Show is one of the most prestigious jobs in show business in America, and a lot of pressure is attached to it. But that hasn't changed Jimmy Fallon; he's still the same as when he started out on Saturday Night Live at age 23. Today, it's not possible to guess that he's 41 — neither physically nor in his personality. Born in Brooklyn, Fallon attended a Catholic school and even thought of becoming a priest at one point. He started out as a stand-up comic in Los Angeles at the age of 21, right after college. Two years after working hard on his comedy skills, he was able to successfully pass the Saturday Night Live audition and get the biggest comedy job on American TV. After a short attempt at a movie career, Fallon succeeded Conan O'Brien at hosting Late Night on NBC. He immediately became a new style of talk show host with a focus on musical sketches and the contribution of his great house band, The Roots. In 2014, he replaced Jay Leno as the host of The Tonight Show, the most prestigious late-night talk show on American television and an institution that started more than 60 years ago.
SATURDAY NIGHT LIVE
Q: What compelled you to join the cast of SNL?
A: I grew up with the show. I was saying these catchphrases that I learned on the show, I knew who the Blues Brothers were, I knew who the Coneheads were. This huge part of American pop culture that made me laugh started on Saturday Night Live. I just wanted to be on it 'cause I thought it was funny. It made my parents and sister laugh. We would sit down together and watch videotapes of the show and laugh together. I thought "what is this thing that makes my parents laugh?" I wanted to make people laugh too.
Q: Was anyone in your family funny?
A: Everybody in my family is funny, if not funnier than me. My mom and dad are very funny. My grandparents helped raise me — they kind of lived in my backyard. I was very close to them. After school I would go hang out with them and they were super funny. They would always sing songs, do voices, do characters and make faces. We're Irish and we'd get together and have parties. We'd tell jokes and sing at the end of parties and laugh. My parents would say to me, "Get up and tell a joke" or "do something funny" or get up and teach me how to dance — anything my sister and I could do to entertain everybody. That was my first experience performing comedy, to my family. Even now, I talk to my mom and dad every day, I talk to my sister almost every day — they're unbelievably funny. They know me best.
Q: Many of your peers at SNL — fellow cast members — ended up having successful careers. I'm thinking about Tina Fey, Will Ferrell, Amy Poehler, Seth Meyers, etc. How would you describe that generation of SNL comedians?
A: The fun thing about SNL is that you get together and it's almost like a summer camp. You almost sleep over. No one knows each other at the beginning, everyone's from different parts of the country. Some people are stand-up comedians, some people are great improvisers, some can sing, some do impressions. You almost live together. You see them more than your friends and family. You start to get to know each other that way. And you all just get together and try to put on the best show you can. And it's live, there's an audience there, it's exciting and it's New York City! It's an experience you'll never forget. Everyone has different styles and tastes. They've all gone on to do great careers. I'm lucky to have this job because I get to see a lot of them come back on the show. We can talk about "back in the day" and share stories of when we stayed up until 4 a.m. writing silly sketches.
Q: To me it seems there was amazing chemistry but not sameness — everyone had different sets of comedy chops.
A: The first time I really felt there was great chemistry was when I first started doing "Weekend Update" with Tina Fey. That's when a lot of people said, "Hey, you guys work well together." She played the smart one and I played the dumb kid that needs help doing his homework. That was the role I played and it fit perfectly for me, because I didn't know much about news when I was doing "Weekend Update." Everyone got famous and grew up around each other. It was fun.
Q: During your time at SNL, I thought something that got overlooked is your knowledge and love for pop culture. It was maybe deeper than what other cast members had done up to that point, like the Barry Gibb Talk Show [parody of the Bee Gees' singer]. How did that develop? Are there particular eras that inspire you more than others?
A: I'm such a fan of pop culture and I still am. I'm obsessed with it. I watch every TV show I can, I love movies, I play every video game I can possibly play; I go on every website. I can't get enough of it — I just eat it up. I want to see what the new fashions are, what the new diets are. My parents are from the '60s so I grew up with doo-wop music and getting into the movie Grease and stuff like that. The '70s were when I grew up and they were about disco and bell-bottoms — I just loved everyone's hair, it was really exciting. The '80s were my school years — Indiana Jones, Star Wars, E.T. the Extra-Terrestrial, Michael Jackson. It was so much fun. Everyone related to it. There were even posters with both Michael Jackson and E.T. together, even though they weren't related at all. I had a poster like that in my bedroom. It made sense to me — "they probably hang out together," I thought. I loved Paul McCartney and the Beatles and I started doing impressions around that time. I could do an impression of Michael Jackson, I could dance like him and talk like him. I could do him duetting with Paul McCartney. I just started singing and doing impressions to make people laugh, with the ultimate goal of getting on Saturday Night Live, if I was lucky enough. I didn't know how hard it would be as a kid, but it didn't matter.
I wrote the Barry Gibb [Bee Gees singer] skit with Steve Higgins, who is now my announcer on The Tonight Show. Justin Timberlake was on Saturday Night Live during that week. Steve said, "I'd love to do a skit with Barry Gibb where he talks like he sings, in a very high voice." Higgins' idea was "let's make it a political talk show." It made no sense but it was super funny. We didn't know Timberlake was going to be this talented doing it.
Q: Here's a question for Jimmy Fallon the sex symbol! As we know, you were once a Calvin Klein model, and even named one of People magazine's 50 Most Beautiful People in 2002. Hardly heard of any comedian making it into that.
A: Oh my God! Somebody at Calvin Klein came to the show and told me, "Do you want to do this, we're having celebrities model now." I said, "Are you kidding, be a Calvin Klein model? Of course!" I did this thing and it was all over New York City. Everyone made fun of me relentlessly at Saturday Night Live. People put the ad on T-shirts; people were hanging posters in their rooms just to make fun of me. But I look back and I'm so happy I did it. Cool, I got to show everybody I was a Calvin Klein model, why not? I was just thinking about my ex-girlfriends and being like, "Remember when you broke up with me? Now I'm a model, check it out!" I was so excited.
Q: Is it harder to do comedy when you're good-looking?
A: Actually, comedians should not be models. It's definitely harder if you're good-looking. That's why I don't really care about my physical appearance that much. I don't work out at the gym. Once you start worrying about that and look gorgeous, then where are your priorities? Are your priorities on how good you look or how funny you are? It's a rare mix if you can mix both. I don't consider myself that good-looking. I consider myself right down the middle.
I lucked out; I got good genes from my parents. Not too good-looking and not too ugly. Perfect for a comedian.
Q: I hear you're launching a sportswear line called Hands High.
A: Here's the thing: I have 100,000 ideas all the time! My brain's always thinking about something. For example, I thought they should put emojis on frozen waffles. I think it's a genius idea! So you don't know what emoji you're getting until you toast it. You just put your frozen waffle in your toaster, you toast it, and then you get a brand new emoji every day. You never know what you're going to get. It could be a peace sign; it could be a smiley face. It's a good way to start your day! But I had this other idea: what do you do when you're watching a sporting event? Your team scores, your hands go up, right? But there's nothing on the armpit! I go, "Why doesn't someone put something fun on the armpit, a bright colour or the team logo?" I haven't seen the fashion world move forward into the sports world in a long time. So I pitched it to this company and they said, "We like it!" Originally I called it "Pitz" but they didn't like that, they thought it was gross. So we changed it and called it "Hands High." When your hands are down it's like a normal sweater, but when your hands are up you have a bright colour on your armpit. It's all stuff like that, like the ice cream. I always wanted to have a flavour with Ben & Jerry's Ice Cream, with all the proceeds going to charity. Now we have a flavour called "The Tonight Dough" – two times cookie dough with some chocolate. It's the most delicious ice cream ever! You're going to freak out if you have it, I'll send some over. All profits go to Paul Newman's charity the Hole in the Wall Gang Camp — summer camps for terminally ill kids. Let kids be kids for a summer. It's a good charity.
Q: The question the world wants to know: how are your fingers? It's really a tough year for your hands, two bad injuries after all.
A: My fingers are good, but I'm actually having surgery on the nerve tomorrow. I have no feeling in my ring finger or
my pinky.
Q: On your left or right hand? Because I know you play guitar …
A: Oh, it's been depressing. I've just got to get a lot of hand therapy. I'm doing it every single night after the show. It's just a crazy thing that happened. I didn't know what was happening. It's called ring avulsion, but don't Google it, it's horrible! It's like pulling your finger off the bone. Five years ago I did a bit for the Emmy Awards when I came out with an auto-tune microphone on my head. I was going [sings imitating auto-tune] "everybody ready to partay! Everybody ready to get down on it" and I ran and I got people clapping, then I fake fell and then said, still singing with auto-tune, "oh my God, help me, please call the doctor." People thought it was part of the skit and funny, but I actually did hurt my elbow. After I fell again recently, it just got worse — only three fingers out of the five work. I'm going to work as hard as I can; I never give up. One year from now I'll be playing the guitar.
THE TONIGHT SHOW
Q: Talk shows in America are a serious business. There were even late night "wars" not too long ago between Leno and Letterman. From an outsider's point of view, how do you explain this? You're not really at war with anyone – where do you fit in? Is that era over?
A: That was then. My comedy in general is based on love, joy, fun and silliness. I'm never interested in doing a battle with anyone. If you want to battle me, I'll lip-synch battle you or do something silly. I look at it as fun stuff — we're lucky to have these jobs. I never look at the ratings. I don't care. I like all my other competitors; I'm friends with them. I just got an email the other day from Stephen Colbert. We're all friends. If we can all do these jobs for as long as we want it, it's good. We get to make people laugh, and then to have people in other countries like China or France see my sketches — it's unbelievable!
Q: People do watch your show on the Internet all over the world.
A: The Internet's the best thing that ever happened to comedy! It's so great. I get to reach all these people. They're watching me either doing the history of rap with Justin Timberlake or doing a lip-synch battle with Emma Stone. It's so exciting and fun when I meet people not from America and I ask them, "You know who I am?" And they say "Oh yes, we saw you on YouTube or Youku." It's crazy how giant a piece of comedy can be now and how far you can take it. No one ever had these possibilities before. Twenty-sixteen is a great year to be in comedy because who knows how far we are going to take it. I could do a sketch with Justin Bieber shaking hands and it goes everywhere, to places I can't even imagine.
Q: It's comedy, but there's certainly pressure.
A: I was so nervous when I was stepping into [previous host] Jay Leno's shoes to do this because in America it's a huge legacy. It's a show that's been on for as long as I can remember. I had a TV set and I thought the show just came with the television. It's ingrained in society and pop culture. I think it's because it's topical, with the who's who of today, whether it's an artist, comedian, athlete, etc. It's a variety. You can even have chefs on. Kid inventors. It's really fun. It's so hard to read the newspapers nowadays, so sad and depressing, you go, "I need a break, I need something that makes me laugh, I don't want to think about anything that's going on." That's my job, that's why I'm here. I want you to forget about any trouble and just laugh for three minutes at a time, for an hour.
Q: Was it difficult to get into the whole monologue routine at the beginning, since it's almost mandatory for The Tonight Show to start with one?
A: We thought about it, barely. But no, I'm definitely doing a monologue. For those who haven't seen The Tonight Show, I come out to the sound of the band playing music, I walk toward the audience and I thank them. Then I make fun of every possible thing I can make fun of that's going on in the news of that day. You could watch the first 10 minutes of my show and know what's going on in the world enough to go to school the next day and talk to everybody, or go to work and go, "Yeah, I know what's going on, I saw Jimmy last night." I look forward to doing it. It's a skill you have to learn. No one can help you do it; you just have to keep doing it to get better. I've now been doing it for six years because I used to do it on the Late Night show before. I'm pretty good at it now. I have great writers, obviously, but I've gotten better since I first started. It was a little nerve-racking back then. It's kind of scary at the beginning: the lights are on you, some jokes work and some don't, but it's exciting.
Q: Some people say you're the late-night king of the YouTube era. What do you think of that? Is your show kind of like a YouTube hit video studio?
A: It just kind of happened and grew out of what we were doing. Technology is always changing. No one knows what the landscape of television is going to end up like. We've embraced it since Day 1 and always loved that community. I love the instant feedback from the Internet and from talking to people on social media. I think people can see if you're fake or not fake, and when you're really having fun or not having fun. People on Twitter go, "I can tell you are sick tonight, you look sick." Everyone knows. You didn't have fans telling you this to your face before. It's kind of interesting. Some of my fans have been with me since SNL, since 1998. They are now old enough to have children of their own, and their children are watching me and they go, "I've invested my time in you, don't let me down." This is fun. And we're getting our own roller-coaster in a theme park! This is an ultimate dream! I was doing Late Night before The Tonight Show and was saying, "You know what would be great? If we had our own roller-coaster ride." I saw this Disney ride at California Adventure called "Soarin' Over California" where you go through California and I thought "we have to do it for New York. I will take people through New York as the host, there's so much to see." The people at the theme park weren't interested at that time, they said, "Why don't you make Late Night a hit first? No one knows who you are, do your job." Cut to eight years later and I now know the roller-coaster guys because we've worked together on several projects. I asked them again and they said, "We'd love to do it!" This is going to be the best ride ever. If you go to Orlando starting in 2017, you have to try it. It's going to be called "Race Through New York." It starts from my office in New York and takes you all over town. It's so weird and out there. It's 3D … actually it's 4D because there's also smoke and water. You go through a parade in Chinatown, you go underwater. As a comedian, you go, "You can't do this!" But sure you can. You can model for Calvin Klein, why can't you have your own roller-coaster? I just keep doing it and having fun.
Q: Every four years, the presidential campaigns offer a bountiful gift to comedians. And actually, your show has become a key early campaign stop now. How do you deal with politicians? (By the way, you did an awesome impression of Donald Trump.)
A: The election is the best thing that ever happens to us. And if Trump wins, I have a really good impression of the president! I know Donald Trump through New York and doing different charity events, and then he hosted SNL once when I was on Saturday Night Live. It's interesting to watch him running now, with people who love him, then hate him, then love him again. New York's a great place to run into people. It's interesting for me. I like to have all the politicians come on the show and have a conversation with them. They tell me where they're from, if they have kids. If they want to get into the issues, they can, but I like to show different things that you don't know about them. If I can make them do a sketch and play a game, something to show the funny side of them, no matter if you like them or not, it's a good challenge. It's a good challenge to see if they're able to do that. I just let my audience decide for themselves if they like them or not. I never take a side, and I never will. I'm not really sure if I even have a side! [Laughs]. I just love laughing! The crazier the story, the better it is for me. I can do an impression of Trump, maybe Bernie Sanders. Hillary Clinton would be tough. I could do Bill [Clinton] pretty well.
Q: You're a big music fan up to this day, with music being very present in your version of The Tonight Show and your house band The Roots being an important part of that. How essential was music to your career? Was it always part of the plan to associate it with comedy?
A: It always was there. I used to listen to this novelty radio personality called Dr. Demento, and he would play these novelty songs. I would listen to these funny songs on Sunday night on the radio in my bedroom. People like "Weird Al" Yankovic or Steve Martin. I thought, "I'd love to do these type of comedy songs. So I started doing impressions of people doing funny songs. It kind of grew from there. It became a thing I did during my high school years. I answered contests and ended up winning contests. I auditioned for SNL doing musical impressions. It kind of became my thing. I kind of lucked into that. I do it out of love.

Q: Do you still have time to do karaoke?
A: Yes, but I do it in my apartment. With the Internet, you can pull it up on there and sing to the track online. Karaoke is my favourite! But I don't think I would do it in front of a big crowd. I'm more secretive, I want to do it on my own, I really want to belt it out and don't want to embarrass myself in front of other people.

Q: When it comes to television, most hosts use computerized cue cards, but we heard you are still using cardboard cue cards. Is that true? That's old school.
A: Definitely. It's a different style of reading. When you're a newscaster, the teleprompter is good for that because you're looking right into the camera, right into people's eyeballs, and it's very serious. When you're doing comedy, if I'm going to tell a joke about Kim Kardashian, you don't want me staring into your eyes. It has to be more above the camera, and looking around, like we're performing, it has to look like we're telling a joke. It's almost like you're a ringmaster. You're not a preacher. I tried with a teleprompter and it got creepy. Last-minute changes are also easier. You can put tape over it and write it with a marker.
Q: With so many changes in the late-night landscape, some people wonder what the future will be for this type of program. What do you think?
A: We're one of the shows that will never really go away. It's a quick way to get up-to-date on pop culture. Maybe in the future a cartoon bear or a robot will host us. I'm cool with that. I just want the robot to be my guest on the show first before it takes over.
Q: Do you have any advice for young people trying to get into stand-up comedy?
A: Take any gig that you can get, perform everywhere. You have to try and miss, and have every joke be awful. You have to keep trying, and eventually, you'll get one good joke. And then that grows and the joke will get bigger. Then you'll get another joke off of that one. Then you have an act — you have five minutes. Then the five minutes become 10 minutes. Then you have a half hour. Keep writing and keep working, don't get discouraged! And please, if you're funny, come on The Tonight Show.
Photos By Robert Erdmann