Top 10 Looks from Toronto Fashion Week Fall 2016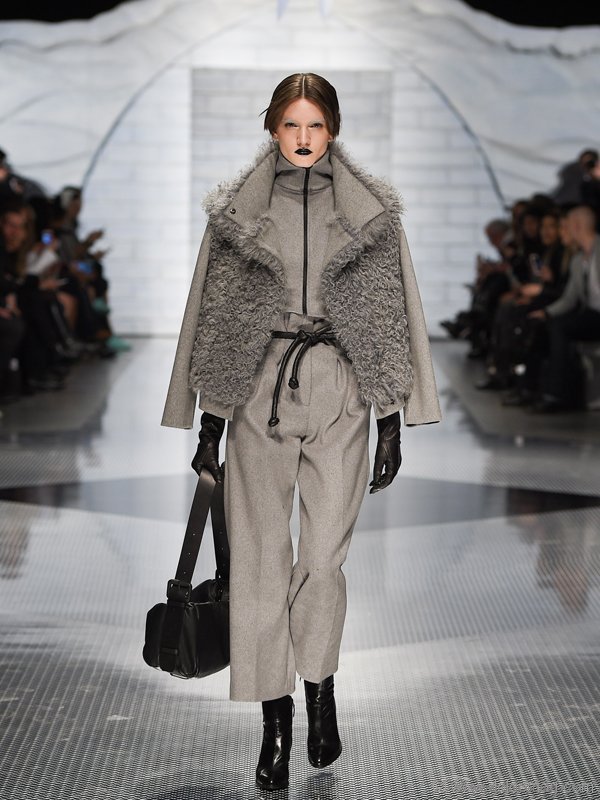 Toronto Fashion Week returned to David Pecaut Square, where Canadian designers unveiled their fall and winter collections. It was the week of versatility offering a range of style, from cutting-edge prints, red carpet-worthy looks and avant-garde designs.
Canadian designers are taking over the spotlight and setting the trends that will take the fashion world through 2016. Here are our top 10 looks from Toronto Fashion Week fall 2016.
1. Mackage
The Montreal-based label showcased its signature cool designs at a killer off-site runway, where its own winter wonderland was created at CBC's Toronto headquarters. The "Winter Warriors" collection included sleek leather looks, down jackets, parkas and knit jumpers, as well as wool coats and military-style jackets. www.mackage.com
2. Greta Constantine
Designers Kirk Pickersgill and Stephen Wong celebrated the 10-year anniversary of their luxury womenswear label, Greta Constantine. The designer-duo brought the drama to David Pecaut Square in a runway show that presented Greta Constantine's theatrical, rocker-chic fall-winter 2016 collection. www.gretaconstantine.com
3. Triarchy
Triarchy fused old techniques with new textiles in the debut of its Atelier Denim line. The luxury denim label channelled smatterings of colour into its denim, from edgy prints to white, black and a range of blue hues from a light wash to indigo. triarchy.com
4. Hilary MacMillan
Young, fun, feminine and chic — these are the words to describe Hilary MacMillan's fall 2016 collection. MacMillan presented an array of designs oozing with watercolour lip prints, dark wool, fuzzy accents, lace and a whole lot of pink! www.hilarymacmillan.com
5. David Dixon
For the sexy, chic and sophisticated woman, David Dixon's fall-winter 2016 collection presented classic silhouettes with eye-catching details. Models strutted down the runway in Dixon's signature elegant eveningwear and statement garments featuring lace accents and sleek coats with floral prints on re-embroidered mesh. www.daviddixon.ca
6. Unttld
Designers José Manuel St-Jacques and Simon Bélanger stunned crowds with a dramatic collection featuring inky black, rich olive green and hints of shimmering gold. Unttld brought down the house, closing the show with a jaw-dropping line featuring statement garments embodied with strands of chain link and woven hardware. unttld.myshopify.com
7. Mikhael Kale
All hail Kale! Canadian designer Mikhael Kale opened Toronto Fashion Week with a momentous show, delivering some of his strongest looks. The collection featured a diverse mix of prints, fabrics and embellishments pieced together with a blend of materials that included leather and vinyl. www.mikhaelkale.com
8. Helder Diego
Designers Helder Aguiar and Diego Fuchs made their mark at Toronto Fashion Week with a collection featuring cutting-edge designs to complement the rocker-chic esthetic of the Toronto-based label. Among the looks, we saw pale pink woolen sheath, lots of army green statement garments, animal-prints and a gold slip dress that delivered an "ah" worthy moment. www.helderdiego.com
9. Lamarque
Is leather the new denim? Creative director and womenswear designer Ifigenia Papadimitriou thinks so! Lamarque sent models walking down the runway in leather ensembles paired with silk bodysuits and stunning beadwork, embroidery and embossing. lamarquecollection.com
10. Narces
Toronto-based designer Nikki Wirthensohn presented several creations from her label Narces. The collection incorporated a fusion of designs featuring effusive embellishments. Narces showcased a series of lavish silhouettes from lace-accented gowns and flirty-cocktail dresses, and came to a halt with the Narces fall-winter bridal line. narces.com
Photos Courtesy George Pimentel / Getty Images