Kathy Hilton- On Being A Hilton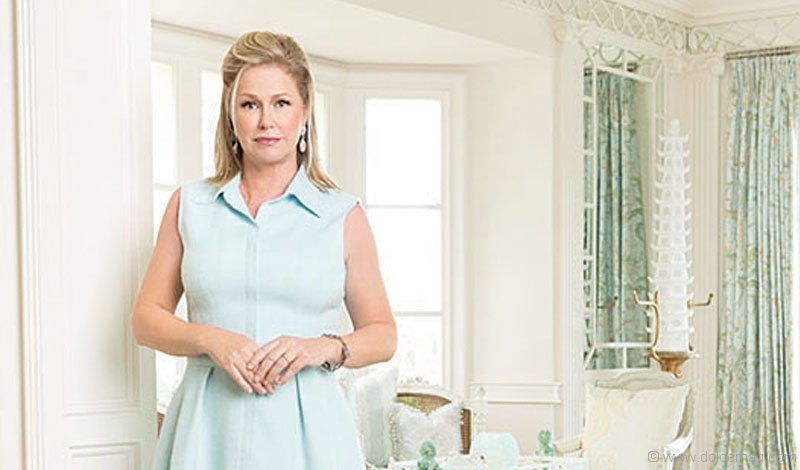 It's no wonder that the Hiltons fascinate the world. A historic heritage, astronomic wealth, celebrity status and a talent for empire building make it a life worth envying. And at the heart of it all is the family matriarch Kathy Hilton, whose grounded approach to life allows her to appreciate her family's luxurious lifestyle while focusing on the things that she truly values — creativity, philanthropy, love, laughter and family.
While not born a Hilton, she may as well have been, given she joined the family at a young age. Hilton met her "rock," Richard (Rick) Hilton, at 15, married him at 19 and had her first of four children right before her 21st birthday. Rick is both reserved and guarded by nature, but his emotional walls came tumbling down once the two were betrothed. "The minute we were engaged it's like he changed completely," she recalls. "He was just so cute and I was crazy about him … I'll never forget coming home from a holiday and he was going to drop me at home, but I didn't want to leave him."
Thirty-four years into the marriage the two remain deeply devoted to one another, spending nearly all of their non-working hours together attending auctions, collecting modern and contemporary art, walking on the beach and travelling. Winters take the pair skiing in Lake Tahoe and Aspen. They take jaunts to Palm Desert, where Rick golfs and she visits local discount stores. And the family keeps a home in New York's Southampton, which was the site of her favourite family memory. "The room was decorated so magically like an old-fashioned Christmas, and it was snowing and everything was perfect," Hilton says nostalgically. "There was a sense of peace and really enjoying the holiday."
But the couple's favourite weekend excursion is to San Francisco. "It's a silly story but we love to put on our casual clothes and go down to the Fisherman's Wharf and look for the Bushman," Hilton says. "He hides behind a bush and scares people as they walk by — everyone jumps 10 feet! We stand there for half an hour laughing and crying." Her advice for keeping the romance alive is to be a lady in the classic sense of the word, much like her mother and grandmother before her. "Keeping things special for a woman is very important. Never completely let your hair down," Hilton advises. "You know these girls, 'Oh, I just open the door,' or 'I walk around nude. I don't care because that's how we roll.' Leave a little mystery."
It's advice her daughter Paris famously did not heed. But Hilton is frank about her own strictness contributing to Paris's rebellion. "She gave me a little hell for a few years," she says. Her daughter Nicky told her to "cool it" so she wouldn't rebel as well. And she didn't. Despite being a busy wife and mother of Paris, Nicky, Barron and Conrad, Hilton loves keeping busy with lots of projects both philanthropic and creative. Calling herself an "artist at heart," she is a skilled crafter — favouring floral centrepieces made with vintage flowers, feathers and rhinestones that she used to make with her kids as gifts for their teachers. As the former owner of a home goods store, she is also an avid collector of anything and everything, including boxes, teddy bears, dolls, pieces of china and
crystal animals.
Hilton has also remained a dedicated philanthropist, a practice she started as a little girl with her mother. She contributes to research into illnesses that have affected friends and loved ones like multiple sclerosis, which her mother-in-law suffers from, Alzheimer's and juvenile diabetes. As well, she supports children's charities like Starlight Children's Foundation and Make-A-Wish. Currently on her fundraising agenda are the Race to Erase MS, the Alzheimer's Association's Rita Hayworth Gala and the UNICEF Ball.
"I was raised well to know I've been very fortunate and that we have to share and give back," Hilton says. She looks at her most recent creative venture, The Kathy Hilton Collection, in that light as well. After being lucky enough to travel the world, attend fashion shows and wear beautiful clothes, she wanted to make feminine, timeless dresses based on her experiences but at prices that didn't break the bank. Hilton partnered with Mon Cheri in 2011 and the dresses have been a wild hit, now sold in more than 300 stores, including Neiman Marcus and Nordstrom. Even when working on her dress line, the people that matter most are on Hilton's mind. "These are clothes for my nieces, my daughters, my friends," she says. And if they're worthy of a Hilton, they're dresses worth wearing.

www.kathyhilton.com